Elena Arzak
« Nobody forced me to do this job: I chose it with purpose, and embraced it with great pleasure. »
For more than 100 years, four generations of Arzaks have been at the helm of their establishment, which is located on the hills above San Sebastián and was founded in 1897. Elena Arzak's father, Juan Mari, put Basque cuisine on the map when he won three Michelin stars in 1989. Gradually, he passed the torch down to her, and Elena is now in charge of the family restaurant. Trained in the 90s by the greatest European chefs before returning to her roots, Elena Arzak has been brilliantly running this restaurant so full of history(ies) while retaining her creativity, her spirit of innovation, her energy and humour, all of which shined through during the interview, which was conducted in impeccable French.
Being born into a family of restaurateurs, was it always obvious to you that you would one day become the chef of Arzak?
The restaurant was founded in 1897 by my father's grandparents. Then Paquita, my grandmother, ran it and passed it on to Juan Mari, my father. In the 1960s, he trained with Paul Bocuse, Michel Troisgros and Alain Senderens in France as well as Frédy Girardet in Switzerland. He cooked with his mother for a long time (just as I did with him) and worked alongside Pedro Subijana, one of the founders of the new Basque cuisine in 1976. Marta, my older sister, and I used to spend two hours in the kitchen every day during the summer holidays. But that was a different time, there were only ten people in the kitchen, things were much simpler than today. I graduated high school at 18 and chose to pursue a career in gastronomy because I really liked it. I just liked it. Nobody forced me to do this job: I chose it with purpose, and embraced it with great pleasure.
In San Sebastián, and throughout Basque Country, many children chose to go into the family business, so I thought why not me? (Editor's note: Martín Berasategui for instance)
I had no choice but to have an excellent education – preferably outside Spain, because here my father's name was almost a handicap (laughs). After attending hotel management school in Lucerne, I did a series of internships: in France at La Maison Troisgros, at Pierre Gagnaire's, at Le Carré des Feuillants and at Le Vivarois. I also worked with Alain Ducasse at Le Louis XV in Monaco, at Le Gavroche in London, at Antica Osteria del Ponte in Italy and at elBulli in Spain.
When I came back here, everyone was comparing me to my father. But I knew from the start what I was getting into… My challenge was to maintain the same level of excellence he had set. And while these comparisons made me suffer a little at first, now it just makes me really proud!
ELENA ARZAK EN SEPT DATES
1980: age 11, Elena starts cooking with her father Juan Mari Arzak in the family restaurant

1988 to 1995: hotel management school in Lucerne (Switzerland), followed by training in France, England, Italy and Spain

1989: the Arzak restaurant and her father Juan Mari Arzak receive 3 Michelin stars. The establishment has held these stars for 41 years

1995: starts assisting her father in the kitchen

2010: receives the National Gastronomy Award from the Royal Spanish Academy of Gastronomy

2012: receives the Veuve Clicquot – World's 50 Best Restaurants award for "World's Best Female Chef"

Present: Elena has officially succeeded her father, who remains by her side
Q – What kind of relationship do you have with your father in the kitchen?
My father helped me a lot when I started working in the kitchen with him, always saying that if I worked well and was consistent, people would quickly realise the extent of my contribution. We had a sort of pact: we would always strive to bring out the best dishes from the kitchen for our guests. So we worked in constant back-and-forth, always listening to each other. Sometimes I accepted his suggestions, and sometimes he took my remarks into account. That way, there was never any problem! Well, the only two things we disagree on are flowers and sugar. He always uses a lot of flowers, he loves it, and I like to use a lot less… (laughs). As for sugar, despite having a very modern and discerning palate, he clearly likes it more than I do! In short, our relationship has always been based on communication, not confrontation.
My mother Maite – who plays an equally important role within the establishment – has always encouraged me a lot.
The same with my sister Marta: she is an art historian and works at the Guggenheim, specialising in the link between art and gastronomy. She is a great advisor for us because she has an extraordinary palate. She is one of those people who taste the food… and always tell the truth!
I don't think things would have been different if I had been a boy. My grandmother Paquita had 100% female brigades, and there have always been many women in our kitchens: today, 70% of our chefs de partie are women, and even my chef de cuisine is a talented young Mexican woman, Cynthia Yaber. I was very lucky to be brought up in an equal manner by my parents but I know that this is not the case for everyone. Society's reactions always involve stereotypes. For instance, to come back to the story of the flowers in recipes: some guests think I'm the one adding them because I am a woman, when in reality it's all my father's idea!
If we were to sum up the Arzak restaurant in a few words…
I would say personality, products, innovation and Basque mentality.
The "Arzak touch", in other words the personality of our establishment is that gastronomy must always be a moment of pleasure. As we have guests from all over the world, we must not differentiate between those from Myanmar and those from Bilbao, and we must be able to convey the same message, with references that some will recognise. Taste is very important, but it's also very personal: for instance, people from the Basque Country like to eat pig's ears, but in other parts of the world, people won't touch them. Between originality and innovation, eating must always be a pleasure first and foremost.
The products. They are the foundation for any extraordinary cuisine. In the Basque Country we are very privileged because we have countless farms and direct access to sea products, sold every day at the market. All in all, my grandmother was already very much into sustainability! We work very closely with our producers, even more so since the pandemic. For example, for an egg-based dish, I wanted to use eggs from that very morning – not an easy thing to find. We approached three different farmers, made sure they adhered to our vision, and paid them a visit to see how they work to make sure we understood each other's constraints… What makes it work is all those daily exchanges with the people around us.
Innovation. It's a must in any trade, but in the kitchen, it is only viable and positive if it helps highlight the product and put the actual matter in the spotlight, to experience different textures and sensations. To focus on new dishes, I designed a laboratory containing a library of 1,500 ingredients, all classified according to their taste, their effect and texture, using a QR code system. It also helps us keep track of our creations, which are often short-lived. To give you an example: I created a dessert with yuzu, a Japanese citrus fruit, because I know that Basque cuisine has a penchant for acidity, so it's a nice call-back to tradition. By working it with inulin, a natural fibre derived from plants, I obtained a unique texture, at the crossroads between ice cream and mousse: in this case, superposition brings innovation.
The Basque mentality. This is what we want to pass on to guests, whether they come from far away or they are locals from San Sebastián. With the health crisis, the clientele has evolved, and the ways of experiencing a night at the restaurant have changed. People eat differently – faster most notably, without dawdling, and leave earlier in the evening. So let's wait and see how this develops.
Q – Which of the comments made by your guests after a meal stick with you?
We are craftsmen and craftswomen, we rely on our hands and taste, so we can make mistakes like in any other restaurant. I am very open to criticism, and I hear a lot! Our tasting menu is very flexible, it can be adapted to everyone's taste. What I especially like is that each table is different, a project in itself: if you don't like meat or red wine, we won't force it on you of course! Hospitality means you're always striving for your guests' personal satisfaction rather than your own. That's why service is so important: waiters and waitresses must be flexible and friendly, both formal and informal, showing respect whilst creating a bond with guests. The most important takeaway – and it takes a long time to assimilate – is the desire to do things well.
When someone says to me "Coming here required some financial sacrifices, but it was all worth it", it really touches me. And there are those who regret that the meal went by "too quickly" because they enjoyed it so much!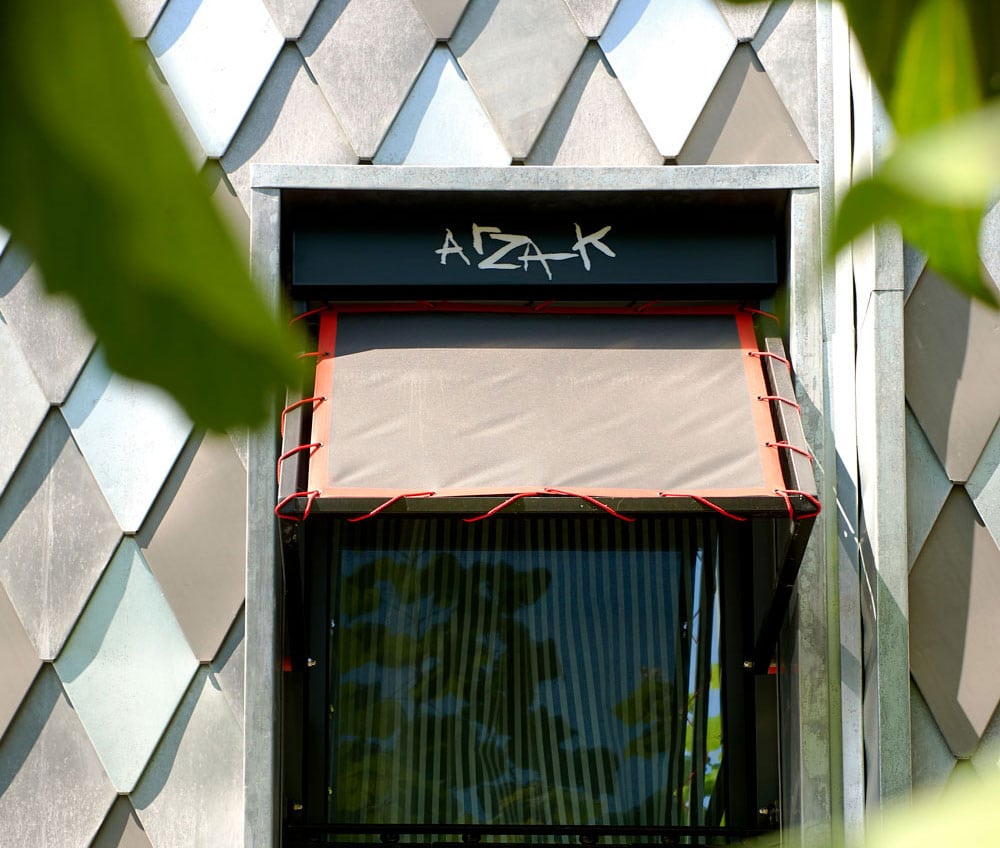 Q – What's your take on the evolution of women in the kitchen?
In our restaurant, there have always been more women than men in both the kitchen and the dining room: my great-grandmother and my grandmother were cooks, and as I mentioned, with the education I received, I don't have the same views on this subject as others might have. But what I do see is that changes in our trade have always been highly dependent on the broader social situation, which takes time to evolve. The reconciliation of private and professional life has changed things considerably. Paternity leave is also really important for shifting the position of women, not only in our industry but across the professional world: as parental responsibilities are shared, parental leave must also be shared. In Spain, men and women now have 16 weeks of leave: a big step that will really change things.
Q – Do you think the health crisis can have a positive impact on the industry?
Even though our industry is going through a very difficult time, we can draw some positives. First of all, taking the time to slow down and reflect on things, to develop contacts with other chefs has helped us gain perspective and see things differently. Furthermore, I'm seeing growing interest for environmentally friendly approaches and local produce, which is pushing us to strengthen our relationship with our producers and the entire local fabric. But what I see especially in the restaurant is that people celebrate life much more than before. They are still demanding, but they are more open to sharing a good time, enjoy themselves and celebrate. This definitely gives our job a different scope!