Linh Nguyen
« Our complicity is perfect. We share the same language, the same passion and the same taste for teamwork.»
Linh Nguyen, Jérôme Banctel's sous-chef at Le Gabriel, is undeniably a woman to be reckoned with. And whilst her modesty and humility mean she does not seek the spotlight, she displays incredible strength of character, and is a model of resilience and loyalty.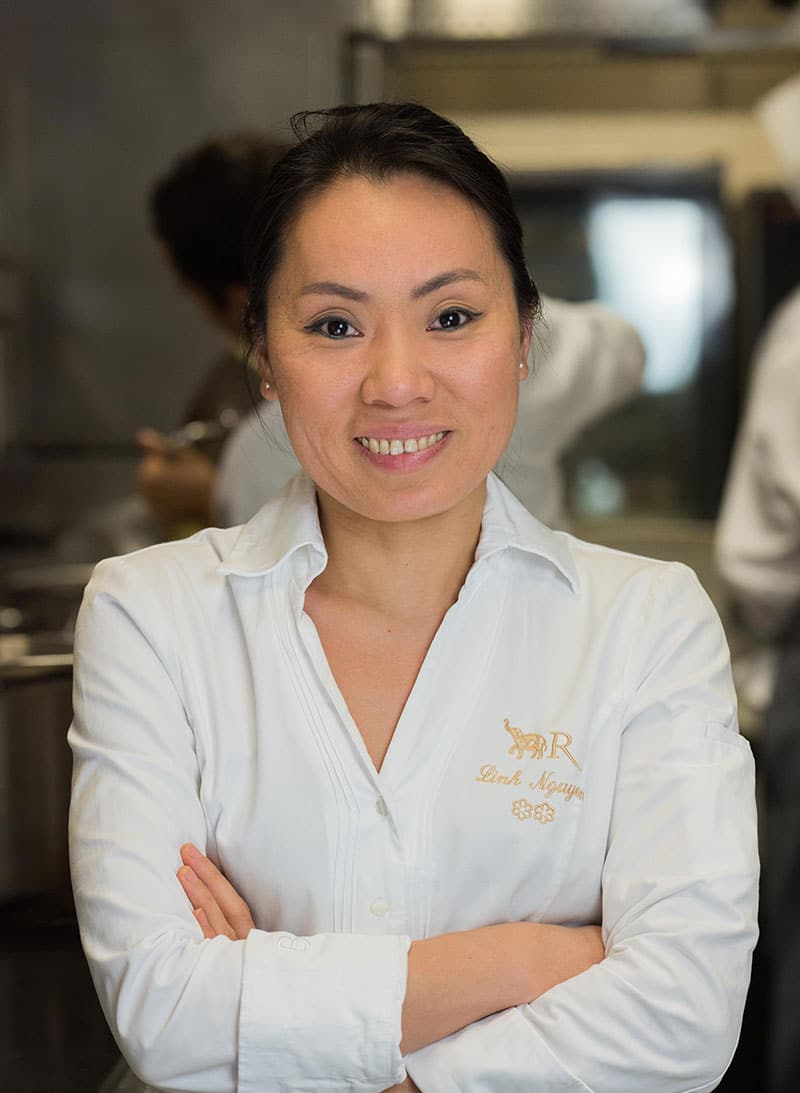 Meaningful encounters
When she arrived in France at the age of 19, Linh Nguyen did not know she would embrace a career in gastronomy with such passion and determination, but she already had the strength of character and curiosity that would eventually lead her to Alain Dutournier. The chef of restaurant Le Carré des Feuillants, Laurent Bouveret, quickly identified that little something in her, an appetite for haute cuisine. He prompted her to enrol at the Ferrandi culinary school, "an exceptional course, very modern both in terms of equipment and know-how. I was very impressed from the get go, and I have fond memories from that time." Although Linh hesitated for some time between working in the dining room and the kitchen, it was the latter that chose her: talent cannot always be explained. And then there is luck: meeting the right person at the right time, the kind of encounter that can change your life. Linh Nguyen met Jérôme Banctel at Alain Senderens' establishment, and their paths have remained intertwined ever since. "Our complicity is perfect. We share the same language, the same passion and the same taste for teamwork. We have complete trust in each other, as we do in the other members of the team. A formidable strength and an incredible opportunity."
Linh Nguyen's background:
2002: arrived in France at the age of 19
2004: discovered French cuisine
2006: Vocational training qualification (CAP certificat d'aptitude professionnelle) from the Ferrandi culinary school, work experience at starred restaurant Le Carré des Feuillants
2008: met Chef Jérôme Banctel at Alain Senderens' establishment
2016: Le Gabriel is awarded two Michelin stars, just one year after opening at La Réserve Paris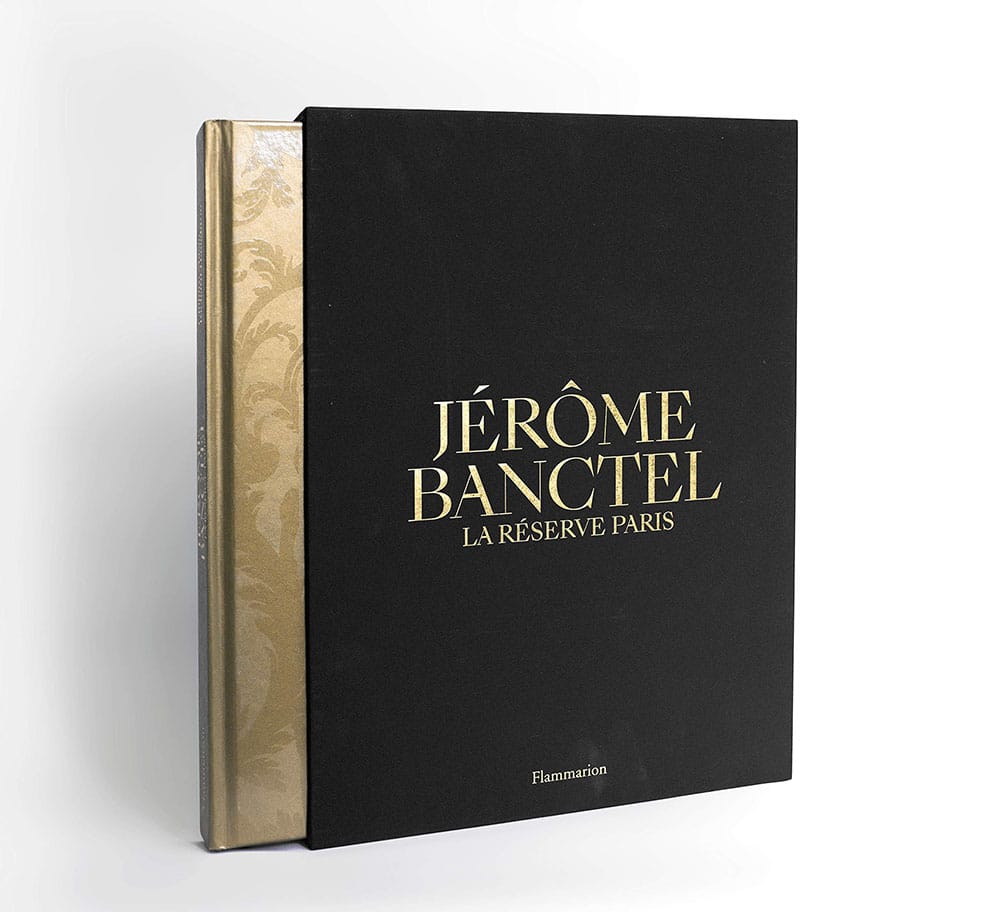 Stimulating work, everyday
There is a kind of virtuous synergy that helps them keep on the move, surpass themselves, never get bored and learn something new every day. "Teamwork is the key to success. It's amazing to work in such a close-knit, caring team." That's true not only for the restaurant, but also for the producers with whom Linh works hand in hand, tirelessly, to always offer the best seasonal products. Indeed, quality is the highest priority. "No day is the same. I meet many different people and I love it!" And last but not least, there are the guests, at the heart of all the attention. They are the ones Linh and the entire team strive to please. It's important to listen to guests, tempt them, and even push them out of their comfort zone: "We had to be patient and quite persistent to explain the reasoning behind our mackerel for instance. At first, guests were quite sceptical, looking down on this dish. And yet it has remained on the menu and has been a great success so far. Guests have become accustomed to it, proving we can change habits just like we can our dishes".
Creation at heart
Of course, there is tremendous pressure to please 50 demanding guests every day, to continuously create new dishes, to offer unexpected combinations and consistently achieve excellence, but Linh Nguyen knows how important it is to be able to let go and take all the time needed to achieve the desired result. "Every morning, I ask myself what we can do better. Doubting, trying again and again, constantly questioning yourself is key." Like an artist, Linh knows that there are days when nothing goes as planned. Her driving force undoubtedly is passion. At Le Gabriel, she is in charge of creations, her partner Maxime Vaillant concentrates on execution and service, and in the manner of a conductor, Chef Jérôme Banctel supervises the whole ensemble.
Linh's cuisine is mostly French, with a few Asian inspirations. Produce is what sets the tone. And her creative process draws directly from exchanges with the various producers selected by the chef. Their advice directly feeds her creativity. "I always try to remain open to the suggestions and recommendations of our market gardeners, fishmongers, butchers, etc. We have amazing products that need to be sublimated with the right condiments, sauces, cooking methods and proportions. A dish is always changing, ephemeral and unique. It is an exciting challenge to constantly reinvent our recipes with rabbit, oyster mushrooms, quail, whiting or carrots."
Woman is a man like any other
In her career, Linh Nguyen has encountered more difficulties in learning French than making her way as a woman. "During a rush, we don't have any time to chat, so if a single word is misunderstood, it can have real repercussions on the service. It's no issue for me anymore, but it took me a long time to get over that." Although women's rights are a bigger issue in France than in Vietnam, they still have to set boundaries and impose their conditions to be respected. "Women are not victims. We must believe we have the same chances of success as men. At the end of the day, these are tough jobs, for both women and men. Personally, I've never had any problem with sexism."
Linh has always gone after what she wanted, focusing on her demands and perfectionism, even going back to Vietnam for a while to take a break, find herself and focus on her personal life. "I felt the need to take a break, to build a family. I was 38 and I wanted a child." So Linh left Le Gabriel's kitchen for two years to work as a consultant in Vietnam. She even created an organic drink there, this time learning about industrial methods and products. And then the COVID-19 pandemic turned her plans upside down, and her daughter was born. However, she grew nostalgic of Le Gabriel and its team: "The chef called me and reminded me that our story together wasn't finished, that we had to get that third star. Together. So I came back for the reopening in May 2021."
Reduced constraints
For Le Gabriel, the health crisis and the closure of the establishment were an opportunity to carry out a range of adjustments. Chef Jérôme Banctel was able to adapt and develop his restaurant to preserve stability within his team. Now the restaurant closes not only at weekends but also for a week in winter and summer, offering its young, motivated and committed teams a better quality of life than most establishments in the industry. And a soft and nuanced transition for everyone. Linh Nguyen's job was also adapted to comply with her new status as a young mother: "I am officially a creation sous-chef, which means that I am not in charge of the execution in the kitchen, I don't deal with the rush of service and, above all, I no longer work in the evenings. This was a strict condition for my return, so I could see my daughter in the evenings and on weekends".
At Le Gabriel, the dialogue is always open. And whilst instructions remain strict, and a rigorous organisation is key to its smooth operation, everyone matters equally in the kitchen, and no one raises their voice. It is imperative that we move forward together in a healthy atmosphere, listening to those who prepare and serve the dishes. The twenty or so members of Le Gabriel's brigade, who share the kitchen with the team of the hotel's other restaurant, La Pagode, are united around common values: mutual aid, honesty, loyalty and unity, and the core belief that there is undeniably strength in number. "We all enjoy a certain amount of autonomy but the hierarchy is respected at all levels. We help each other grow with the sole aim of pleasing our guests. My role is to create, but also to teach younger team members the basics: proper dress, mutual respect and punctuality. It seems obvious, yet many newcomers in our industry are surprised when they discover the other side of the coin, the pressure, the amount of work required to sustain excellence. They have their own demands before they even start. I truly believe that the level of the new generation will be the main issue for the fine-dining establishments of tomorrow."
Essential balance
Of course, gastronomy trades require complete commitment, in time, energy, patience and self-sacrifice. You must be passionate to have a career in this industry. However, "cooking should never be the only thing in your life. Creativity needs to be nurtured". Work-life balance is essential. Not only does Linh Nguyen want to see her 10-month-old daughter grow up, but she continues to take an interest in photography, her other passion. And although she no longer attends her Monday photography classes, she can rely on a sharp eye in her job. Moreover, when Chef Jérôme Banctel asked for help from his team for his book (published by Flammarion at the end of 2019 and winner of the Champagne Collet Culinary Book Prize), Linh naturally took charge of the artistic direction and worked at length with photographer Richard Haughton. Once more, the team has demonstrated great solidarity, commitment and pleasure in working together towards a common goal. Yesterday to publish such an ambitious book, today to offer guests the very best of gastronomy, and tomorrow – maybe – to claim that long awaited third star? History is in the making, because there is undeniably strength in number. "Let's take advantage of the present and do everything we can, starting today."