Jamie Kim
« Every day is a learning experience, with infinite possibilities, it's wonderful! And the guests, above all else. They are the ones who bring me the most. We host at least one birthday a day: for me, it's a day like any other, but for them it's a unique moment, we must give it our all with great heart and passion to make this meal unforgettable. »
Unique in the French gastronomic landscape: no less than six women work in Chef David Toutain's eponymous restaurant. Among them, Sous-Chef Jamie Kim stands out for her tenacity, curiosity, humour and intelligence. An extraordinary person who did not hesitate to travel 13,000 km from her native Korea to work with iconic produce from the French terroir.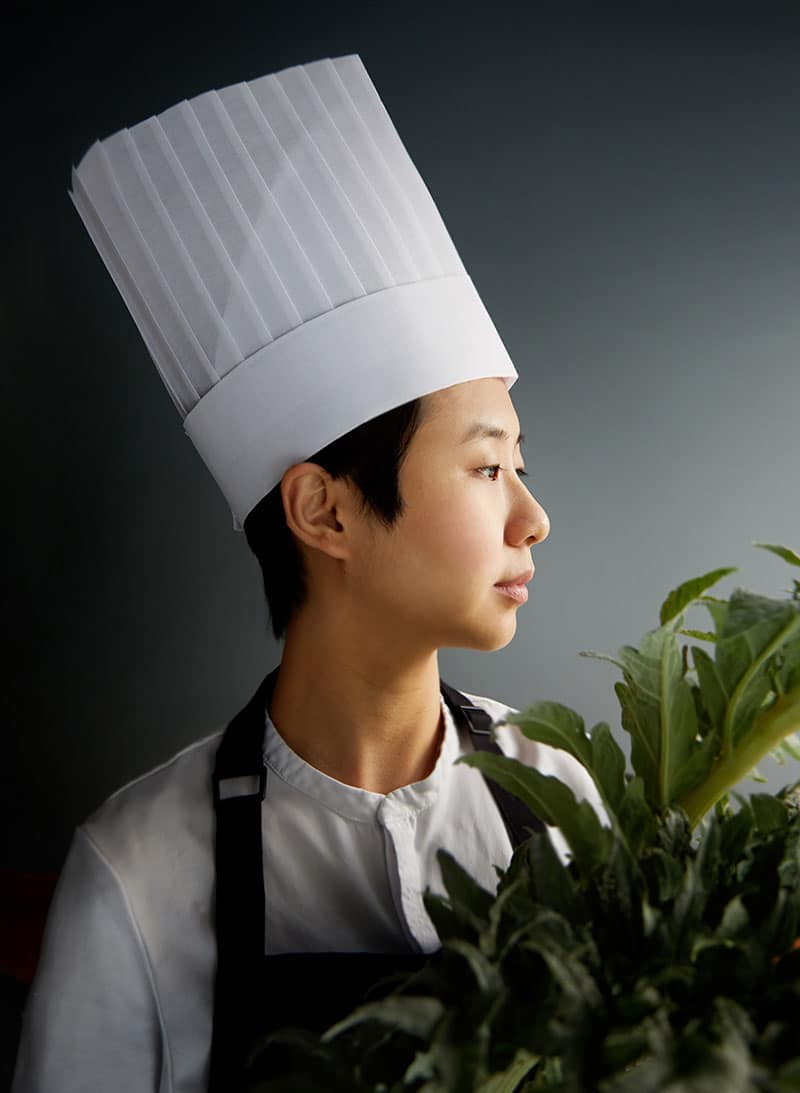 What attracted you to this industry? How did you become a chef?
In South Korea, pupils take part in several practical workshops during their last year of high school. The idea is to help them make informed career choices. I was 17 years old, and ever since my mother passed away two years prior, I had felt completely lost and bored at school. My parents – one an architect, the other an office worker – had always encouraged me to choose a socially recognised profession such as doctor, or a "safe" one such as civil servant, but I just couldn't see myself spending my entire life behind a desk. For a while I thought about a career in sport because I loved athletics. But the day I discovered cooking at school was a revelation. I knew nothing about gastronomy or culinary trades but I was absolutely fascinated and caught up by this amazing world, so new to me. Among the 180 pupils my age in my high school, I am the only one who chose this career path. I must say the time spent on my grandparents' wine farm definitely had an impact on us, because my older brother is now a sommelier and has his own wine bar in Korea!
2012 :  Lycée in South Korea
2012 : Trip in Australia
2013 : English lessons in Sydney
2014-15 : Cordon Bleu school in Sydney
2016-17 : French lessons in Lyon
2019 : Restaurant David Toutain
That calling was met with some scepticism by my family, and I decided to indulge in another desire: travel. I wanted to discover the world and learn another language. So I graduated in February in Daegu, and travelled to Sydney in March with my father's support. I didn't know anyone there but it was easy to get a visa for Australia. I took this opportunity to travel throughout the country and explore Indonesia as well. But I had to work, of course. So I sent out 50 resumes all over the place and worked in several cafes. Despite my aversion for school, I realised that I needed to get an education to aspire to interesting jobs, so I enrolled at Le Cordon Bleu Sydney. I had to reapply for my visa and get an English certificate in order to stay in Australia. It was a sandwich course: three days at school and the rest of the week working at Chef Tim Bryan's brunch café, where he taught me a lot! It was amazing. I could ask questions, make mistakes, he was always generous, patient, trusting and motivated me to keep going. Naturally, I did my second year internship with him and then followed him to his new restaurant, a brasserie.
It was also Tim Bryan who encouraged me to explore other forms of catering, to try out different ways of doing things. I was quite curious about the hotel industry so I ended up working at the Hilton Hotel. This one-year experience brought me a lot. As an event manager, I handled a broad range of tasks in the kitchen and I had to be very versatile. From room service to business dinners, from breakfasts to night shifts, I learned a lot of skills and met people from all over the world. The boss even offered me to stay on permanently. It definitely was a comfortable and interesting job but I felt I was too young to settle down… I was curious and wanted something else.
I returned to Korea to be with my family and think about what to do next. I decided to give the gastronomic world a change and joined the kitchen of a big restaurant in Seoul. It was a difficult month. I was used to working 16 hours in a row, but certainly not in such a tough military-like atmosphere. Not only was I a woman, but I had also been travelling around, so I had skills that the team envied me for. A bit traumatised and filled with doubts, I left the culinary world for a while and worked as a communications assistant at the Seoul Arts Center Opera Theater. It felt great to work in the cultural world for a few months, an industry I have always loved. I was in contact with the public, I was speaking English every day, it was a totally different life but just as exciting. But I soon missed cooking!
What made you want to move to France?
Many of my teachers at Le Cordon Bleu Sydney were European, and French especially. In this trade, you get to travel a lot and I think that's why it suits me so well. During my two years of study, we learned how to cook vegetables, and something kept popping up: Australian fruit and vegetables don't taste the same as in France. I was really intrigued by this: why and how did they taste different? I had to see for myself, I had to taste French peas. That's why I came to France. To Lyon to be precise, because it was easier to settle there than in Paris. I took French lessons for a year, after which I had to return to Korea to apply for a work visa in France. Once I got it, I took the opportunity to explore Europe. I travelled through the UK, Germany, Switzerland, etc. When I arrived in Paris, I was totally broke and decided to send out my resume to all the one-star restaurants in Paris. This bold approach paid off because David Toutain replied almost immediately. I remember the timing very clearly: it was a Friday, he offered me a trial run on the next Monday, and on Tuesday I was signing my employment contract! That was in January 2019. The pandemic sent me back to Korea and I had to wait ten months to get my visa renewed. But I re-joined the restaurant team as soon as I could, and with great joy, to help with takeaways. I haven't left since, except in the summer for holidays.
What drives you most in your work?
Every day is a learning experience, with infinite possibilities, it's wonderful! And the guests, above all else. They are the ones who bring me the most. We host at least one birthday a day: for me, it's a day like any other, but for them it's a unique moment, we must give it our all with great heart and passion to make this meal unforgettable. I love this constant pressure to make people happy, it's so rewarding! I have a friend who works in the hospital. Every time we exchange about what we deal with at work, I realise how lucky I am. She and I both take care of people, but I get to witness the joy I bring to guests, which is just magical. We have a window between the dining room and the kitchen, so sometimes I peer through to watch the first bite: that precise instant when the guest's face lights up. It's just so precious! Gastronomy has the power to bring pleasure, and we receive just as much: it's a virtuous circle and we're so fortunate to do what we do. When you want to comfort someone you love, what do you do? You take them to a restaurant, of course!
How do you collaborate with David Toutain and the teams?
We all work together. The chef believes everyone should be equal. No one is more important than the other, and the group comes first. This state of mind makes for a very supportive and relaxed atmosphere. We are all happy to be here and this is reflected in our cuisine.
There are six women in the kitchen. It's strange to see how surprised people are by that. Not a day goes by without something pointing it out, whereas if there were more men, nobody would even notice! We are finally seeing women in the kitchens, which is quite new and very positive.
Every morning we debrief the previous day: how did the services go? What could be improved? All team members are welcome to make suggestions. No one is perfect, but by discussing and exchanging ideas calmly, we can truly work miracles! Our differences can make a huge contribution to the team, that's how we move forward. The chef doesn't rely on an authoritarian approach, so everyone can follow their own desires and develop their skills. One way of doing things may suit one better than the other, so you have to adapt, listen and be flexible.
The menu changes very often, depending on the seasons of course, but also on produce deliveries and the chef's creativity. David Toutain has a lot of ideas, he shares them with us, often with little drawings like this one, and then we try them out, we exchange ideas, everyone gives their opinion. When we've made sufficient adjustments and we're happy with the result, we can serve the dish to our guests. But it's always evolving. The chef is an artist; it's an honour to be able to work with him on his creations, and to have his trust.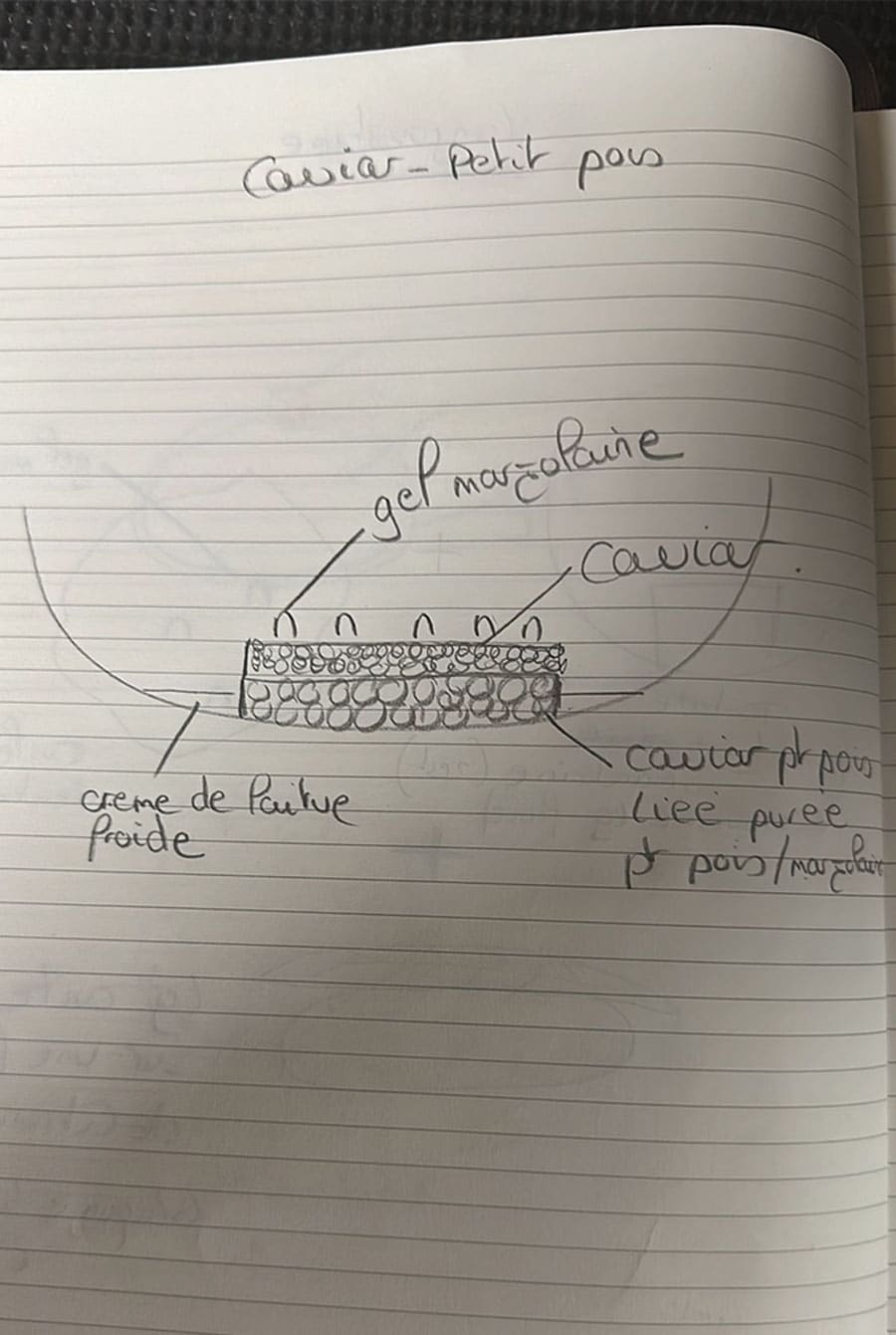 You love the arts and travelling. Do they inspire your work?
Absolutely, I like to feed myself, in the broadest sense. I am not afraid to try new things – quite the contrary, I need to! Whenever I can, I go to the museum. I have spent a lot of time at the Fine Arts Museum in Lyon (Musée des Beaux-Arts de Lyon), at the Musée de l'Orangerie in Paris, and in various art galleries. That's where I get to recharge my batteries. I also like to go to other gastronomic restaurants, to taste other chefs' creations. It's always interesting to see what other people can do with the same ingredients. So I try to keep an open mind. I can't get enough of French produce: it's incredible how sweet peas are for instance, and every year it's a proper treat!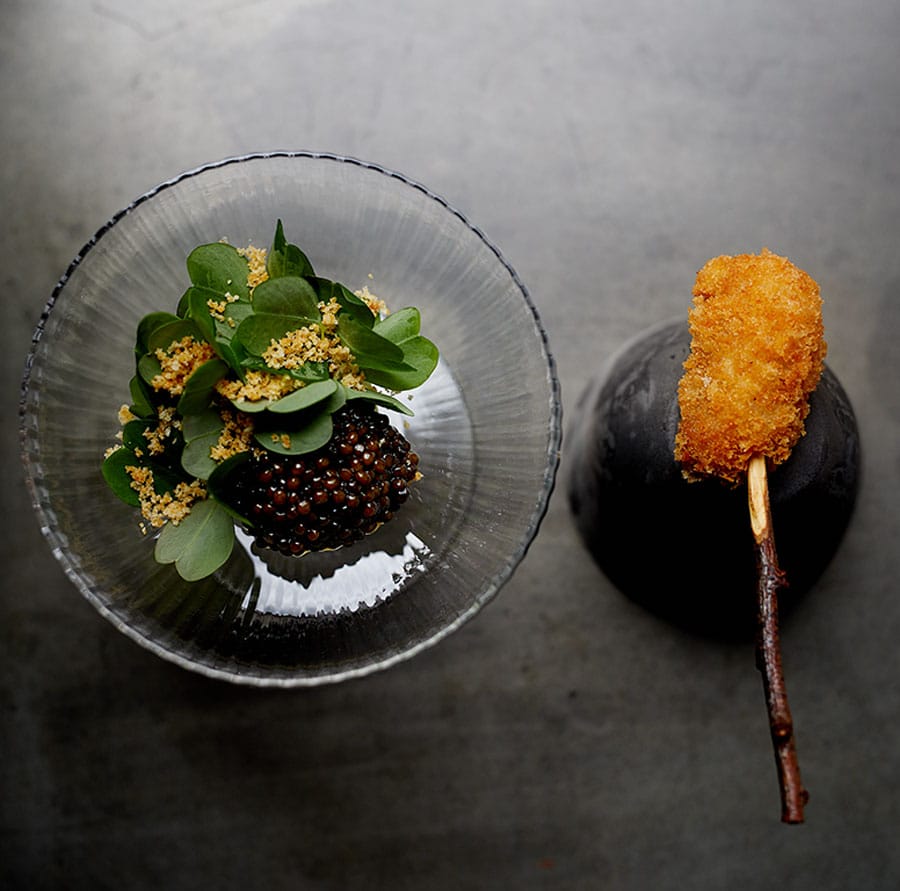 In your opinion, what are the major upcoming challenges for gastronomic restaurants?
Gastronomy is a highly demanding sector. To reach such a level of excellence, you need outstanding produce of course, but also a lot of work and a lot of staff. The fact Chef René Redzepi's Noma had to close is quite significant, and it certainly raises questions. I am just a salaried employee, spared from such worries, but I think running your own gastronomic restaurant today is a massive challenge economically. Let's say you want to create a recipe with nuts, you can't imagine the time it takes to peel 100 grams of fresh nuts… and then everything else! What a headache! Every little detail takes a lot of work and yet even the smallest thing is important. So everyone has to be fully committed. We are lucky to work with a chef who is able to motivate us. He's able to convey his love for the produce, he's respectful of everyone and everything: I admire him a lot, just like I can admire a painter. His gestures and meticulousness are incredible. I value creativity above all else and I think David Toutain has great creative skills. He thinks of unlikely pairings and uses herbs with great sensitivity. So that's why I'm here, it's for him, for his leadership and his talent. Perhaps that's the key to success for a gastronomic restaurant? In any case, people will remain at the heart of our approach.
What do you think about the place of women in the world of gastronomy?
We have made progress but there is still a lot to do. Mentalities are changing, and the industry is starting to become more feminine. There are more and more young women who know at 29, like me, that they will spend their entire life in the kitchen. Women have their place in the kitchen, just like anywhere else. This trade is a passion above all.