Mariella Organi
« For a manager, the goal is always to see team members flourish. If at the end of the service everyone has a smile on their face, it means you've won! »
Discretion, controlled elegance and a humble, almost philosophical approach to her trade: having the chance to chat with Mariella Organi not only means getting to know a decorated professional, but also a woman who likes to reflect on the values and meaning of the restaurant business. Firmly rooted on the Adriatic coast with her husband, Chef Moreno Cedroni, the couple has relied on their sense of innovation and refined discretion to build a vibrant and human experience.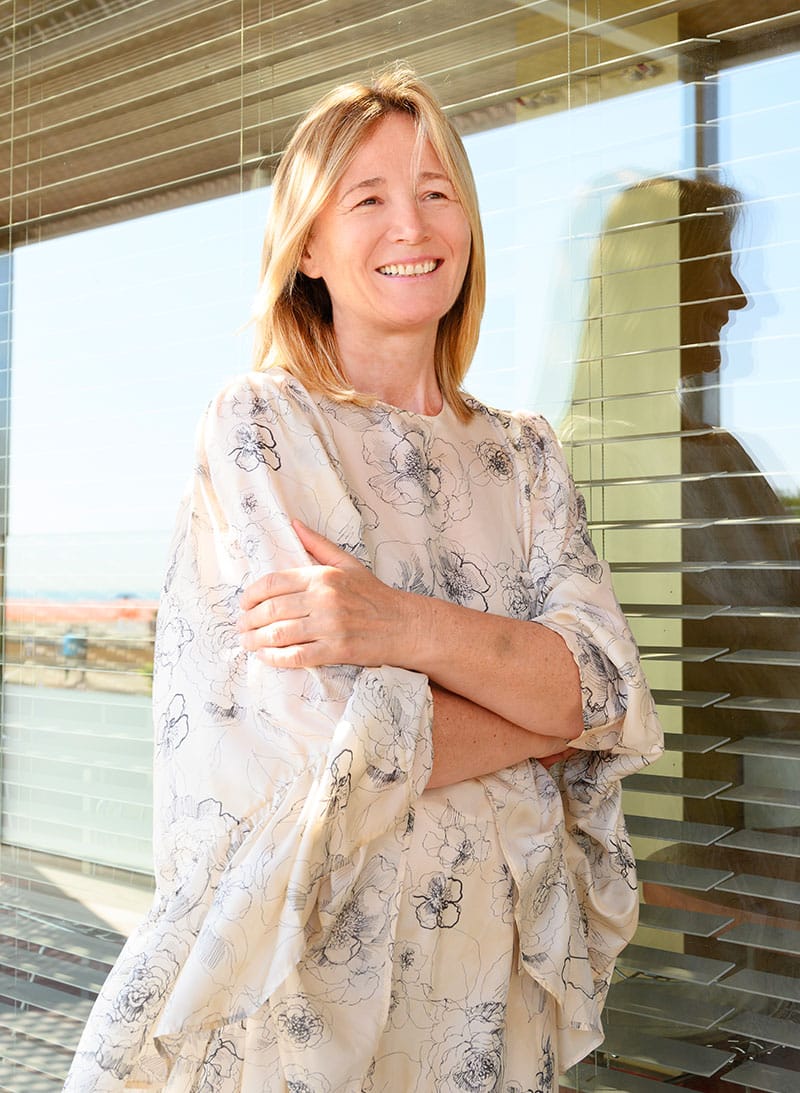 What is your background?
I first walked through the door of this restaurant in November 1991… and never left. After studying tourism and hotel management in Senigallia, I considered specialising in museum and heritage conservation for a while. I had already worked in another restaurant and when I met Moreno, and then married him, it seemed obvious that we should work together. We felt it would bring balance to our relationship. So I took a sommelier course while managing the restaurant and handling service. I am rather caring by nature, and I believe this is an essential trait not only to welcome our guests properly, but also to ensure the overall quality of their experience. My original desire to protect and preserve cultural property also applies to the restaurant business in a sense. In my opinion, a restaurant is a place of cultural sharing: you have people who know the produce, others who know how to grow them, others how to reach the greatest number of people, and those who come to discover this tightly knit network… It is a space of exchange that promotes growth on a human level. Moreover, in our fast-changing world, being able to preserve and pass down these skills and know-how feels more important than ever.
Mariella Organi's background
Nov. 1991: started working with Moreno Cedroni
1994: married Moreno Cedroni
1995: first Michelin star for their restaurant
1997: birth of their daughter Matilde
2006: second Michelin star
2016: awarded Best Female Maître by Identità Golose
2017: Member of scientific board of ALMA Scuola Internazionale di Cucina Italiana di Colorno Parma
2017: Ambassador Emeritus for the Italian Association of Ambassadors of Taste
2021: awarded Best Dining Room Service by Gambero Rosso
2022: awarded Maître of the Year by L'Espresso
How would you describe your daily work?
When she was little, my daughter Matilde first thought that I was a "cashier", then a "maid"… So it's not always easy to understand! I'm the restaurant manager: I look after our guests, but also those who work in the dining room.
In total, this equates to about ten people, with the sommelier, the head waiter and the commis waiters, all with very different personalities, that manage to work together harmoniously. Since we can't all be hyper-performers, even a more discreet or shy person is very welcome within our team. Respecting the different personalities and even turning that diversity into a strength has brought a wealth of nuances for our guests, and allowed us to build much more authentic relationships. Something that is beneficial to everyone! The care taken to balance the group makes a real difference for the guests and allows for greater serenity. For a manager, the goal is always to see team members flourish. If at the end of the service everyone has a smile on their face, it means you've won!
What are the key principles of effective dining room management?
Commitment. I am a great believer in routines and consistency because you can't improvise all the time. You need to be really persistent and resolute. And you must set an example: you can't learn this trade only from textbooks… One of the specifics of our world is our exposure to a strong emotional charge: we absorb the emotions of our guests and colleagues because to work in the dining room, you need to be very intuitive and sensitive to others. We learn to build a kind of shield against all these external emotions that we take on, so that we are not unnecessarily exposed.
And you don't need to be an extrovert to do this job. I myself am rather shy and sensitive by nature, but I am also very curious. Working in a restaurant is truly fascinating because you meet a lot of people from different backgrounds. You must always keep alert and open! A restaurant, contrary to what people may think, is not a theatre, it's so much more than that. Everyday the acting is different because there is no script. Guests are actually the main actors, and over the years, the scene fills up with like-minded people… people like us. We're by the sea here, but not necessarily in a show-off or trendy spot. Nobody comes here to be seen, but rather to enjoy a quality moment, the pleasure of sharing and a gourmet experience – in short, for a singular and authentic experience.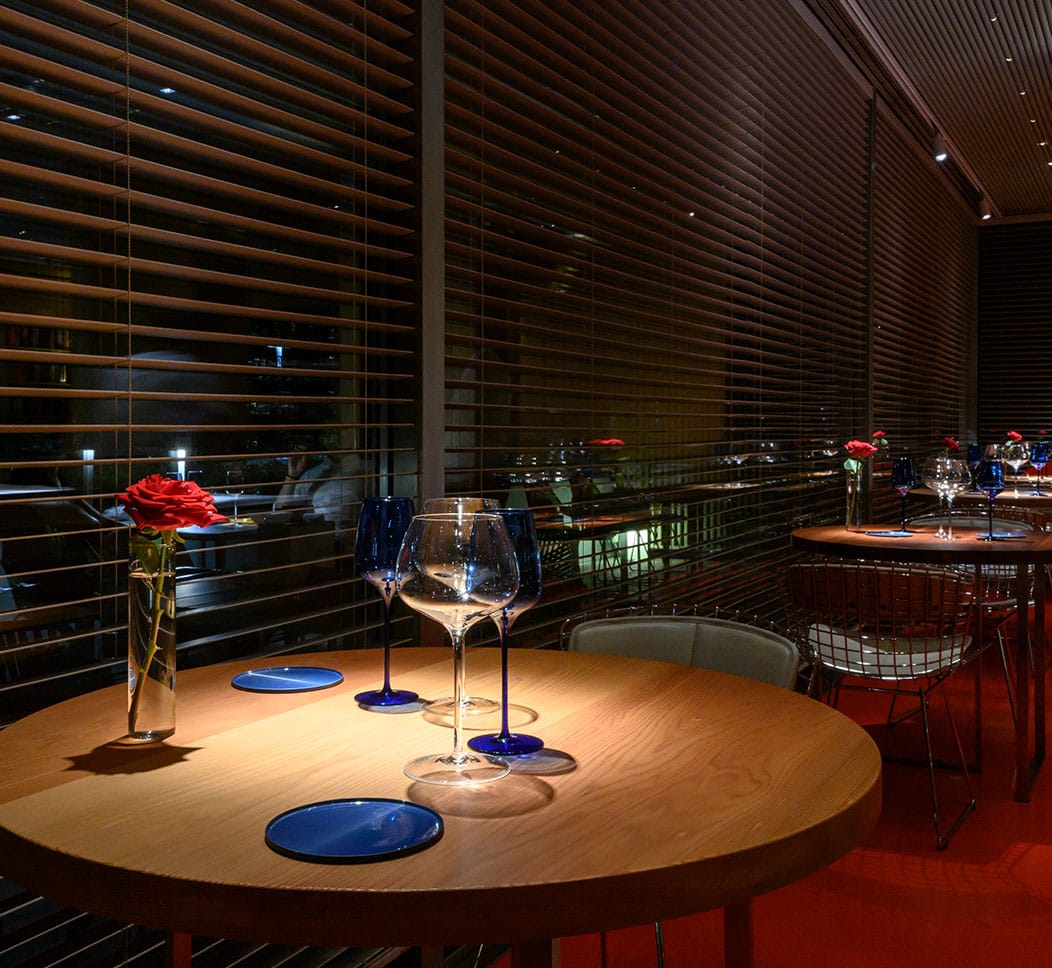 How can the chef's intent be successfully conveyed in the dining room?
An important aspect of our work is menu introduction. However we don't give the same speech to all guests, but rather try to adapt it to each table. You must be incisive yet concise, and make sure you don't take up too much space, and respect the pleasure of discovery and tasting. I don't like menu introductions that are too standardised, too elaborate: a dish has a kind of modesty that should be respected because it will speak for itself once the guest experiences it. Some aspects must be revealed, but not too much… Talking about the chef's work is a bit like playing music: you need to master the notes and the technique, but you must also be able to improvise! Cooking and service are art forms in some way, but the act of eating itself is not really artistic, which makes gastronomy a singular type of art, ephemeral and out of reach for those who have not experienced it. Tasting a wine or a dish, observing a type of service, is a bit like a journey, it must be experienced. And since these moments are fleeting, they become all the more precious: this makes the attention we pay to them even more essential because all our efforts are dedicated to this precise moment. This is what makes our jobs so unique.
How do you get younger team members to understand this?
We work with ALMA, the school founded by Gualtiero Marchesi. It's not easy to explain that this trade can be exhausting, because it's exciting and takes up a lot of space in our lives, but it can also be a tremendous source of fulfilment. What makes the difference is the level of commitment. And you also need soft skills that are often disregarded: concentration, attention, silence… One of the most difficult aspects that young people have to cope with is how repetitive this job is: the days are very similar because everything needs to be well orchestrated. This generation has learned that nothing lasts forever, so they are in a hurry. But small details such as removing crumbs from a table, are not small at all, in fact they are fundamental. They would all like to tell the story of the dishes… when the value is in knowing the smallest details, the attention paid to elaborating things that are simple in appearance but contribute to the overall experience. The delicacy of gestures and the care given to all these little details is the backbone of our business.
Dom Pérignon's motto – "harmony and time" – is fascinating to me because it applies just as much to champagne as it does to the hospitality businesses, where the most difficult thing is consistency, being able to stay the course over the long term.
What about your female colleagues?
Trades like ours need to evolve because this is not an industrial business, but a human one, and you can be a mother and a great professional at the same time. Over the past fifteen years, several of our employees have managed to successfully combine their family and professional lives. Many women are especially strong and resilient, and this model speaks to me. I try to be as impassive as possible, to not show too much emotion in front of my teams. I am quiet by nature, which goes to show you can do this job in many different ways. That silence leaves room for everyone else to express themselves, to feel encouraged. I like the fact that we use gender-neutral terms, that we don't say "maîtresse d'hôtel" for instance: to me the word "maître" is completely neutral. And if it were feminine, we would have everything to conquer…
How would you sum up what your experience has taught you?
"Doing less to do better" is probably one of the main lessons. After all, we do this job for ourselves as well as for others, and that requires solid foundations. We have the immense privilege of living in a unique setting, by the sea: this puts things in their right place, sets limits. The beautiful Adriatic landscape is everywhere around us, and always prevails: our restaurant is not only about what is on the plate, but also about what is around it, the humidity, the heat, the cold, the wind, in short all the uncertainty brought by this amazing natural environment. For us who live there, our responsibility is to succeed in transcribing all this for our guests.