Astoria Koh
« Working alongside Chef Guillaume Gaillot, I feel supported and appreciated; that plays a big part in remaining with an establishment. It's also up to me to support my team. If someone comes to me and says "I can't do this or that", I have to find a way to help them. »
Of all the facets of French gastronomy, pastry may very be the most dazzling. The world over, aspiring pastry chefs rely on its basics and techniques to create desserts that anyone can recognise and appreciate.
Astoria Koh has made it her profession. And even though she has never set foot in France, she knows every little secret of French pastry making, and diligently follows the field's biggest stars on social media. Precision, rigour and loyalty are probably the words that best describe her. For almost 10 years (with only one brief break), she has worked alongside Chef Guillaume Galliot, following him from Singapore to Macao, and then to Hong Kong. At Caprice, the Four Seasons Hotel' three-star restaurant, where the pastry brigade alone is made up of seven people, desserts are seen as the perfect conclusion to a meal that masterfully celebrates French gastronomy.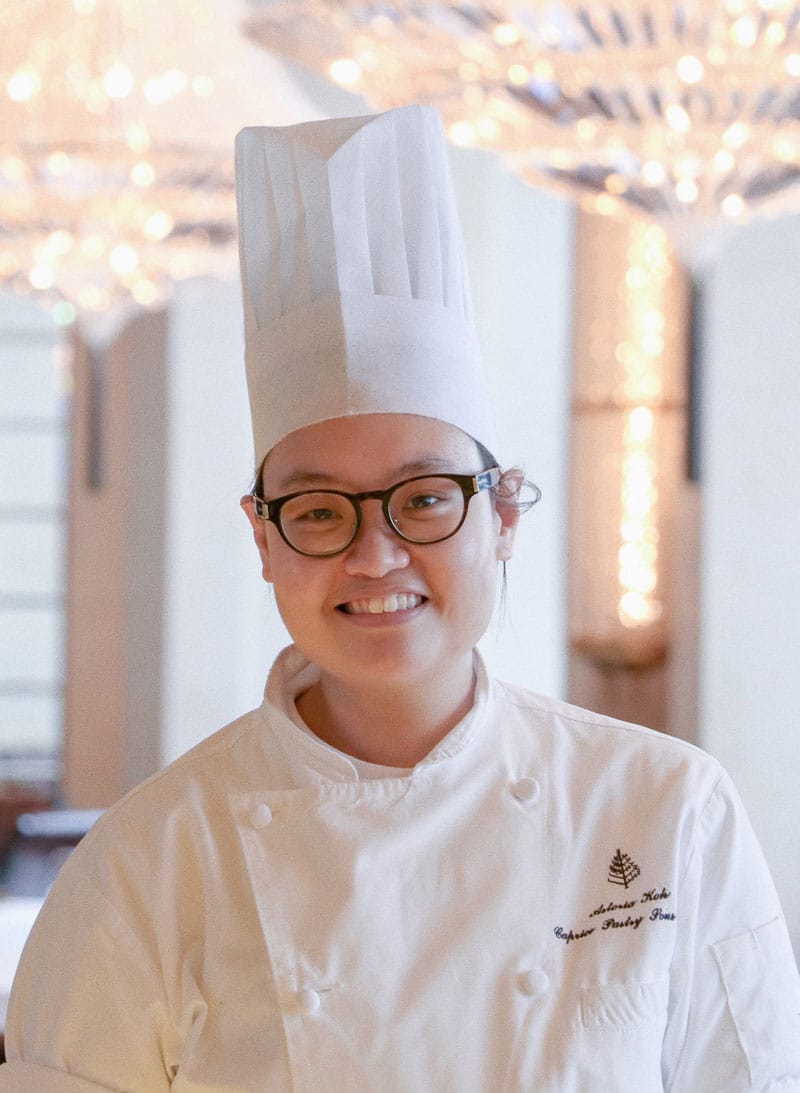 What was your training?
When I finished high school – in Singapore, where I was born –, I started working part time in a bakery for a few months and I really loved it. I had always loved baking, but just for fun. I didn't really consider it as a possible career. So I studied interior design and architecture for three years while still working in pastry. But I soon realised I really wanted to work in this field. I did my training at Le Cordon Bleu, a world-renowned culinary school. I chose to train in Australia because I had an uncle who lived there, and because I knew the course would be in English. I soon learnt the basics and made good progress, and overall I really enjoyed my time there. I never felt like I was studying, I was really into it and having fun!
Is there a connection between design and pastry?
Yes, I think my design studies helped me understand how to create something in three dimensions. I can picture the result more clearly, the colours, the shapes. Early on in my career, I used to believe these studies were a waste of time, but with hindsight, I now realise how they provided me with solid foundations for the way I work.
2008 to 2009 = Graduated from Le Cordon Bleu, Sydney
2009 to 2012 = Pastry Cook at 2am:Dessertbar (in Singapore)
2012 to 2017 = Chef de Partie then Pastry Sous Chef at The Tasting Room by Galliot (in Macau, 2*)
2017 to 2018 = Pastry Sous Chef at L'Atelier Joel Robuchon (in Singapore, 2*)
2018 to present = Pastry Sous Chef at Caprice (in Hong Kong, 3*)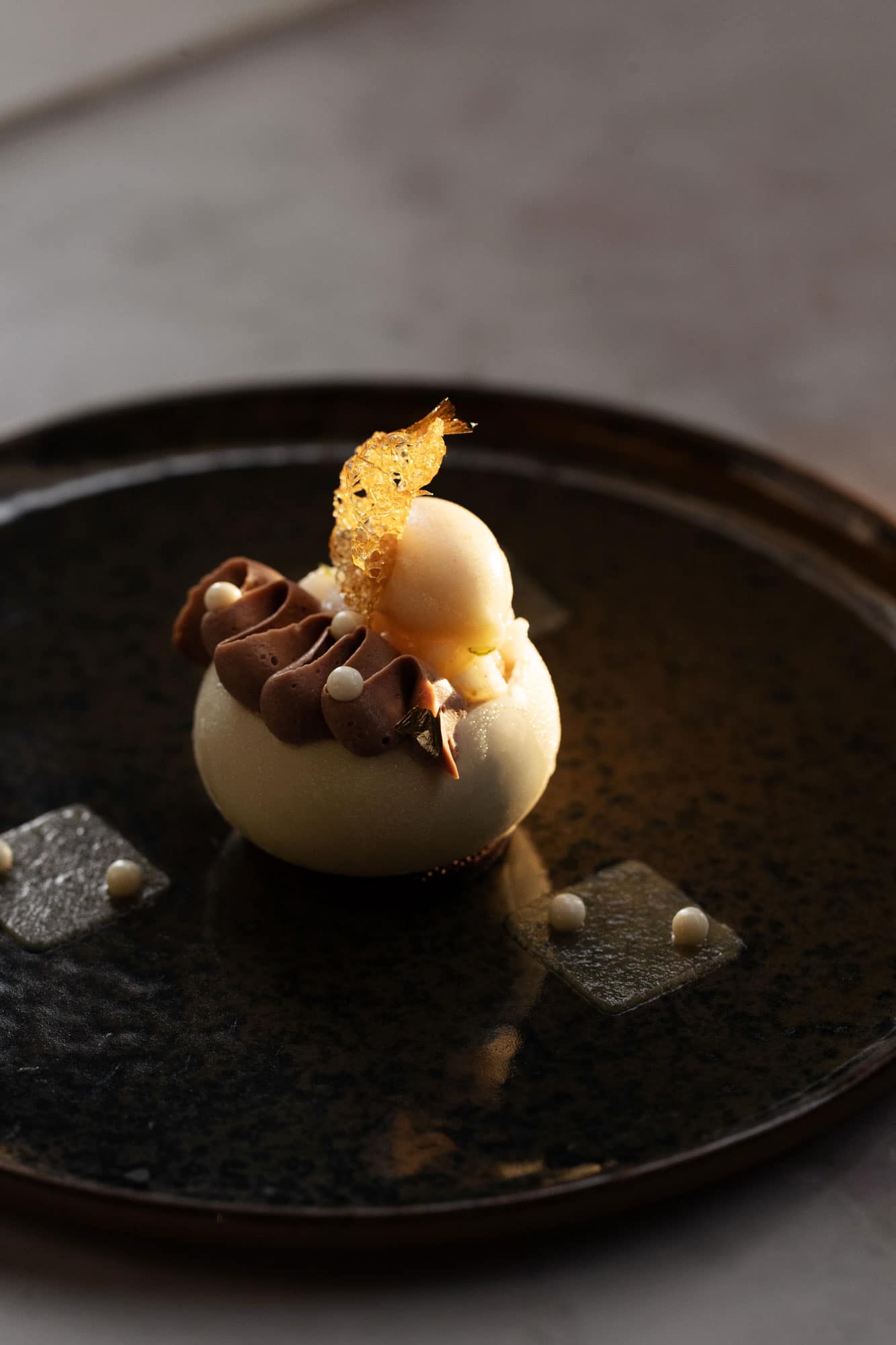 Have you always worked with French pastry?
The very first pastry shop I worked in was rather Anglo-Saxon: they made carrot cakes, chocolate cakes, cookies, things like that. When I was in culinary school, all I knew was that I wanted to work in pastry making. I didn't think about what kind of cakes I wanted to make, or whether I would rather work in a shop or a restaurant… My first job happened to be in a restaurant, and that's how it all started. It was a famous dessert bar in Singapore, Janice Wong's 2am. A dessert-only restaurant, with 14 on the menu. It was completely eye-opening to me! At school, we only had one or two classes on plated desserts, and very conventional ones at that. But in this dessert bar, everything was completely different, much more artistic, with great freedom in terms of creativity, flavours and design. That's what brought me to restaurant desserts.
How does your collaboration with Chef Guillaume Galliot work?
Chef Guillaume was the first French chef I worked with, and I immediately enjoyed collaborating with him. He gives me great freedom to express myself; he is very open to suggestions while always giving his honest opinions and advice. I'm improving on a daily basis, I've really learnt a lot from him.
He has an amazing palate and sometimes, just when I think a dish is complete, he comes in and suggests adding a new flavour. For instance: in pastry making, we often add an acidic component to compensate for sweetness and give the dessert a little kick, like lemon juice or zest… But then he said: why not use vinegar? Personally, I don't like vinegar… but I ended up taking his advice to give a new dimension to my recipe. These are the kinds of things we explore together. When it's time to change the menu, the chef throws out a few ideas, a few ingredients, which I can use to create something wholly original. For instance, a prompt to use both cherries and chocolate. If the inspiration doesn't come right away, I usually sleep on it and the next day I wake up with an idea in my mind. Then I draw the dessert and everything kicks off from there. In the end the chef tastes it, and together we decide what needs to be changed to make it truly perfect!
Where do you find inspiration, do you scout what other pastry chefs are doing in Hong Kong?
Sometimes I test out what others are doing, but not so much actually. My time off is sacred to me, I like to rest or do sports. But I always keep an eye on what's being done online, and if it looks interesting, maybe I give it a try. With the Internet, we have access to so much information. So I look at what's going on there, and I read a lot as well. That's where I get my inspiration. Let's say I have an idea, a taste in mind: I go online, do some research, I can see what has already been published on the subject, and I use that to craft my own interpretation.
What types of desserts do you make at Caprice?
It is worth noting that in Asia, many products are imported. Hong Kong and Singapore are very similar in this respect. So I grew up without necessarily thinking about seasonality or products' origins. Here, you can have anything you want. Maybe the flavour isn't the best, but you end up thinking that's how things really taste. The chef puts great emphasis on seasonality, and that's something we abide by. During peak strawberry season in summer, we make the most of it in our desserts, and when it's over we move on. If someone asks for a strawberry shortcake in December, well it's out of the question! We stick to French seasons and only work with the best products, almost exclusively imported from France. If we can't get them for a particular recipe, that's too bad, but we have to come up with something else!
How would you describe your guests' tastes?
Of course, Hong Kong people are great travellers, they've seen and experienced many things, but at heart, they are not very adventurous. We know full well which of our desserts guests will pick, because they know exactly what they like. If they want chocolate, then chocolate it shall be and nothing else! Some of our desserts have been on the menu for a very long time: the chocolate banana millefeuille for instance, or the soufflé…
They usually favour classics, not too sweet. But we also try to surprise them with new creations.
What is your favourite ingredient?
Caramel! It's really great because it's just sugar that you heat up. But the way it changes, the colours and flavours it takes on: soft and sweet when it's light, darker when it gets stronger, with a slight bitterness…
I just love using it! For instance, we created an interpretation of my favourite snack, Snickers. It's a dessert made of caramel mousse on a peanut nougat base, and a chocolate ice cream. So delicious!
Where do you see yourself in a few years? What would be your dream job?
I already have it. This is my dream job! It really is. I love working here, alongside Chef Guillaume. I feel supported and appreciated; that plays a big part in remaining with an establishment. It's also up to me to support my team. If someone comes to me and says "I can't do this or that", I have to find a way to help them.
As long as I'm in the kitchen, as long as I'm making pastry, as long as I'm creating, I'm happy and I hope to stay here as long as possible.
Working in a restaurant can be physically tiring, but I really want to do it for another 10 years! Because if you take me out of the kitchen, that would make me really sad!