Dalila Salonia
« This job undoubtedly requires sacrifices, but it's all worth it. »
Nothing predestined Dalila Salonia to become one of Italy's top young pastry chefs. Yet her boundless energy and creativity naturally led her to this field, and now she expresses her culinary skills and ideas on a daily basis at Il Pagliaccio, in Rome. This is the profile of a most cheerful and dynamic woman, expressing herself in the most fun and creative way possible.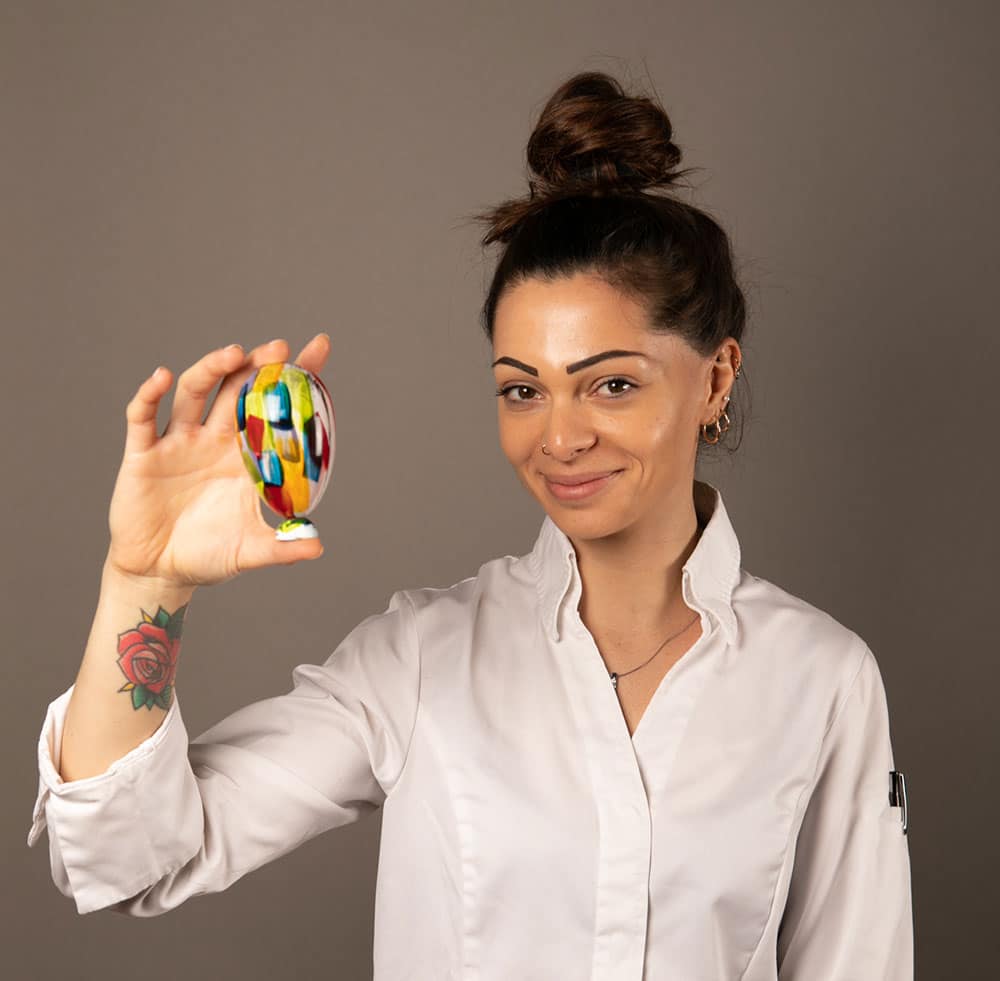 "As a little girl, I often pictured myself as a mechanic… because my father was a mechanic. Then I thought of studying art because I also loved drawing. But this was not possible where I lived, a small town in Piedmont called Mondovì, 80 km south of Turin. So I chose hotel management school…. And to be fair, I loved it right away!" For a technical and creative mind like hers, getting her hands dirty changed everything. After five years at a traditional hotel management school, she joined the prestigious CAST school in Brescia, a high-level training course – unique in Italy – where she met her mentors. "I was lucky enough to have Davide Comaschi, crowned 2013 World Chocolate Master, and Emmanuele Forcone, winner of the 2015 World Pastry Cup, as my teachers. The opportunity to assist them taught me so much! Davide is really the one who passed on his passion for chocolate to me!"
Dalila Salonia's background :
2008-2013: studied at the hotel management school of Mondovì (Piedmont)
2014: studied at CAST, culinary school in Brescia (Lombardy)
2017: head pastry chef at the Magnolia restaurant, Grand Hotel Via Veneto in Rome
2018: head pastry chef at the Villa Crispi restaurant in Piedmont (2 Michelin stars)
2019: pastry chef at Il Pagliaccio restaurant in Rome (2 Michelin stars)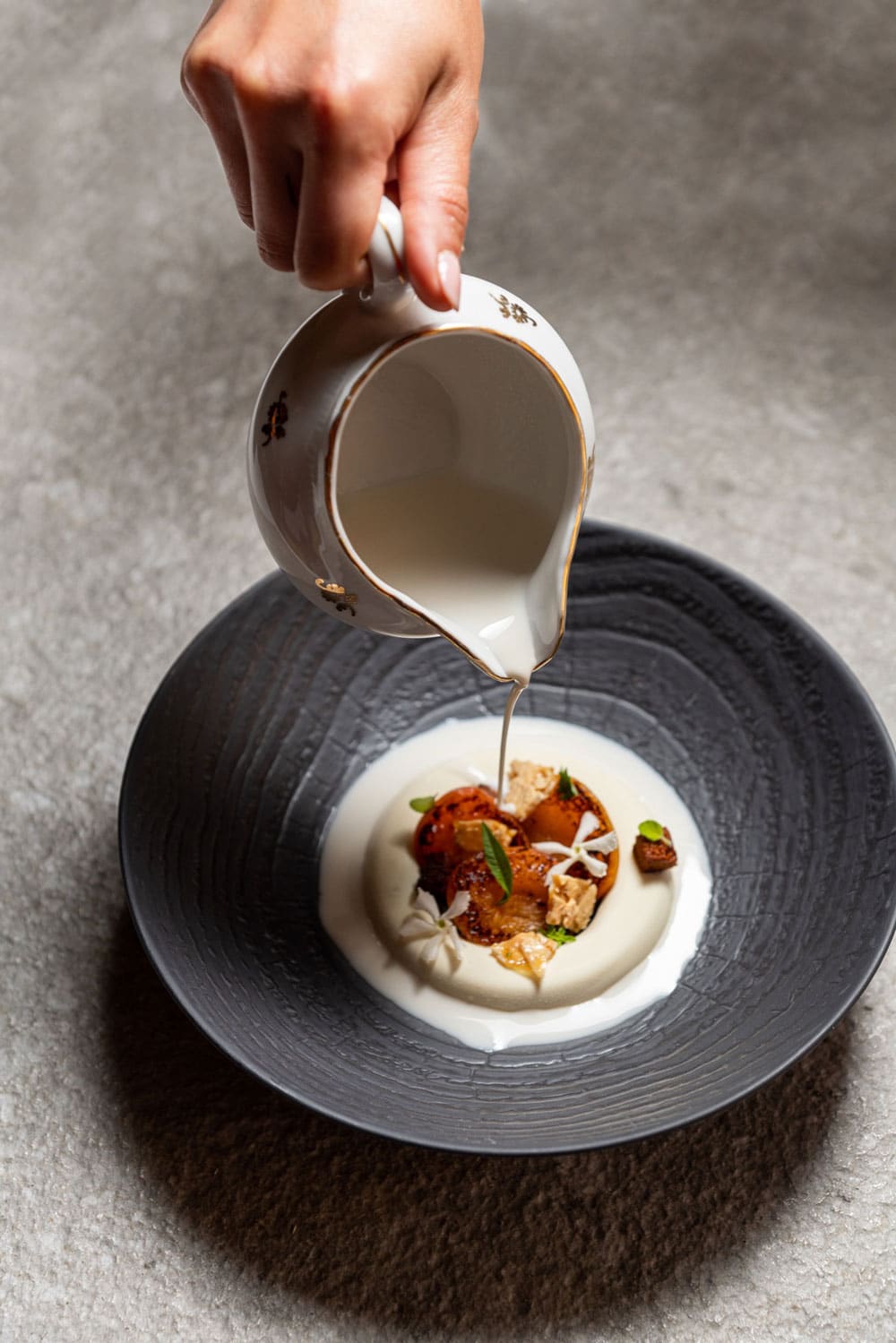 This hands-on training, along with a few other experiences, helped her join the teams at Villa Crespi, a romantic 19th-century jewel on the shores of Lake Orta. At just 25, she became head pastry chef of the restaurant run by Antonino Cannavacciuolo. Needless to say, this was an immensely informative experience: "A two-star establishment, with 100 covers at lunch and dinner… the bar was quite high! That's where I learned to work faster and manage production times differently".
At Il Pagliaccio, she shares a dynamic and complementary relationship with Chef Anthony Genovese: "desserts must be the perfect conclusion to the menu. So with each changing season, we get into a discussion, I make suggestions, we try things out and taste them together, and just keep on making adjustments". For her, this process is a great way of channelling her spontaneous creativity, which can sometimes break out when she least expects it, "even when I'm driving", she says with a smile. And this can lead to amazing surprises, like the origin of Il Pagliaccio's signature dessert, "il palloncino", meaning "the balloon". As a horror film fan, Dalila drew her inspiration from the movie "It", in which an ominous red balloon lures children to a bloodthirsty clown. This reference becomes even more delightful when you realise that "Pagliaccio" means red clown in Italian… Clever and tasty as its composition varies according to the mood and time of year: "at first, its chocolate shell contained Blue Java banana espuma – a fruit that has a vanilla ice cream texture –, passion fruit jelly, a pecan biscuit and a palm sugar ice cream. At the moment, the recipe includes coconut espuma, lime pearls as well as a hazelnut and puffed rice biscuit… and in a month, it will be something completely different again!" Always careful in favouring seasonal products, she is looking forward to autumn to highlight chestnuts and pumpkins. Furthermore she doesn't shy away from using vegetable in her recipes: "with my team, we recently created a pre-dessert made of celery, romaine lettuce, tapioca pearls and camomile jelly. Something green and plant-based, still sweet but a good way to glide gently towards the end of the meal…".  However her favourite ingredients remain chocolate and of course hazelnuts, the iconic product of her native Piedmont, a region she holds so dear to her heart.
"Leaving your village, your family and your friends to study and work far away from home is one of the many sacrifices of this job. Just like the hours, working when others are having fun, which is not always obvious for your friends or family. This job undeniably requires sacrifices, but it's all worth it." Despite growing exposure in the media, especially on television, this aspect of the industry is rarely covered: "there are some facets of our trade that simply aren't shown, and it's a shame to see people go through training and then give up because the reality of the industry is very different from what they saw on TV".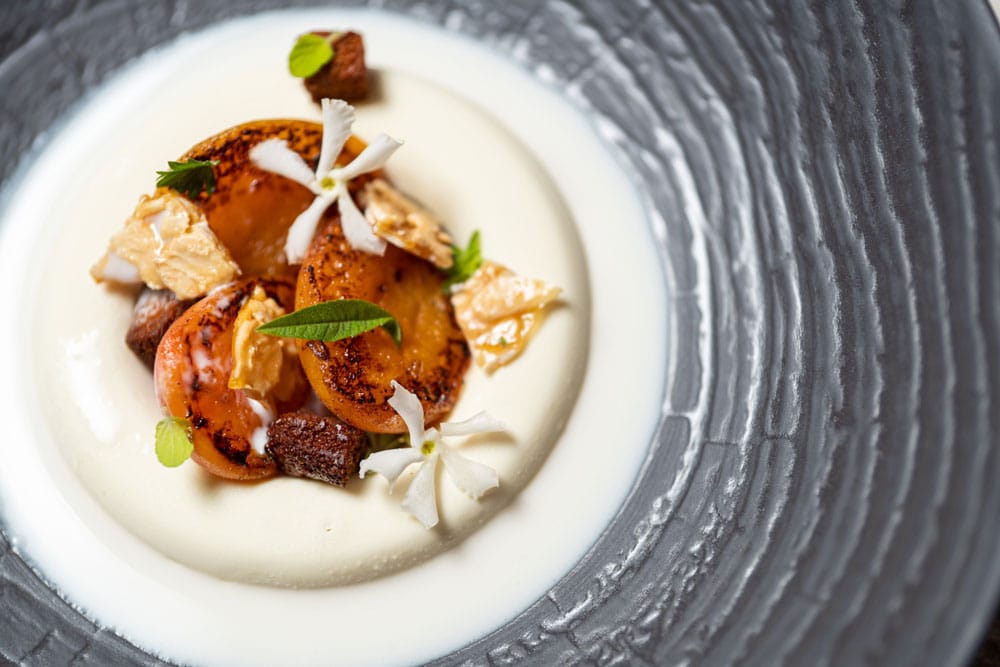 Between her training days and the start of her career, she was pleased to see a growing number of women entering the profession and working in kitchens in general, "even if in some establishments, women can only be found in the pastry team", as she points out with regret. 
Looking ahead, she can't imagine standing behind a traditional pastry counter: "having already worked in a pastry laboratory, I know that it's not really for me. It's extremely monotonous and repetitive. As I tend to get bored quite quickly, I know that this would not be suited to my temperament. I like the adrenaline of service too much!".