Douce Steiner
« We work with absolute respect for each other. And the results are there. »
Her first name suits her wonderfully: The gentleness of Douce Steiner, chef owner of Hotel Restaurant Hirschen, comes across immediately upon meeting her. But Germany's only two-starred female chef has many other qualities: deeply human and optimistic, empathetic and attentive to others, tenacious, humble and determined, Douce Steiner is a very daring woman. And while her cuisine remains faithful to traditional French gastronomy, the way she runs the family business and envisions the restaurant of tomorrow is resolutely modern.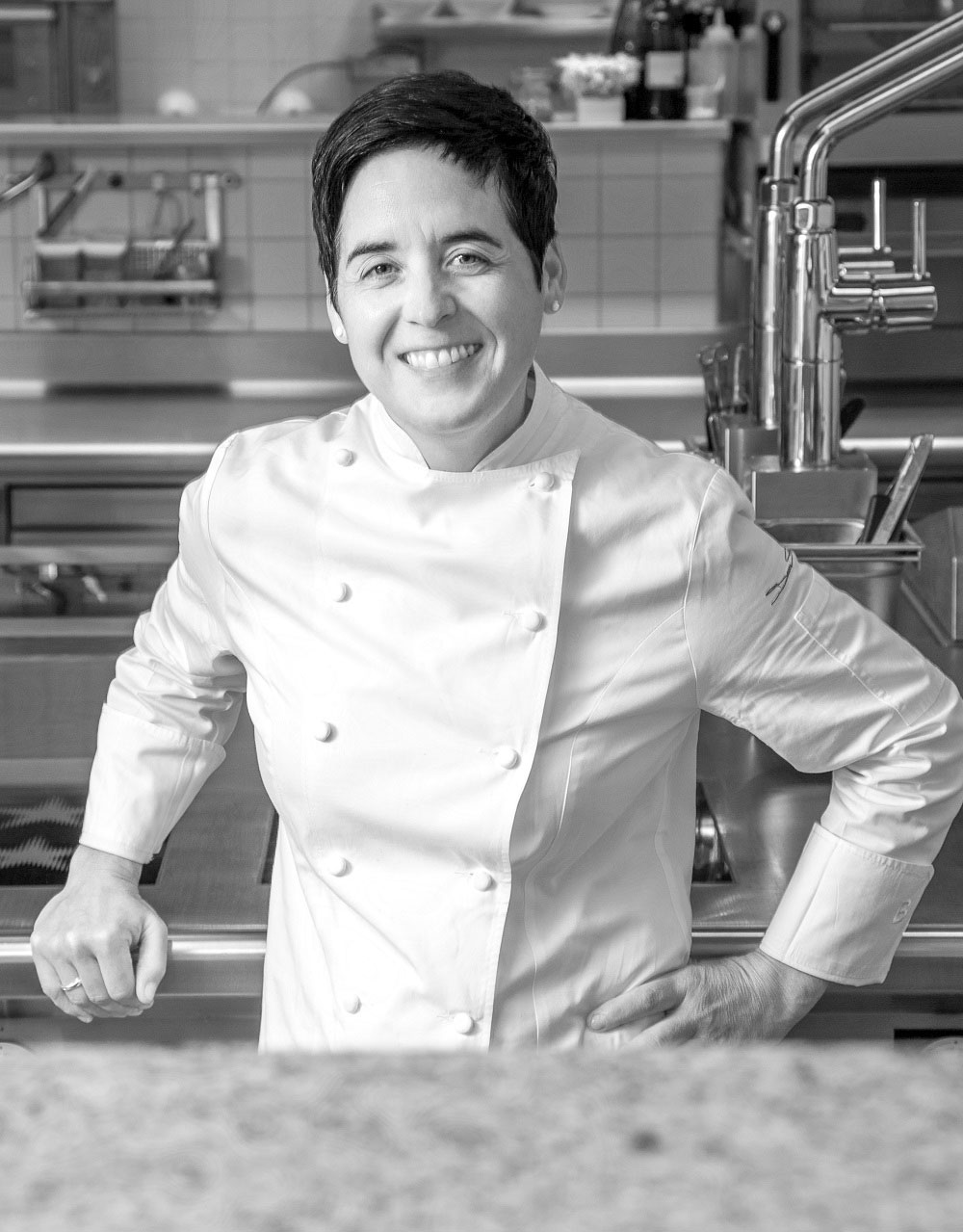 "Fine dining and drinking is my heritage, a need, an education."
Douce Steiner grew up in her father Hans-Paul Steiner's restaurant: Hotel Restaurant Hirschen, located in the small Black Forest town of Sulzburg. At the age of eight, she already knew she wanted to be a cook. Despite her passion for dance and art, she dropped out of school at 16 and jumped into a six-week internship in the family establishment. The young apprentice was willing to handle any task, even the most menial, disputing any perks her last name may bring. It was love at first sight, Douce had found her calling and means of expression: She would become a chef.
Openness to others and to the world is also part of the family heritage. When they aren't working, the Steiner family visit Michelin-starred restaurants and, every year, for Hans-Paul's birthday, they all meet at Georges Blanc.
Douce had always dreamt of working in France. So, after a two-month solo-backpacking trip to Mexico, she completed her apprenticeship at Georges Blanc, where the staff welcomed her with open arms despite her young age (she was only 19 at the time), her gender (she was the only woman among 45 cooks), and her nationality (a German living in France in 1990 was still an oddity).
Douce Steiner's background :
1988: Language school in Oxford
1989: Apprenticeship in the family restaurant
1991: Cook at Georges Blanc
1992-1994: Worked with Chef Schilling at Schweizer Stuben
1994-1996: Traube Tonbach
1997-1999: Master's degree in Hotel Management in Germany
1999: Birth of her daughter Justine-Léone and return to Hotel Restaurant Hirschen
2008: Took over the family business
2009: Lost her 2nd Michelin star
2012: Regained her 2nd Michelin star
A woman in gastronomy
Douce Steiner has experienced the hardship of the trade, and the struggle of being a woman in a world reserved for men. Misogyny, mockery, violence, moral and sexual harassment: She knows first-hand what women must sometimes endure to make their mark in the world of gastronomy.
Yet Douce kept going. She learned the most precise baking techniques under Chef Detain. To this day, she still provides her guests with typical French petits-fours and mignardises in her restaurant.
Before joining the renowned Traube Tonbach, and then her family restaurant, Douce returned to Germany and worked at Schweizer Stuben under Chef Schilling, whose French cuisine with Mediterranean notes truly won her over. Incredibly precise cooking with herbs and spices, emphasis on good produces, and above all, a small-scale restaurant with just 30 seats and a small team of 12 people. Douce absolutely loved this format, and vowed to make it hers.
Modern and responsive management
"I don't have to shout all day to be heard. The stress and frenzy of the service has never been a driving force for me. We work with absolute respect for each other. And the results are there."
The Steiner family is very tight-knit, with deep respect for one another: respect for desires, respect for choices, respect for rhythm.
Douce's husband, Chef Udo Weiler, works alongside her, as do their 22-year-old daughter, Justine-Léone, who is an apprentice, and even her parents, Hans-Paul and Claude, who live on the first floor of the establishment and remain involved in the life of the house. All of this in great harmony. 
Very naturally, Douce applies this life philosophy to her hotel restaurant. The 20 people in her team are attentive to each other and always willing to help. This is absolutely key. The qualities in each of them make up a harmonious whole. Keen to ensure the well-being of her staff, she has always been careful to adjust her management style and be in keeping with the evolution of society as well as the aspirations of younger generations.
So when her chef Florian, a young father, announced his resignation to spend more time with his family, Douce pressed for an organisational change: He would go home at 6pm every day. Despite some initial doubts, the experiment worked out just fine. Florian, like the rest of the team, was very happy.
Emboldened by this success, Douce decided to go even further: Instead of the traditional Sunday-Monday-Tuesday rest period, she offered her chef a break from Saturday to Monday. With the help of apprentices – to whom she wants to pass on the best -, Florian can be alone in the restaurant's closed kitchens on Tuesdays, preparing the next day's set-up. Once again, it proved a success. "If everything is well prepared, the whole team doesn't need to be present during the service. Besides, it's more fluid when there are fewer of us. So why hang on to old systems?"
The gastronomy of tomorrow?
"Gastronomy has lost attractiveness. Nobody wants to work 16 to 18 hours a day anymore. We are not machines. We must reinvent ourselves to attract the talents of tomorrow."
Douce is very sensitive to the vibrations of the world, and talks a lot with her daughter. Since she took over the Hotel Restaurant Hirschen in 2008, she has not once tried to expand, focusing on quality rather than quantity. She invests mainly in the upkeep of her establishment and the treatment of her staff, who enjoy good working conditions and pay. The holidays have been extended, there is no longer a menu of the day, but the dishes remain tightly connected to the seasons, to nature, without butter or cream. There was a slight increase in prices, "gently so as not to offend anyone. We must not be afraid that guests turn away from us. Of course, we may lose some of them, but we will meet others".
When the chef eventually decided to close her restaurant on New Year's Eve so that her staff, too, can enjoy the festive season, the reservation book was already full. Douce wrote personally to each guest who had made a reservation: All were disappointed, but they all understood. Douce is bold, and more often than not, it works.
The Hirschen restaurant will soon introduce a new brand concept with only one service per day. This will allow guests to take their time, and the staff to take care of them properly. The concept is still being fine-tuned before it is officially announced.
If it works out, if guests are on board, Douce will repeat the experience in November, and then again on a regular basis. "I always take my time, I've done everything slowly but well."
Douce is daring once again. What if it works?
In the meantime, the chef continues to reflect, observe and exchange ideas, as she does with Culinary Ladies (https://www.culinary-ladies.de/), but also with journalists and other chefs, with whom she wants to build an even closer relationship. "It would be nice if all stakeholders in gastronomy worked more closely together, exchanging information on prices for instance, and on many other topics. Everyone keeps to themselves a little too much, and I believe it is essential to give women a greater say. They have a different approach, perhaps a less pretentious one."