Laurence Rigolet
« You can only do this job with passion, you have to enjoy it. We are happiness merchants. »
Always friendly and energetic, Laurence Rigolet is joyfully celebrating the 95th anniversary of her family restaurant Comme Chez Soi, located in the heart of Brussels. Together with her husband, Chef Lionel Rigolet, she is the fourth generation to run this institution, which opened in 1926. In fact, the fifth generation is stepping up as well, as their son Loïc already works in the kitchen and is passionate about sommellerie! While Laurence is quick to express her admiration for her husband, her parents, her children and the entire team, she is a lot more humble and discreet when it comes to talking about herself, her career, her convictions and desires. Encounter with a woman of character, who has gastronomy in her genes.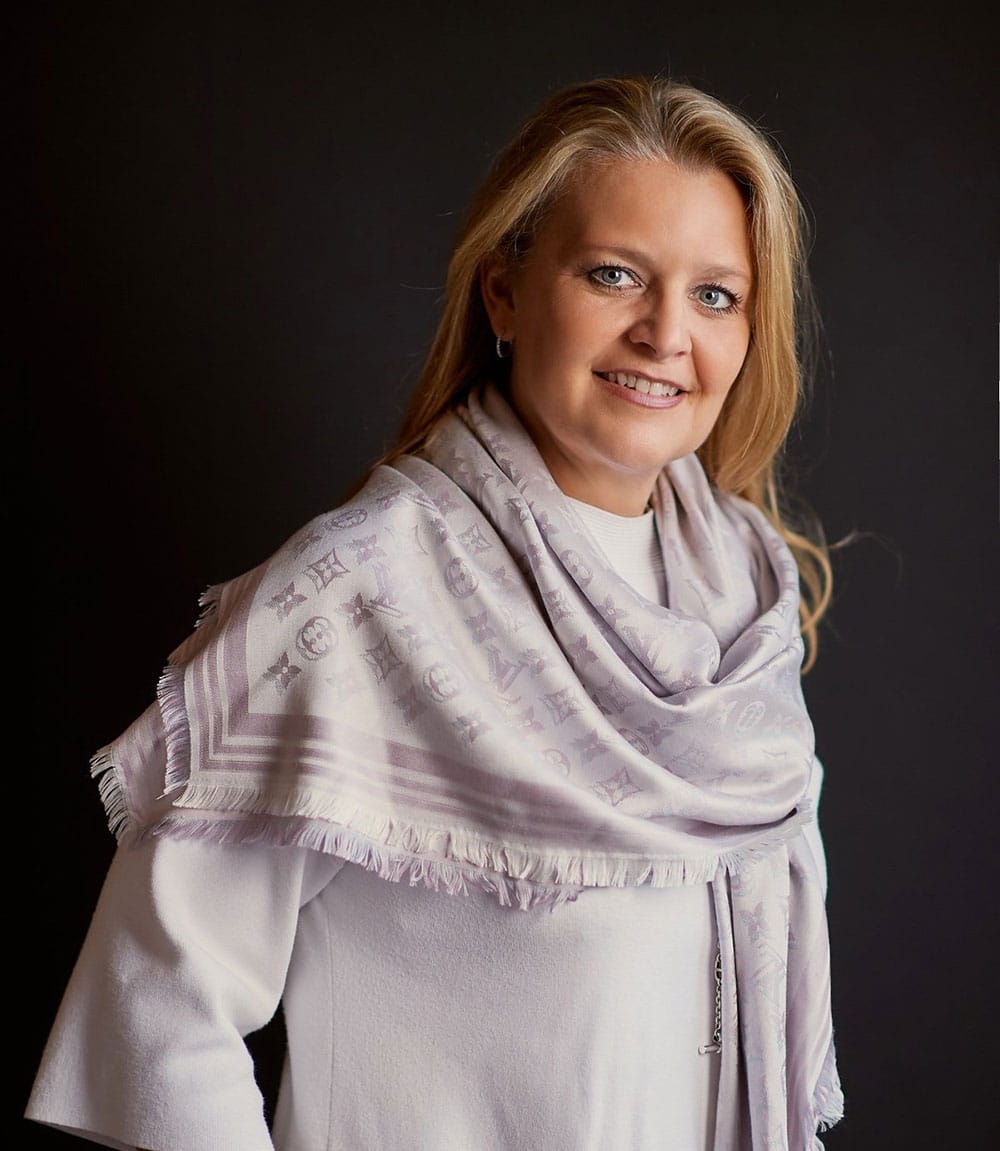 A family affair
You can't talk about Laurence Rigolet's vocation without taking a close look at her lineage. She is the daughter of Chef Pierre Wynants, a key figure in Belgian gastronomy, who received his third Michelin star in 1979 for his work at her grandfather's restaurant, Comme Chez Soi. "At the time, Dad was the equivalent of Paul Bocuse in Belgium."
Marie-Thérèse and Pierre Wynants, like their elders, devoted their lives to this establishment located in the centre of Brussels. Working at the restaurant early in the morning, late in the evening, serving a loyal and demanding clientele and offering a very high level of cuisine – a life focused on others, but always together. For the Wynants, family is everything. Working together as a family has been a core value for four generations: the men are in the kitchen, and women in the dining room. However, when teenage Laurence also decided to pursue a career in the restaurant business, she left her parents stunned. The memory is still vivid in her mind: "I wanted to become an architect, and then, one Sunday evening, I just told my parents that I wanted to go to hotel school. They almost fell off their chairs and warned me of the demands and pressure in this profession. But I was conscious of it all, I had seen what the daily life of a restaurant owner was like since I was a child".
Laurence Rigolet's background:
1985: Enters the hotel school in Namur
1989: Joins the Comme Chez Soi team
1994: Marries Lionel Rigolet
1996: Birth of her daughter, Jessica
1998: Birth of her son, Loïc
2006: Takes over the family business, which loses its 3rd Michelin star while Lionel is named Chef of the Year by Gault & Millau
2009: Launch of the "Riwyne" concept in the wine cellar
2021: Comme Chez Soi celebrates its 95th anniversary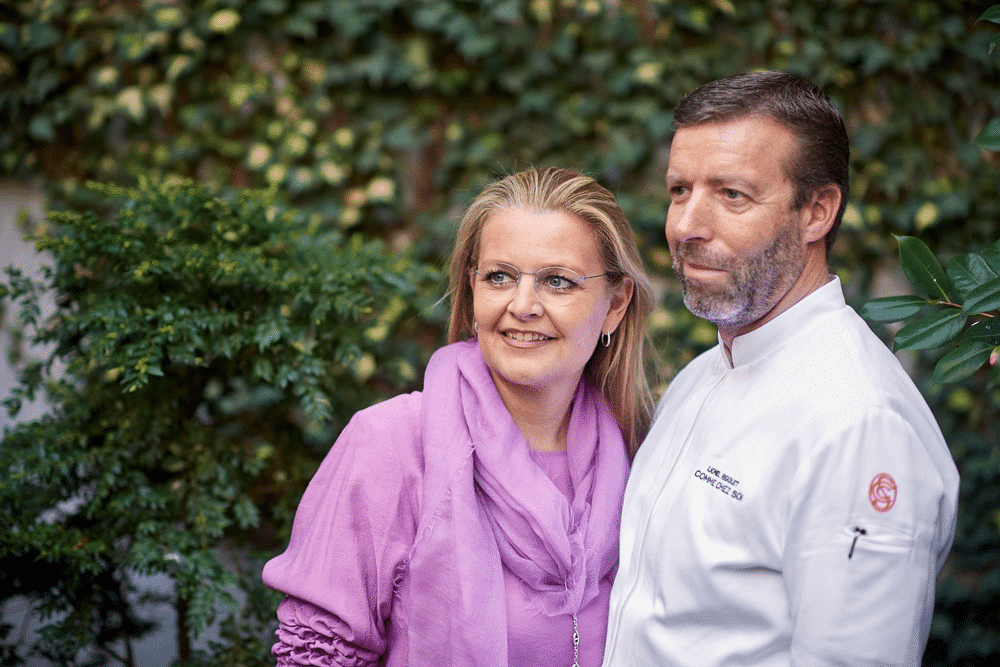 A challenging learning experience
Laurence was only 15 years old when she entered hotel school in Namur. The break from her family environment was very sudden. She shared a studio with a friend, but it was her first few months of apprenticeship that would forever shape her strong-willed, demanding and assertive character: "I had no experience and the teachers were particularly hard on me. For example, I remember when a teacher had me face everyone in class and asked me if my father made the same mistakes as me in his famous restaurant. There were many humiliations just like that one. I kept coming back home in tears, until the day I summoned up the courage to stand up for myself and remind the teaching staff that if I already knew everything, if I had my parents' skills and knowledge, then I wouldn't even need to attend this school! I was there to learn, to learn my trade, just like all the other students". From that moment on, Laurence asserted herself. And while she was proud of where she comes from, she was not content with her status as a chef's daughter and worked hard to be recognised for her own merits. These years spent at the hotel school imparted her with impeccable know-how, and led her to meet her future husband: Chef Lionel Rigolet.
A smooth transition
With school behind her, it was only natural that Laurence joined her parents at Comme Chez Soi. She brought some of the skills learnt, such as computer processing for the wine list, and continued her apprenticeship in the dining room alongside her mother, while Lionel honed his skills in the kitchen alongside Chef Pierre Wynants. Following his own studies in Namur, Lionel Rigolet trained with Joël Robuchon, Gaston Lenôtre and Marc Haeberlin. For about ten years, the family worked together with great mutual respect. Laurence and Lionel gradually became involved in running all aspects of the gastronomic restaurant. Marie-Thérèse and Pierre, on the other hand, slowly began to step aside and support their children in their new role as parents: Jessica was born in 1996, and Loïc in 1998. Laurence was able to find a balance between professional and family life due to precious help from her mother and aunt. As for all women, and especially women working in the gastronomy industry, managing family life and work life takes great energy. Something Laurence has plenty of, along with relentless perseverance. In 2006, the Wynants couple officially handed over the reins of the restaurant to Laurence and Lionel, who was named Chef of the Year by Gault & Millau. However, that same year, Comme Chez Soi lost its 3rd Michelin star… This was a hard blow for the young couple: "It was a difficult time for us. We were a bit lost, but with our passion and will still intact, we managed to get through this tough period, to question ourselves and grow from this experience."
"Pressure is part of the job, part of our daily life, and we have become accustomed to it. It no longer prevents us from sleeping, on the contrary, we are so happy to be back at it after such a long lockdown."
A careful balance between tradition and modernity
When asked about the secret of Comme Chez Soi's longevity, Pierre Wynants answers with no hesitation: "Strong women! It's not just an elegant statement, it is obvious on a daily basis. As proof, no detail escapes Laurence: "I check absolutely everything. A gastronomic restaurant is 50% what's in the plate, and 50% the dining room and service.
After 95 years, the difficulty lies in preserving a substantial gastronomic heritage while remaining somewhat fresh and up to date. "Some very loyal customers already know what they'll order when they book a table, so it is important to keep the classics on the menu. But we must also keep evolving. Lionel has found his place and his own direction. His singular cuisine, based on produce and spices, integrates a specificity of the establishment: the use of sauces. And while it's important to not jump on every passing trend, adapting to the expectations and desires of an ever-changing and now international clientele is a priority for any establishment. Modernising a great classic by changing how it is served for instance can bring it back to the forefront in the age of social media and the all-screen world. Nothing is set in stone, and risk-taking is permanent.
Loyal teams
"The team, the brigade, is absolutely essential. It is like a second family. We can't achieve anything without them. And what a thrill it was to work together again and feel the complicity after all these months of lockdown! We were all so happy to get together again and reopen the restaurant!"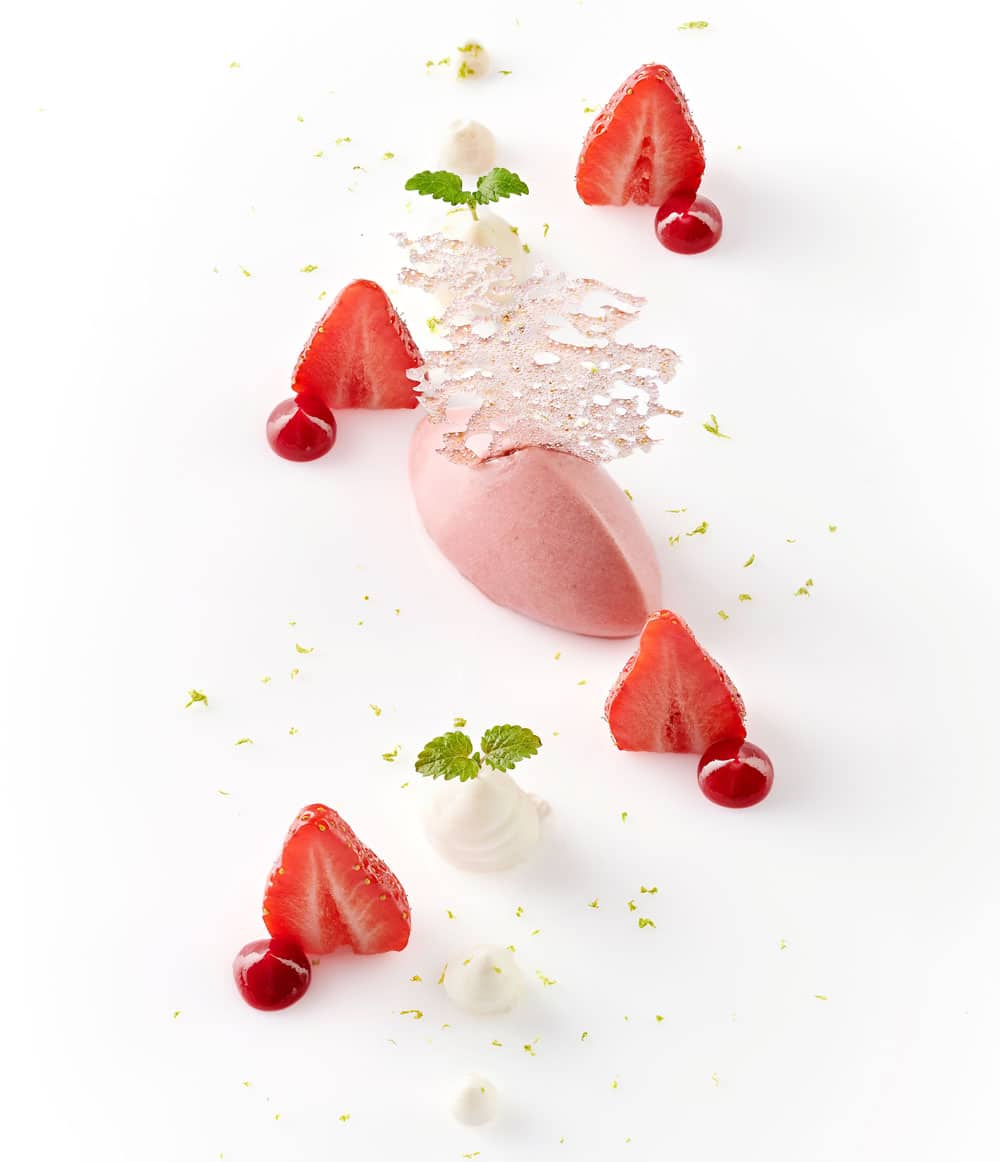 At Comme Chez Soi, respect is paramount, between men and women, between the kitchen and the dining room, between young and old – it is everywhere. And while making mistakes is only human, lack of communication and disrespect are the two things that aren't tolerated among the 23 staff members. It's all a matter of balance: closing times have been adapted to allow everyone more time to breathe, and no sexism or ill-treatment is accepted. A healthy management style that bears fruit because the team is loyal above all else. The valet, for example, is celebrating 32 years at the establishment this year. The workforce is still predominantly male, due to a lack of female candidates, but Laurence is delighted to have recently welcomed a young woman among the dining room staff: "She has a strong character, which is essential for a woman working in a male environment, even if I can only support the recent movement towards feminisation of our professions. Women still have to fight harder to make a place for themselves and succeed".