Raffaella Pia Ragnatelli
« You know what's the best school Raffa? Life! »
She's 27 years old and already the head of the pastry lab at one of Sicily's most prestigious restaurants, Chef Ciccio Sultano's Duomo. Working under the supervision of Pastry Chef Fabrizio Fiorani, Raffaella Ragnatelli and her team create the restaurant's dessert menu on a daily basis. Driven by outstanding determination, she has risen through the ranks without any formal training or qualification.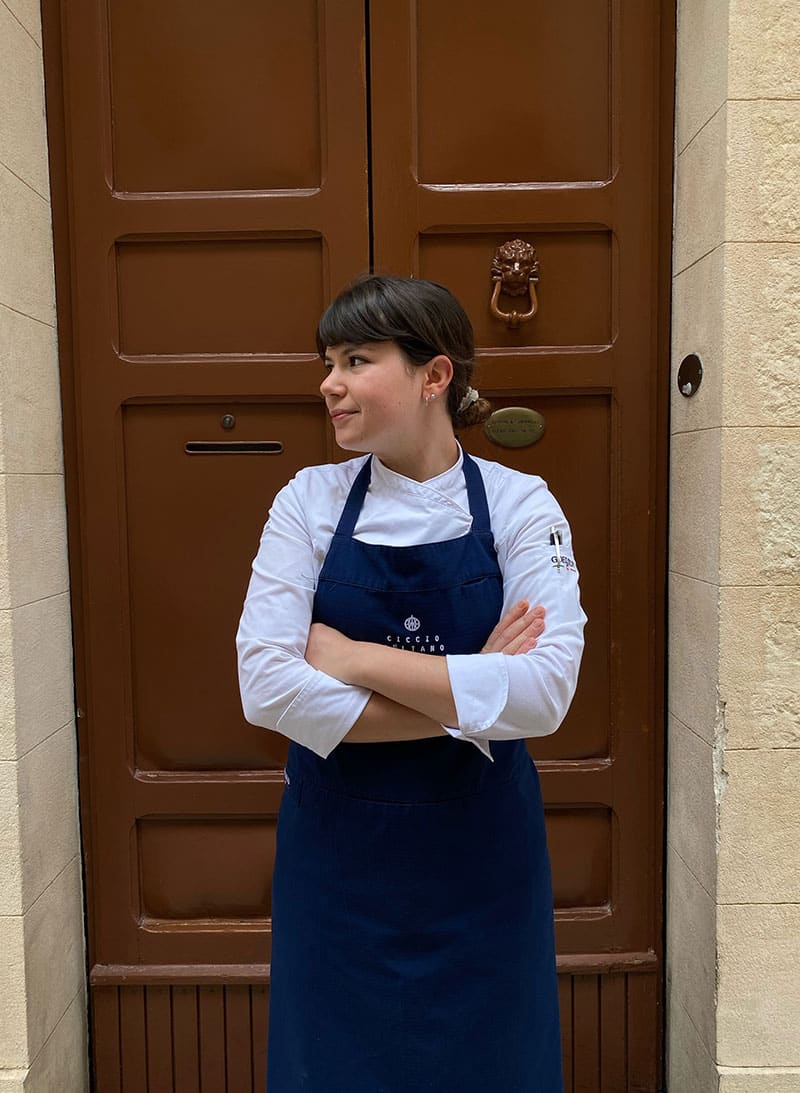 Why did you choose to work in gastronomy?
I grew up in a pastry shop in Casteldaccia, a small village near Palermo. My father was a pastry chef and so is my older brother. My parents opened their shop in 1994, and I was born in 1995, so I literally grew up in there. I remember being 7 years old and running around among the cassatas and cannoli. I have fond memories of that. Later on, I decided to go to a science-focused secondary school, but my very first job was in a pastry shop, so I gave up on my studies. And I started working at 19. Then I moved to Prague to work at the Four Seasons Hotel.
How did you make the transition from a traditional Sicilian pastry shop to a luxury hotel in Prague?
It definitely was very different! There were several teams, the room service, the restaurants, the bar, etc. At the beginning, it was tricky for me to manage my time and my work, but in the end, I really loved it because there are so many things going on at the same time in the hotel that you really get to learn a lot…
Raffaella Ragnatelli's career in 5 key dates
2015: graduated from a science secondary school
2016: moved to Malta to improve her English
2016/17: pastry chef in Malta and Sicily
2018 to 2022: pastry demi chef de partie at the Four Seasons Hotel in Prague
2023: pastry chef, Ristorante Duomo by Ciccio Sultano
As you mentioned, you don't have any academic training or qualification. Was that an obstacle at all?
No, it's never been a problem to be honest. At first, I did feel a bit illegitimate alongside those who came from prestigious schools. But in the end, I spoke to my bosses about what I felt were shortcomings, and they all replied: "You know what's the best school Raffa? Life!". It's all about experience and practical work. Everyone has always been so kind to me. My first chef was a Hungarian pastry chef, with whom we prepared traditional Hungarian specialities using different produce to the fruit and vegetables I was used to in Italy. Then I worked with a younger chef, Zsuzsanna Borsos, also Hungarian, and I learnt a lot from her. She showed me how to prepare a plate with great attention to detail. You could really feel the feminine touch in her desserts.
How did you meet Ciccio Sultano?
When I decided to return to Sicily, I spoke to my executive chef in Prague and told him I'd love to work at the Duomo. He replied: "I can help you, I've worked with Ciccio Sultano before!". I thought it was fate. I went for an interview, did a trial run before the restaurant's annual reopening and ultimately, I was hired. It was one of my greatest dreams to work there because I think he is the founder of great Sicilian cuisine. He has immense knowledge of the region, its culture and its history. And my experience there has been completely in line with how I had pictured it.
What's a typical day like at the Duomo?
We get started at 9 am to prepare for the breakfast service, then we have our staff lunch at 11:30 am, all together, with delicious pasta almost every day! The service runs from 12:30 to 3 pm and then we have a break until 6 pm before the evening service, which starts at 7 pm.
How many members in your team?
Three people: one commis chef, one trainee and myself. And of course there's Fabrizio Fiorani, who comes in about twice a month for a few days.
How do you two work together?
It's a proper collaboration. If I have an idea, I tell him and he says: "Why not? Let's give it a try!".
A month ago, we tested a new citron-based dessert. I told him there's a large citron we call pirittuni in Sicily that I absolutely love. We added pistachio nuts and Perciasacchi flour, an ancient Sicilian type of wheat that Ciccio Sultano uses for his pasta. We put these three ingredients together and called the dish P³.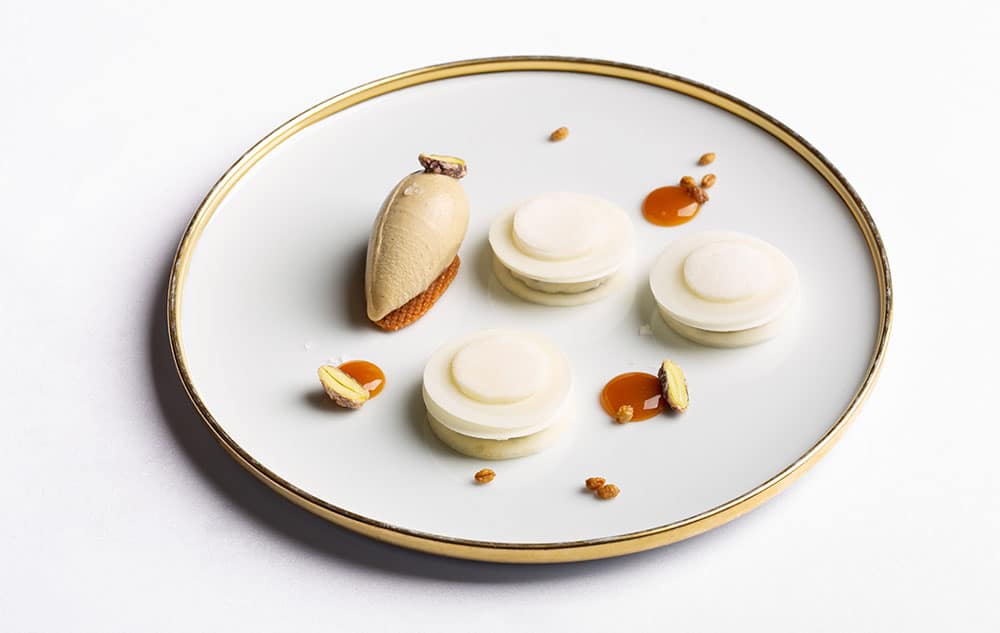 How do sweet dishes fit into the dining experience at Ciccio Sultano's Duomo?
I think all dishes are tied together by the ingredients and the story he wants to tell: that of Sicily and all the influences there, from the Arabs to the Normans. If, for instance, he uses a specific wine or flour for the second course on the menu, we'll also use it for the dessert. It's all connected.
You grew up in a Sicilian pastry shop; does that give you an edge when working with your region's produce?
Yes, I feel a strong connection to this produce. We use Avola almonds for instance, which have the strongest fragrance, in a wide range of preparations: in pastries, marzipan, flour or sorbet. There's also lemons, ricotta, etc. There's one dessert that I think totally embodies Chef Sultano's vision. Simply called "Oil, wheat, salt", it represents Ciccio Sultano's logo and includes a very creamy Namelaka white chocolate ganache, a wild fennel crumble, olive oil, salted caramel and ice cream.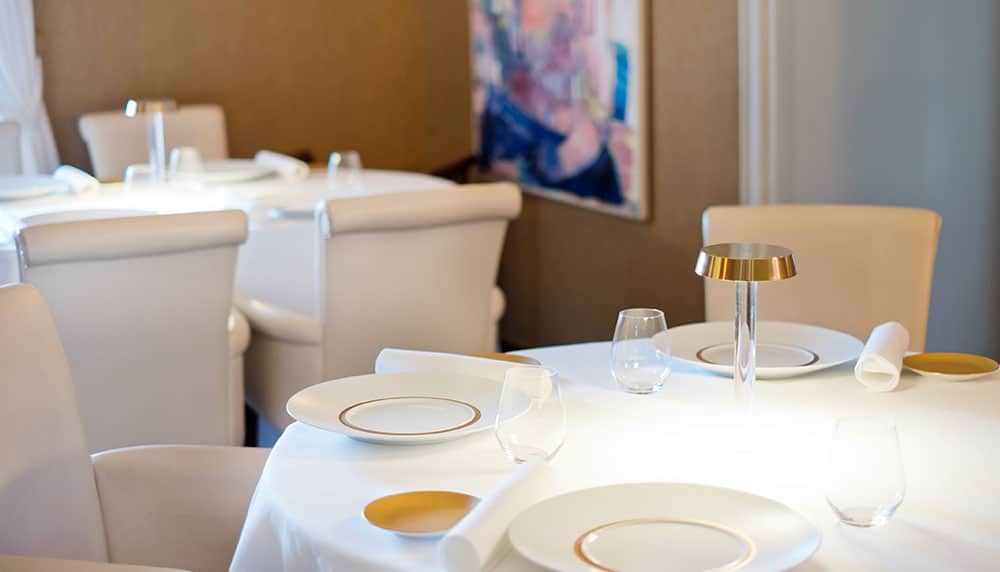 So you're building upon traditional foundations and adding a modern twist?
Exactly. In my opinion, Fabrizio Forani is the pastry chef of the future. And what I'm trying to do is combine his vision with Ciccio Sultano's desire to preserve traditions by offering an innovative interpretation.
What are your favourite flavours?
I do love acidity. But I think a dessert should always combine multiple characteristics: crunchy, soft, sweet and acidic touches… I remember when I was 6 or 7, whenever I was out in the fields with my grandparents, they used to peel lemons, put a little salt on them and that was their snack!
Do you think it's easier for a woman to work in pastry-making?
Yes, probably. Because most kitchens are staffed with men, for one thing. So the pastry section is a bit like the "pink" part of the kitchen. It may be a cliché, but I also think that women are more delicate.
Is it easy to have a private life with this job?
No, not really. I only have two days off a week and I spend them resting for the following week. So let's just say I don't have much of a social life. I sometimes go out with the guys from the restaurant, who have become a bit like family.
Do you sometimes think of what this position could do for your reputation?
I'm definitely grateful but I'm not someone who seeks visibility. I'm quite shy and I don't like being the centre of attention. However all the years I've spent in the kitchen have taught me how to stand up for myself and gain confidence. I'm 27 and I have young women working with me who are 19-20 years old. In a way, I've become their mentor. And I try to pass on to them everything I can.
Do you read a lot of cookery books? Do you also scan social media for ideas?
I buy and read lots of books on pastry-making by chefs from all over the world. That's how I've built up my own knowledge, as I never studied at a cookery school. And I do use social and traditional media to stay informed.
Where do you see yourself in a few years?
Of course, I'd like to become head pastry chef in a top restaurant – that's my ultimate goal and I hope to achieve it in 2 or 3 years' time. And maybe in 10 years, I'll be running my own pastry shop, maybe in Prague? I love everything about this city, it's magical. You walk around and think wow, it truly is beautiful! But before that, I'd like to experience new things, learn more about my trade and travel as well. Maybe a new experience in Asia… But I know for sure that one day I'll come back to my hometown…
Did your family come to the Duomo?
Yes, my mother came and she was really surprised by the whole experience, the service, the food… I think she was very proud.