Leanda Pearman
« These 20 years together are proof of how strong our working relationship is. »
Over 200 people work at Le Manoir des Quat'Saisons, but one staff member holds a very special place, slightly outside the usual hospitality roles: Leanda Pearman, personal assistant to Chef Raymond Blanc for 20 years. She helps him manage his busy schedule and numerous projects. Indeed, the Chef dedicates most of his time to the Manoir aux Quat'Saisons – which he founded in 1984 and has kept developing since (it was acquired in 2014 by Belmond), earning two Michelin stars in the process (plus a Green Star in 2021) –, but it is far from his only venture. For those living outside the United Kingdom, Raymond Blanc's renown may be hard to grasp. It is simply immense. He has his own cooking shows (including his most recent, "Simply Raymond", with 2 seasons on ITV) and is involved in numerous other shows, he writes cookbooks… He is also a pioneer of sustainable cooking and a popular defender of this approach in the media.
Needless to say Leanda Pearman often manages a rather overloaded schedule, but she can rely on her extensive experience to anticipate delicate situations, foresee Raymond's wishes, and respond on his behalf to various requests.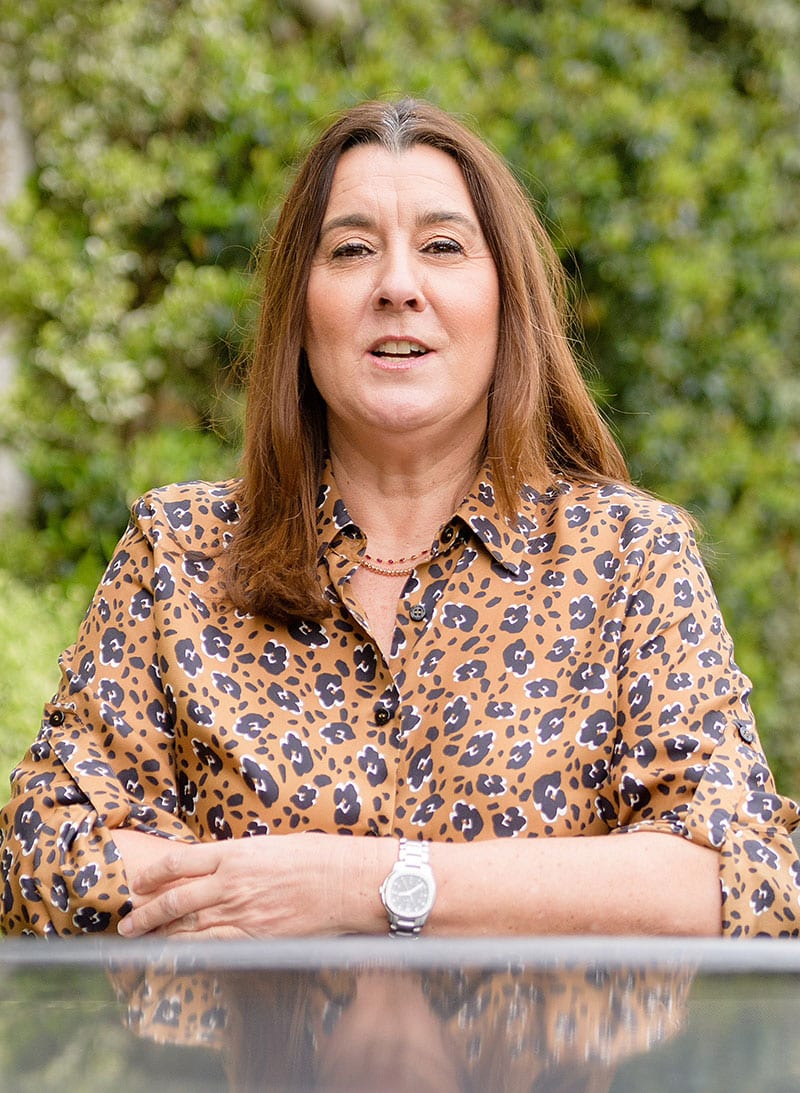 What was your background before applying for this job?
After secondary school, I took a bilingual secretarial training course. But I must say that it helped me a lot to have a father who worked for a French company and passed on his love of France to his children. At the end of my studies, as I couldn't find a job, he sent me to France for a 3-month internship in one of his group's subsidiaries.
It was in the crane division of an earthmoving company, not exactly the most glamorous industry! But I got to live in Paris, and to be honest, this day job was a great way to pay for my nightlife!
I moved there when I was 17 and ended up staying for 20 years. I've had several jobs with various companies and when I came back to the UK, I was approached by a headhunter. Chef Raymond Blanc was looking for a bilingual personal assistant and here I am, 20 years later, still working with him!
Leanda Pearman in 5 key dates
1979: French language term at the University of Burgundy in Dijon, France, and student at the Yorkshire Ladies Secretarial College
1980: 6-month internship in the export department of Potain Poclain Matériel (PPM) in Paris
1980-1996: several professional experiences in Paris at IBM Europe, Middle East & Africa, International Herald Tribune, LSG Sky Chefs
1996: back in the UK to pursue a career in motorsport
2002: joins Le Manoir aux Quat'Saisons as personal assistant to Raymond Blanc
Do you remember your first encounter?
Yes, I remember waiting for a very long time at the reception desk until he had a moment to see me. After 45 minutes, I remember thinking that even if the interview did take place, I might not have the patience to go through with it! Before working with Raymond, I was working for two international businessmen who owned properties in France and Geneva. So I had a very different professional lifestyle. It was nice to know I would be working with someone so inspiring, who has such an amazing reputation throughout the country. I knew every day would be unique, week after week. We immediately got on very well and these 20 years together are proof of how strong our working relationship is.
What was the job description then?
At first you think your role is to assist mostly on administrative tasks, but in reality it's so much more than that, and there are always new challenges. It really suits me. Every day is different. This job is fun and challenging, it always pushes me to broaden my skills. Raymond is a very committed man. Too committed almost! Trying to manage the schedule of someone who thinks there are 24 hours in an eight-hour day is pretty demanding. Days go by very quickly! Some days you think it's going to be laid back, but it's just an illusion. He's an artist, and he's amazing at harnessing this ability, this rare gift. I think even for him, it must be nerve-wracking at times to always have something on his mind, to always have things planned the next day. He never stands still. For someone who is in his seventies, he still displays incredible energy, passion and capacity for excitement.
Has your role changed over the years?
My dedication and support have allowed him to rely more and more on me. He knows that I am extremely trustworthy, that I can even represent him in meetings and convey his vision. I consider it a great honour to be able to do that on his behalf.
For instance, we have several department heads in the hotel, including me, being the head of Raymond's office. Every three weeks, we meet to review the situation and I discuss current and future projects. The interviews and TV shows he is involved in, the book signings, the conferences, the initiatives with our business partners. I am his spokesperson, not only for our department, but also for those who want to know what he is doing and where he is. Because even though his office is here at the Manoir, he doesn't come in every day. 
Do you set aside specific times for him to be at the Manoir?
There are no clear-cut rules for his schedule, like fixed days when he would be here, coming in on Tuesdays and Wednesdays for instance. But I try to get in as many appointments as possible when he's off site. And that takes up a lot of my time. 
Can you give us an example of your tasks?
Raymond is currently focusing on his gardening school, which is already very successful. He wants to develop it into a place of knowledge and learning. So I am in contact with people from the Royal Horticultural Society whom he met at the Chelsea Flower Show and at Hampton Court Palace. I'm trying to schedule meetings so he can start moving forward on this project. That's one of my main afternoon projects. Typically my inbox is my priority. With Raymond away for a few days, the office is fairly quiet at the moment, so it's the perfect time to sort out messages!
Do you receive many solicitations, especially from the media?
In the UK, Raymond is seen as a great figurehead and spokesperson for sustainability. So if that topic is in the news, the media naturally want to hear from him. If there's something happening here or in France on the subject of agriculture, many outlets immediately turn to him for comment.
For me, it means I sometimes have to chase him through the countryside to get such requests to him, and ask if he's willing to respond.
Do you feel there's more media pressure on chefs nowadays?
I think so, definitely. Consumers want to know where their food comes from and it's only natural that they turn to chefs who have a reputation for offering local and responsible food. Raymond has been a massive campaigner for a long time, so he's very much in demand. It's an interesting part of my job to interact with journalists, to understand what they're looking for and to brief Raymond so he can deliver a message that the public understands.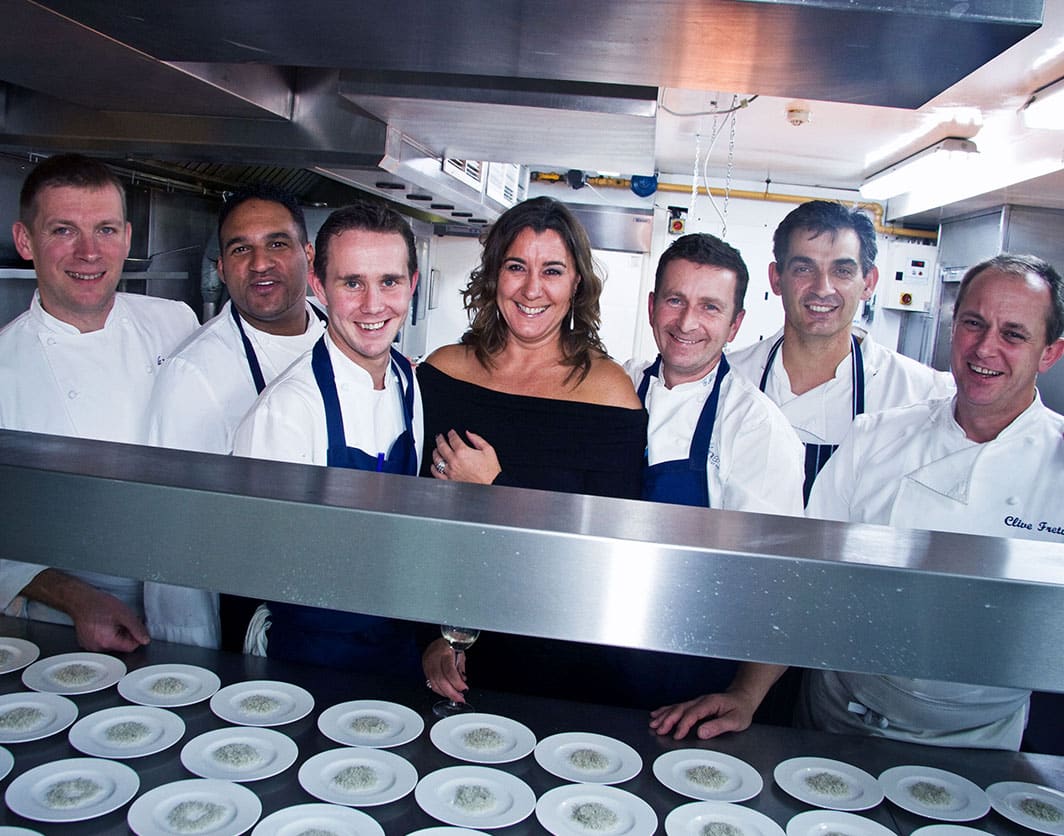 Is your role to protect or rather to promote Raymond?
Promotion comes on its own, it's something we don't actively pursue. Raymond has had a TV show on ITV for the last two years, which has obviously put him in the spotlight. We're very lucky that people come directly to him. But of course, we assess all requests and opportunities based on the best interests of Raymond and the hotel.
Does your assistance ever extend beyond working hours?
Over the years, I have learned to judge what is urgent and what is not. What I can ignore in the moment and save for the next morning. Of course, there are phone calls out of hours, which I've always had to deal with in my career, but I think we've handled it pretty well so far. For instance, I've had calls at 2 a.m. about a plane. All I need is five minutes to wake up and be operational. He's counting on me especially in such moments.
I share the weekend shift with a colleague so we can have free weekends. And when Raymond is not here in the hotel, I sometimes work from home, which is great. So I'm much more relaxed when I get calls outside working hours. I believe that whatever you give you also get back, and I think I've found the right balance in that respect.
Is trust the main ingredient in your relationship?
Absolutely. It's essential for Raymond, and I feel that I have his full trust. That's an amazing privilege that allows me to work with complete peace of mind.
Are you thinking about what's next? Could you be someone else's personal assistant?
Raymond will probably step back at some point. And I think by then there will be a role for me here, as his name will always be associated with the Manoir. Maybe I'll take one day off a week… But if necessary, I'll see what opportunities might come my way. I think I can still bring value in a job that requires dedication and experience.