Magali Picherie
« The most important thing is to keep an open mind, and to always remain curious. You must be open to the world and live with the times. It is also essential to be able to question yourself. »
Magali Picherie is Head Sommelier of the world famous three-starred Mirazur restaurant in Menton. She has developed pairings that bring guests on a journey through the ages, retracing the very history of vineyards and wines. This approach to alcoholic and non-alcoholic pairings has opened the door to new dialogues with guests from all walks of life.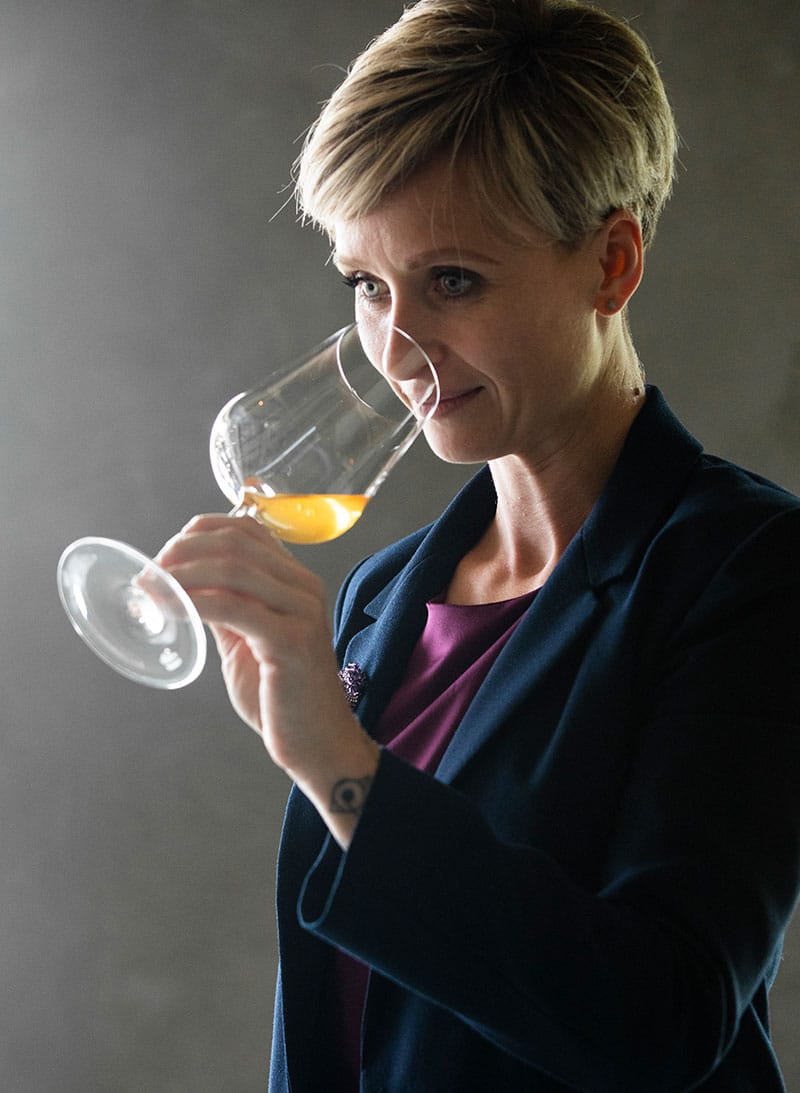 How did you end up joining Mirazur and why did you want to work here, with Chef Mauro Colagreco? You mentioned a "new awakening" when you met the chef. What did you mean?
I first joined the Mirazur teams in 2013 as Sommelier. Chef Mauro Colagreco had just received his second star, and I wanted to learn more about South American culture and hospitality. He welcomed me and we worked together for several months. After this first experience, I moved to Spain to work and learn the language. Seven years passed but we stayed in touch. During the lockdown, we reached out and immediately reconnected. And in November 2020, I returned to Mirazur as Head Sommelier.
Chef Mauro Colagreco is very open-minded and expects us to come up with our own ideas. I am a rather creative person and he really lets me express myself. That's why I feel so comfortable here. Furthermore, I live in a very cosmopolitan house with Italian, French, English and Spanish roommates. I have always loved travelling, so this international aspect is very important for me.
2010 to 2012: Assistant Head Sommelier at the Oasis** restaurant in Mandelieu-la-Napoule (France)
2013: Head Sommelier at Mirazur*** in Menton (France)
2014: Sommelier at Quique Dacosta*** in Dénia (Spain)
End of 2014 to April 2015: La Maison des trois thés in Paris (France)
2017 to 2018: attended ceramics school in Aubagne (France)
Spring 2019: joined a starred restaurant in Bouches-du-Rhône (France)
Since November 2020: Head Sommelier at Mirazur*** in Menton (France)
2022: named Sommelier of the Year by Gault&Millau
You work in an establishment named best restaurant in the world (in 2019), and you have just been crowned Sommelier of the Year (Gault&Millau 2022). So how do you go about offering a differentiating sommelier experience?
This award also brought added pressure! I didn't realise it at first… We did a lot of research on new food and wine pairings, but also on the history of vineyards. I think that's what made the difference. Our approach to wine is completely in line with the chef's philosophy, and is structured around four menus: Roots, Leaves, Flowers and Fruits.
The chef is very creative, which pushes us to be just as inventive and suggest new things to him on a daily basis. It's a very healthy emulation. The menu is absolutely not set in stone and that's something I really like. The foundations are clear of course, but the food and wine pairings evolve and change regularly. In terms of wine, I don't mean to revolutionise anything, but rather to bring a different approach to it. Not only under the lens of winemakers and their vineyards, but also through the history of the vines.
You started out as a sommelier with a relatively traditional career path, but then, you decided to join the Aubagne ceramics school for a year. Why did you make this choice? What impact did it have on the way you approach your trade?
Working in a restaurant requires a lot of energy, it's an intense job. I went through a period where I thought about quitting, I was questioning myself a lot.
That's when I joined La Maison des trois thés in Paris (late 2014, early 2015) to explore new horizons, as I had been passionate about mythology and amphorae for a very long time.
Alongside Tea Master Madame Tseng, I learned the importance of the container and its influence on the content. There was a lot of pottery involved, and the clay used had to be adjusted depending on the varieties of tea. Then I thought, why not apply this to wine? To get into the school, you must present a project, and that's the idea I defended. It was an incredible year, during which I discovered a brand-new approach to wine. Afterwards, I returned to the restaurant industry and joined a starred establishment. I shared my project with them but they were not receptive, they said it was utopic. Yet I was convinced there were some merits to it. After the lockdown, I returned to the Mirazur. The chef entrusted me with the project of developing the establishment's sommellerie with a strong statement. It was the perfect opportunity for me. I did a lot of research during the second lockdown, for six months I read books on vines and wine, I called a wide array of people to learn how to use amphorae and wine together. This resulted in a journey that traces the history of vines, from 10,000 BC to the present day. The chef loved the idea, he was very open-minded and gave me carte blanche. We had a series of amphorae custom made by my friend from the ceramics school. They have a familiar shape, but not too classical either, and are made from fairly neutral stoneware. But there is still a lot of research and testing to be done to understand how wines and amphorae interact and influence each other.
We also had to educate and communicate with the teams so they could fully grasp the idea behind the project. Two books proved very useful: "La Carte des vins s'il vous plaît" (The wine menu, please), which is a kind of memo, and the comic book "L'Histoire de la vigne et du vin" (The history of wine).
You use amphorae to serve wine at Mirazur. What do you try to convey to guests, both about the vine and the wine itself?
Using amphorae, we approach food and wine pairings through the history of vines. We don't just talk about the vine and the winemaker, but we retrace the history of wine in a chronological and geographical way. I think this allows for a great moment of sharing and gives people the opportunity to learn something beyond grape varieties, which are quite difficult to remember in our country because they are often native species. So in a sense, I'd say we offer a new vision to our guests.
I believe this historical perspective can make wine more accessible. We receive historians, archaeologists, numismatists… It's very interesting to see to what extent this historical approach to wine has allowed us to have such varied dialogues. It also helps keep the service so dynamic even though it lasts almost 4 hours. The menu includes 8 pairings, starting with the most important one, as it sets the tone for the rest: a Georgian wine served with turnip, lobster and hibiscus for a very fresh pairing in the Roots menu.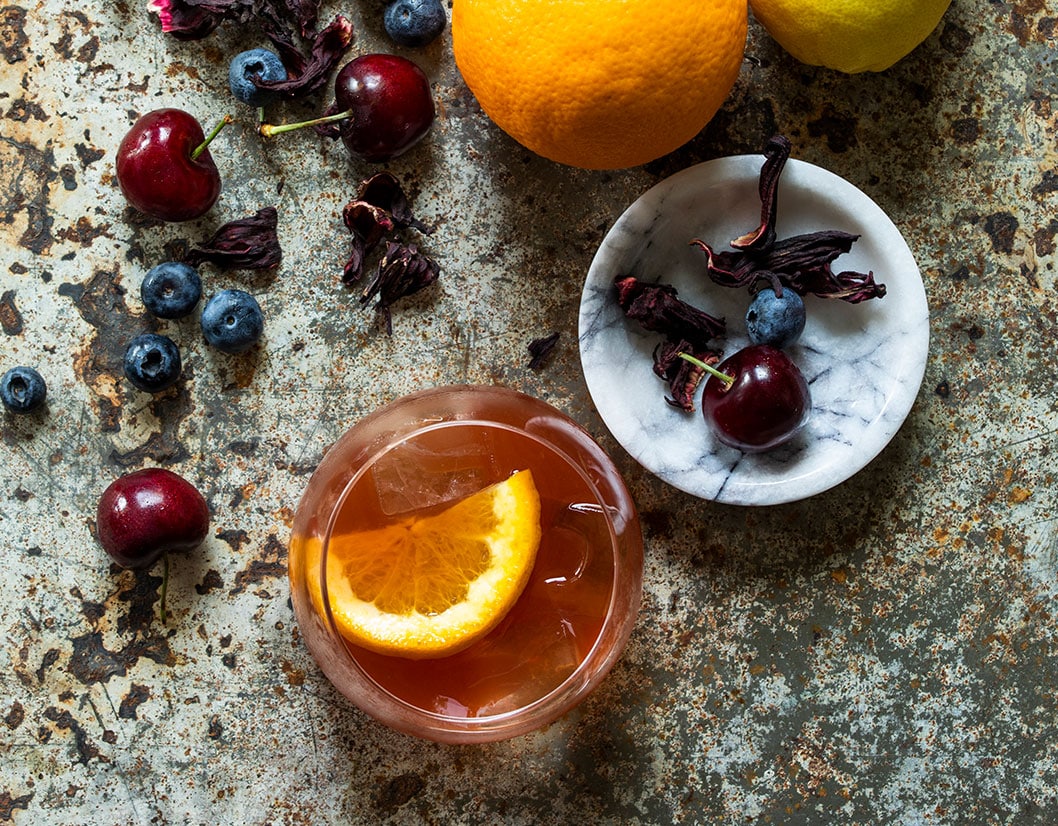 Why is the connection to the land and nature so important to you?
The land is at the heart of everything. At Mirazur, we strive to return to this origin, so pure and without frills. In a three-star restaurant, the real challenge is not to overdo it, as we are seeking the quintessence of things. Here, everything starts with the five permaculture vegetable gardens. At the foot of the restaurant, we have the citrus and aromatic garden, with the famous IGP Menton lemon trees, orange trees, mandarin trees, bitter orange trees, and grapefruit trees. On the ground, there are small strawberries, mint, chives, sage, oregano, savory, verbena and various edible flowers such as borage, nasturtium and begonias. A few metres from the restaurant, the Rosmarino garden is located on the former property of the King of the Belgians and built in terraces on ancient ruins. Over 150 species of plants grow in this magical place, including 50 varieties of tomatoes, and 10 varieties of chickens are kept for fresh eggs. In winter, 10 beehives are placed on the high terraces to improve pollination.
The location and combination of plants have been carefully thought out to ensure they support one another.
The other garden is located in Castillon, in the mountains, with olive and fruit trees.
How can sommellerie be approached in a more modern way?
In my opinion, the most important thing is to keep an open mind, and to always remain curious. You must be open to the world and live with the times. It is also essential to be able to question yourself.
Does being a sommelier today also mean going beyond wine and explore broader alcoholic pairings, and even alcohol-free pairings? And if so, why? 
It may seem contradictory, but there is actually a growing demand from guests. And schools have already started including these aspects in their training. Beyond people who simply do not drink alcohol, a wider clientele is concerned: there are those who have to drive, and those who are concerned about their health.
We are developing these pairings the same way we would with wines, so that guests who choose a non-alcoholic pairing can have the same level of experience. The beverages are prepared in such a way as to reproduce as accurately as possible the variety of grapes and complexity of their alcoholic counterparts. The fermentations, infusions and extractions needed to produce such beverages are carefully prepared by my sommelier assistant Noémie. She even managed to recreate Chardonnay and orange wine! This work is carried out in close collaboration with the kitchen and vegetable garden: we recycle in the glass what cannot be used on the plate.
What inspires you on a daily basis?
I listen to a lot of different music, from Elvis Presley to Bob Marley and Massive Attack. When I lived in Paris, I often visited museums because the exhibitions inspired me a lot. I also read about plants, how they communicate with each other. And I walk a lot too. I also enjoy pottery, it's such a peaceful craft where my mind can drift away and I don't think about anything.
Who are the women who have inspired you during your career, and continue to inspire you today?
Unfortunately, I never had the chance to work alongside a woman sommelier, that's definitely a regret for me. So I would say that the woman who inspires me most is my mother. Her tenacity and tolerance. When I decided to go into pottery, many people didn't understand. But my mother never judged me and always encouraged me in the path I was taking.
What would be three pieces of advice you could give to women who want to become sommeliers?
We are now seeing a reversal in the ratio between men and women in sommelier schools. At Mirazur, the sommelier team has 7 people, including 3 women. What I'd say to all those who want to pursue a career in this industry is this: follow your intuition, and don't give up. Keep smiling, this trade is all about serving people, pleasing guests, but it is also important to enjoy yourself every day. Travel whenever possible because it will expand your horizons, open your mind, help you learn other languages and give you access to plenty of vineyards all over the world. In my team, some people speak 5 languages. That's a real asset to better understand our guests and adapt to their cultural preferences. For instance, Russians often want a quick service, Eastern Europeans tend to drink their water at room temperature, Scandinavians expect a glass of wine as an aperitif – unlike the Italians and French… So many details that must be taken into account during service!
What are your plans in the short and medium term?
In the short term, I want to support the people in my team so they can be increasingly creative and independent. This will also help me devote more time to research, training and management to further expand Mirazur's wine offering (it takes between 6 and 8 months to develop a pairing), but also to collaborate with the chef on development projects.
I want to boost my teams so they can enjoy their work everyday.
I am also expecting a baby, so it gets me thinking about how to adapt our trades to find the right balance between work and family life. These are big steps that make us grow and perceive team management differently.
I will soon move to a position with more management duties, which will allow me to devote even more time to research. It takes between 6 and 8 months to develop a pairing. We are developing one for every menu (Roots, Flowers, Leaves and Fruits), and each one is linked to the elements: earth, fire, water and air. For instance, we did a fourhanded pairing where we developed a Leaf combination based on maritime influences with island wines, or Jurassic wines, i.e. from fossil soils.
In the long run, we would like to adapt the amphora material and shape to grape varieties, and we're planning on creating a new wine menu listed by era.