Recognizing gastronomic excellence
Les Grandes Tables du Monde Association announces its 2018 winners in Marrakech
After last year's event in the bustle of New York City, Les Grandes Tables du Monde Association celebrated haute cuisine at their 64th annual conference in Marrakech. In the heart of the Medina, and against the backdrop of Le Musée des Confluences, the association revealed the list of the 2018 winners of its awards for excellence:
Paul Pairet for Ultra Violet
Restaurateur of the Year Prize
Christelle Brua at Le Pré Catelan
Valrhona Prize for the World's Best Restaurant Pastry Chef
Denis Courtiade at the Restaurant Alain Ducasse at the Plaza Athénée
Mauviel 1830 Prize for the World's Best Dining Room Manager
Giorgio Pinchiorri at L'Enoteca Pinchiorri
Chapoutier Prize for Best Restaurant Sommelier from Les Grandes Tables du Monde
"These awards are primarily intended to celebrate the gastronomic experience as a collective effort. We honor the profession's entire ecosystem, a family of talented men and women wholly devoted to their customers' pleasure and well-being, as well as their own," explains David Sinapian, Chairman of the Les Grandes Tables du Monde Association.
The Board of Directors has chosen to honor these four great names, each with an extraordinary career, who have worked collectively to ceaselessly invent new forms of excellence and creativity, thereby penning the new chapters in the ever-evolving story of contemporary gastronomy.
"These awards are important to us because they reflect our vision of professionalism, experience, and savoir-faire, but also of openness, contemporary spirit, and the courage to challenge the status quo. Each recipient this year has demonstrated these qualities in his or her work," concludes Nicolas Chatenier, Chief Representative of Les Grandes Tables du Monde Association.
For Les Grandes Tables du Monde, culinary tradition is expressed in the present: It is a living, changing force that thrives on – and improves with – keen and curious examination by innovative minds. The 2018 winners embody this perspective.
Winner of the 2018 Restaurateur of the Year Prize
Paul Pairet – Ultraviolet
Chine
As David Sinapian reminds us, "You go to a restaurant to eat well, but you go to a Grande Table for a profound emotional encounter." And among the chefs who succeed in turning a meal into complete sensory experience, Paul Pairet is at once pioneer and prestidigitator.
In Shanghai, at Ultra Violet, he offers an immersive, imaginative, and multifaceted dining moment Sound, sight, setting, smells: The senses are stimulated, heightened, heated, serving the single cause that is the core of his practice: cooking. Because while the man may be the director of a dramatic experience, he remains first and foremost a French chef, solidly and deeply rooted in a culinary culture nurtured in his beloved Languedoc. Enlightened by innovation, Paul Pairet is a man of culinary technique, ever striving to better master taste, a tenacious professional who goes to great lengths to execute the dishes he sees and tastes in his imagination. It is this devotion, audacity, and persuasiveness that make him not just a great chef, but an incredible innovator.
"We see Paul's receiving this award as both legitimate and logical for, applying the principle of comprehensive, global experience, he exactly represents those things that make a great restaurateur." Nicolas Chatenier, Chief Representative, Les Grandes Tables du Monde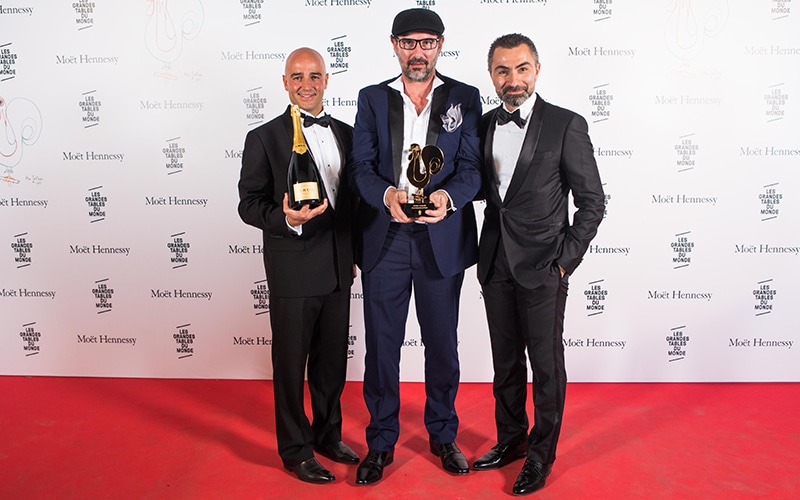 Alexandre Leanza, Global Image Parternships Director Moët Hennessy, Paul Pairet, David Sinapian. ©Delight
Winner of the 2018 Valrhona Prize for the World's Best Restaurant Pastry Chef
Price valrhona – Christelle Brua et Zeyneb Lara ©Delight
                   Though she had planned to study literature, Christelle Brua now crafts her most exceptional works in edible form. Trained as a pastry chef at Jean-Georges Klein's L'Arnsbourg, she joined the team at Le Pré Catelan in 2003 as pastry chef, where she helped the establishment earn its third Michelin star in 2007, alongside Frédéric Anton.
Standing at the industry's leading edge (she is one of the first women to achieve such a position), the chef presents meticulously calibrated, direct, artifice-free creations in a quest to preserve and showcase the most essential of elements: taste. Her favorite dessert is the perfect example, a jewel of purity and precision: apple in sugar soufflé, caramel ice cream, cider and sizzling sugar. Les Grandes Tables du Monde Association, in partnership with Valrhona, is proud to honor this indispensable talent in French pastry. The harmonious and complementary twosome formed by Christelle Brua and Frédéric Anton is, in this respect, truly representative of what the association promotes with vigor: a collective oeuvre.
"Christelle Brua has managed to create a powerful identity that stands out from among thousands, one that now inspires an entire generation of chefs." David Sinapian, Chairman, Les Grandes Tables du Monde Association
Winner of the 2018 Mauviel 1830 Prize for the World's Best Dining Room Manager
               With this award, Les Grandes Tables du Monde and Mauviel 1830 wanted to recognize more than a career: They sought to honor a lifetime of commitment. Denis Courtiade, the faithful cohort of Alain Ducasse, has impressed and trained generations of young people destined for dining room service, and will continue his legacy for years to come.
An irreplaceable figure in dining service at the Plaza Athénée, Denis, by turns roguish and sedate, has devoted a great deal of energy to modernizing the institution's service to align it with today's trends. His experienced eye, obsession with detail, and playful approach to the profession have helped him forge a benevolent, inclusive relationship with his clients, thereby bridging the distance sometimes created by the gilded, gleaming, glittering décor of the dining room at the Plaza Athénée.
A master of artful balance, ever poised to anticipate requests or situations, he works alongside Chef Romain Meder to offer an experience of luxurious gourmandise, that is nevertheless almost casual, at one of Paris' greatest luxury establishments. He is both a modernizer and a trainer and has been involved for several years in creating "Ô Service – des Talents de Demain," an association promoting the dining service trades and supporting up-and-coming professionals in the realm. He is paving the way to the future of dining room service and, for this reason, is wholly deserving of this award.
"Denis is a man who fervently defends his profession and whose people-centered values ​​set the example for future generations. Sharing, teaching, and excellence: These are the foundations of the restaurant service professions, fundamentals that I share with my staff on a daily basis. It is an honor for me to present him with this award." Valérie Le Guern Gilbert, President, Mauviel 1830.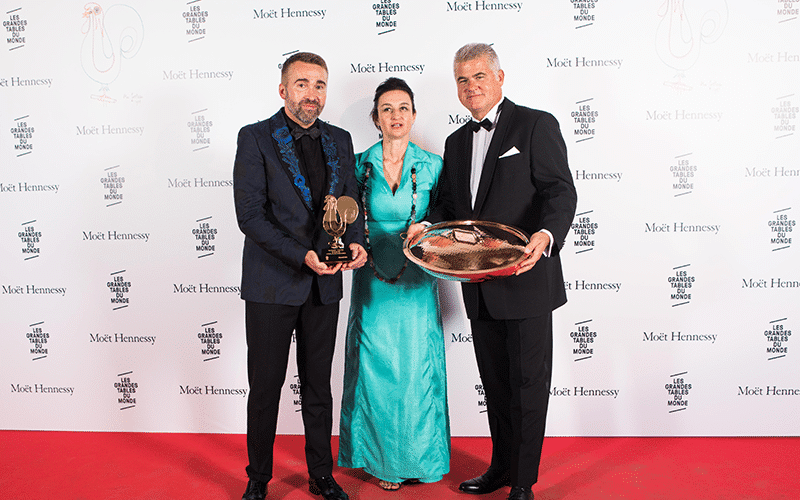 Pruice mauviel 1830-Serge Schaal, Valérie Le Guern Gilbert, Denis Courtiade ©Delight
Winner of the 2018 M. Chapoutier Prize for Best Restaurant Sommelier from Les Grandes Tables du Monde
Giorgio Pinchiorri
Italie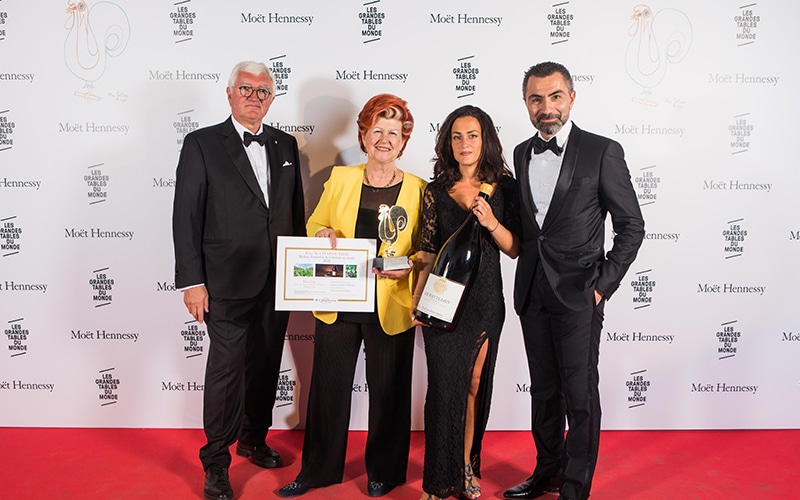 Antonio Santini, Annie Féolde, Mathilde Chapoutier, David Sinapian ©Delight
               In introducing its Best Restaurant Sommelier Award, in collaboration with Maison M. Chapoutier, Les Grandes Tables du Monde Association pulls no punches and honors a world-renowned professional: Giorgio Pinchiorri. At the age of 74, and after more than 50 years of labor, research, and commitment, his wine cellar, L'Enoteca Pinchiorri, is surely one of, if not the, finest in the world. This timeless place is as precious as the bottles it shelters.
Here, in a veritable showcase of Italian viticultural excellence, one also finds the best French wines: Cros Parantoux by the late Henri Jayer, Domaine de la Romanée-Conti (in magnum), all the greats are represented here, from the most-celebrated years to the least-known bottlings. To this are added unfailing attention to detail, presentation, and art de vivre, making it a true temple to wine. Lastly, and perhaps most importantly, is the role played by his wife, Annie Féolde, who, by pairing dishes with her husband's wines, created a unique restaurant that has boasted three Michelin stars since 1993. This formidable duo is one of the most beautiful demonstrations of the synergistic work the association has long venerated.
"The core of the M. Chapoutier philosophy is the perfect pairing of food and wine. This reciprocal accord is the source of exquisite emotions; this balanced relationship, these harmonies finding infinite expression, are representative of our values. Both Giorgio and his wife achieve this with incredible exactitude and, for our Maison, they were clearly the natural recipients of the Best Restaurant Sommelier prize from Les Grandes Tables du Monde." — Mathilde Chapoutier
Marrakech: Where Tradition Meets Innovation
Marrakech is a treasure trove of history and culture and, more importantly, a crossroad of civilizations, making it the association's ideal playground, fertile ground for planting the new ideas and reaping the new experiences that define excellence in today's haute cuisine. This was made manifest in the fabulous gala dinner crafted by two chefs, both association members, Yannick Alleno and Jerome Videau. Through their creations, they perfectly illustrated the dialogue between tradition and innovation that the association so values. Pumpkin maasla and Medjool dates, Blue Oualidia lobster with cumin and candied lemon, Royal sea bream tagine with purple olives: With their savoir-faire, virtuosity, and gastronomic inquisitiveness, the chefs brilliantly translated the country's culinary terroir and history.