Recognizing gastronomic excellence
Les Grandes Tables du Monde Association announces its 2019 winners in Saint-Jean-Cap-Ferrat
The association, which was also celebrating its 65th anniversary, chose to place its annual congress under the aegis of Jean Cocteau and under the glamorous auspices of the Riviera. The first, who often stayed in Saint-Jean-Cap-Ferrat and to whom the association owes its emblem, is a reminder of the audacity and open-mindedness of the recipients. The second – full of history and splendour – confirms the missions of hospitality and excellence for which the association and its members are renowned.
La preuve en 4 lauréats[1] :
Birgit Reitbauer, Steirereck, Vienne, Autriche,
Best Restaurateur of Les Grandes Tables du Monde Prize
Aldo Sohm, Le Bernardin, New York, États-Unis,
M. CHAPOUTIER prize for the Best Sommelier of Les Grandes Tables du Monde
François Perret, La Table de L'Espadon au Ritz Paris, France,
Valrhona prize for Best Restaurant Pastry Chef of Les Grandes Tables du Monde
Cristiana Romito, Ristorante Reale, Castel di Sangro, Italie,
Mauviel 1830 prize for Best Dining Room Director of Les Grandes Tables du Monde
These prizes, some of which have now been awarded for five years, support the demanding vision of the great restaurant defended by the association. For David Sinapian, its president " if there is, and always will be, a question of heritage and tradition, the great table of the 21st century does not intend to rely solely on its past."
 The four recipients of the 2019 awards are living proofs of that. Career women and men, they embody the unfailing bond that unites tradition and innovation in the gastronomic experience. In addition to the sum of gestures and know-how they promote, there is an unlimited curiosity and a constant search for accuracy, relevance and modernity
[1] The winners were selected from a pre-selection (made by the Board of Directors : David Sinapian, Jean-François Piège, Serge Schaal, Sylvie Buhagiar, Laurent Gardinier, Yannick Alléno, Marc Haeberlin, Maryse Trama, Heiner Finkbeiner, Antonio Santini) by a panel of 50 international voters (27 French voters / 23 foreign voters).
Winner of the 2019 Best Restaurateur Les Grandes Tables du Monde Prize
Birgit Reitbauer – Steirereck
Austria
Birgit Reitbauer is a woman of heart.
The heart of Stadtpark, the heart of Heinz Reitbauer, the heart of the Steirereck restaurant.
This strong place is led by a close-knit couple who have been working for many years to achieve excellence.
It is a challenge that they renew in pairs every day. The kitchen is Heinz's business, who took over the family succession of this restaurant created in the 70s.
Birgit directs and beats the rhythm in the room. For her, customer relations have always been essential. She loves the personal connection that comes with the dining experience at Steirereck. It inhabits this function of passage between the room and the kitchen, between the softness of the tables and the noise of the kitchen.
She has always tempered, rounded, rhythmed and set to music this elite restaurant, which occupies a privileged position in the Viennese culinary landscape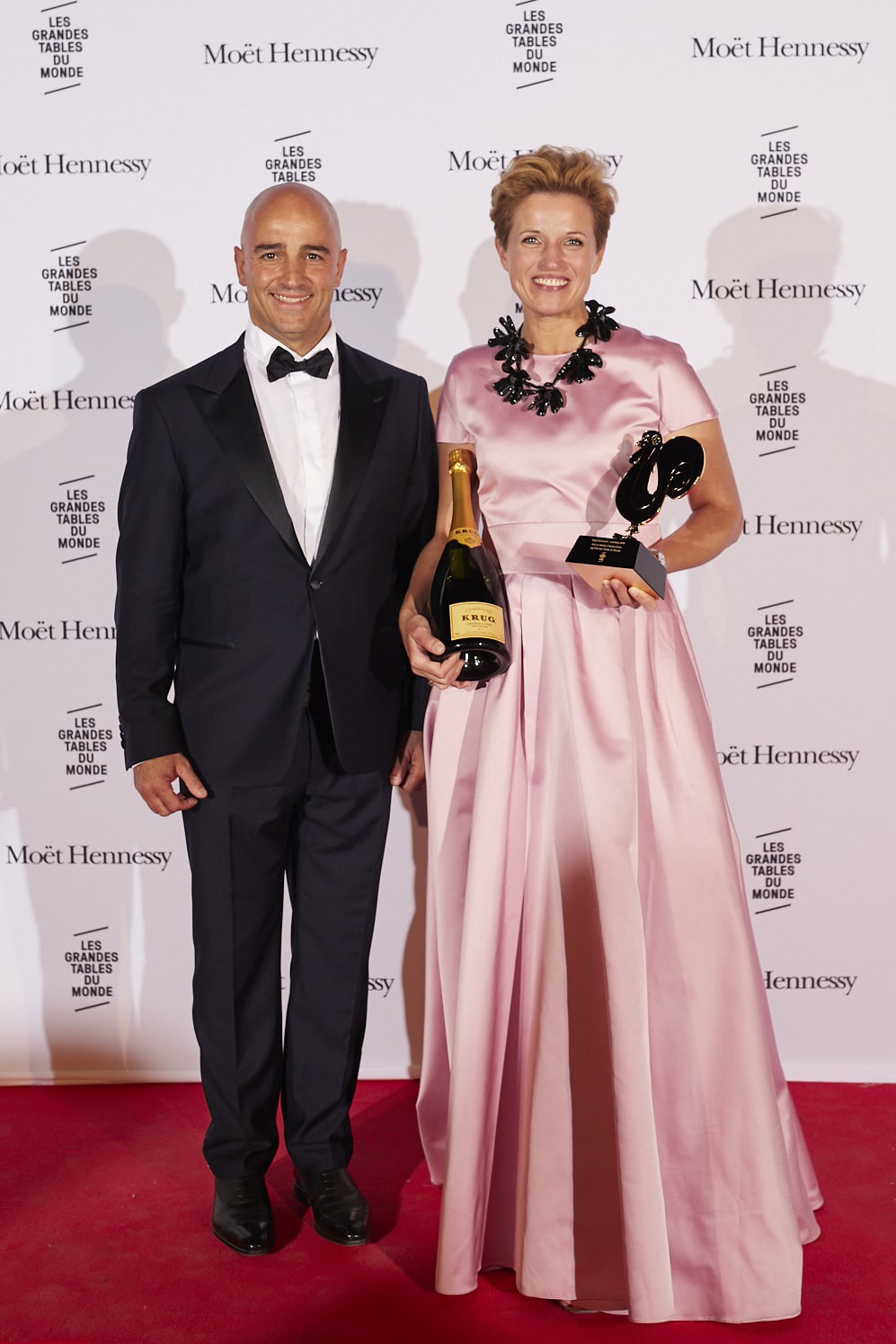 Alexandre Leanza, Global Image Parternships Director Moët Hennessy and Birgit Reitbauer ©Kevin Leinster
Winner of the 2019 M. CHAPOUTIER Prize for the Best  Sommelier of Les Grandes Tables du Monde
Aldo Sohm – Le Bernardin
United-States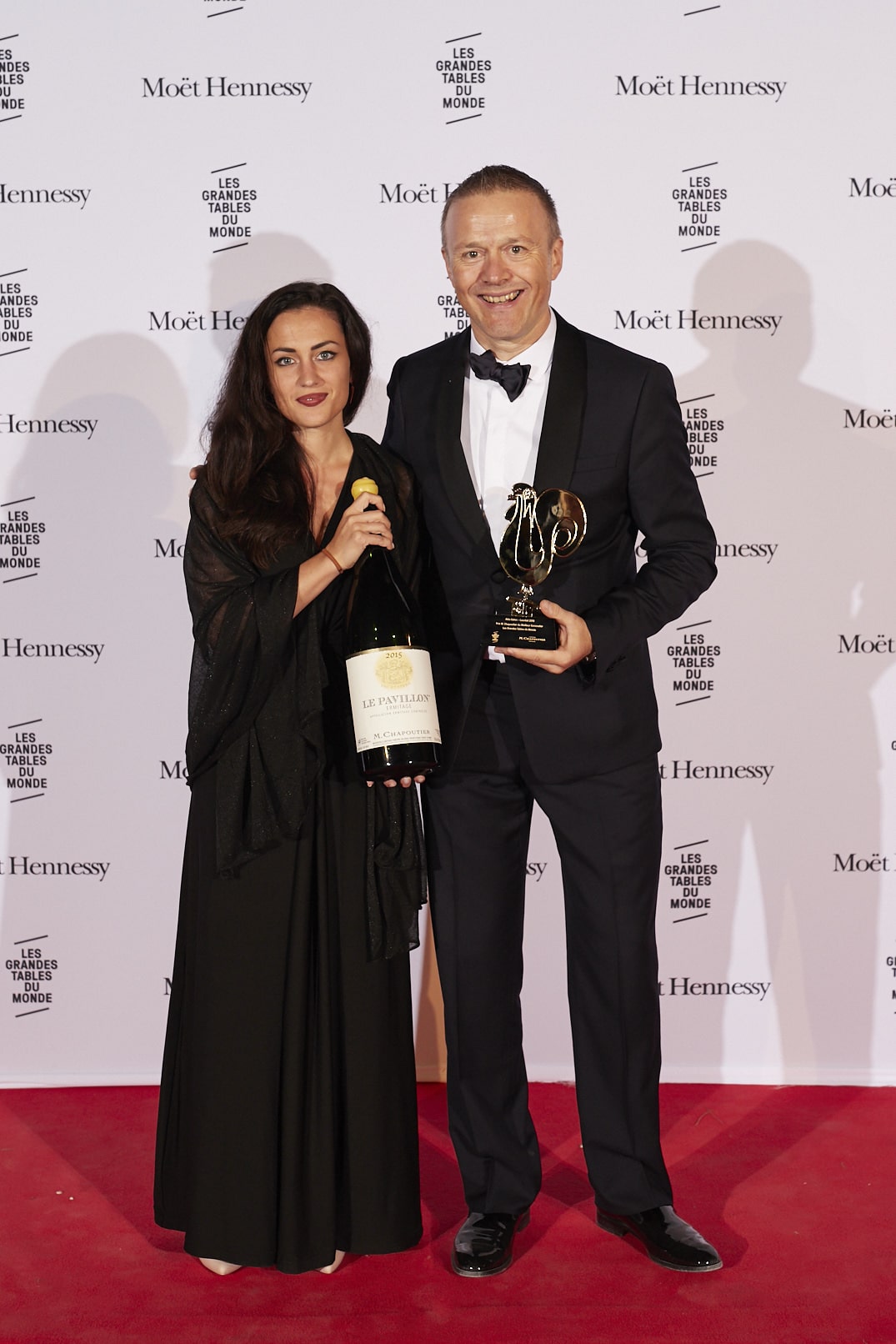 Mathilde Chapoutier et Aldo Sohm ©Kevin Leinster
Aldo Sohm can look back on a stunning and global career.
At the age of 19, he fell madly in love with wine and made it his profession. Through hard work, the first prices fell, and in 2004, he flew to the United States. The awards followed him across the Atlantic and led him to Le Bernardin where he began working with Maguy Le Coze and Eric Ripert. The following year, he was elected the best sommelier in the world. Always animated by this passion for the customer and the conversation around wine, he continues to walk at each service in the Bernardin's immense room. At his side is a young team, mainly female, that praises him. Because beyond the exceptional sommelier, Aldo Sohm is also a mentor, determined to open borders and share his love of wine with as many people as possible. It is this accomplished professional and inspiring team leader that the association Les Grandes Tables du Monde and Maison M. Chapoutier wanted to reward! 
"Wine is made to be shared but above all to go with food. This essential marriage of food and wine is at the heart of M. CHAPOUTIER's philosophy.
This sense of sharing is reflected in the wine, which itself brings richness to the dishes it accompanies. We had the honour of awarding the M. CHAPOUTIER prize for the Best Sommelier of the Grandes Tables du Monde to Aldo Sohm, who conveys his passion through his agreements."
Mathilde Chapoutier, Group Sales Director
Winner of the 2019 Valrhona Prize for Best Restaurant Pastry of Les Grandes Tables du Monde
François Perret – La Table de l'espadon au Ritz paris
France
In just a few years, François Perret has established himself as a leading figure in French pastry.
Intransient in his pastry quest, in constant search for the perfect balance, he has become a master in the art of revisiting the great french classics in a contemporary version. This virtuoso of sweet delicacies, obsessed as much by taste as by form, is bringing new codes to the haute patisserie. His creations play the "low sugar" card to concentrate on the essential: taste, generosity, as well as a certain boldness that contribute to it world-renowned reputation alongside Chef Nicolas Sale, in the kitchens of the Ritz Paris.
"Partner of passionate craftmen of taste for nearly 100 years, we put all our expertise at their service to support them in their quest for creativity and uniqueness.
However, today, to be unique, we are convinced that we must also be responsible. We are therefore pleased to have awarded this prize to François Perret, an incisive, generous and surprising pastry chef, who, like us, values a gastronomy based on beauty, taste, and care.
Because doing well is above all respecting people and the planet. And, we are intimately convinced that it is also the way to live on."
Juliana LEPAN, Director of marketing and communication Valrhona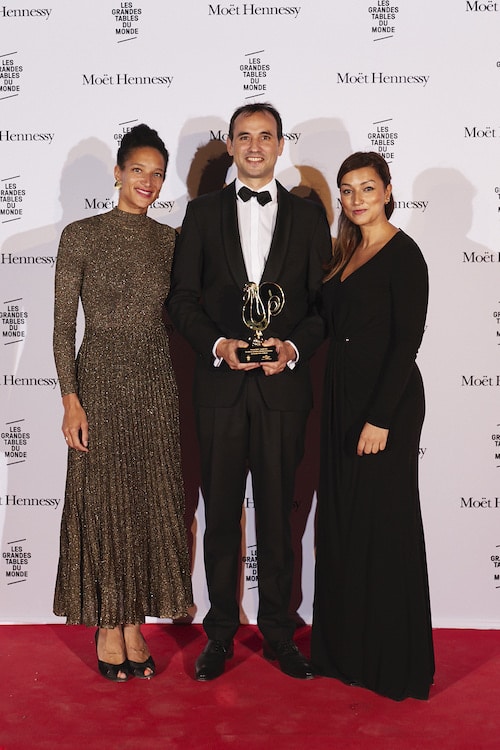 Juliana Lepan, François Perret and Zeyneb Lara ©Kevin Leinster
Winner of the 2019 Mauviel 1830 Prize for Best Dining Room manager of Les Grandes Tables du Monde
Cristiana Romito – Ristorante Reale
Italie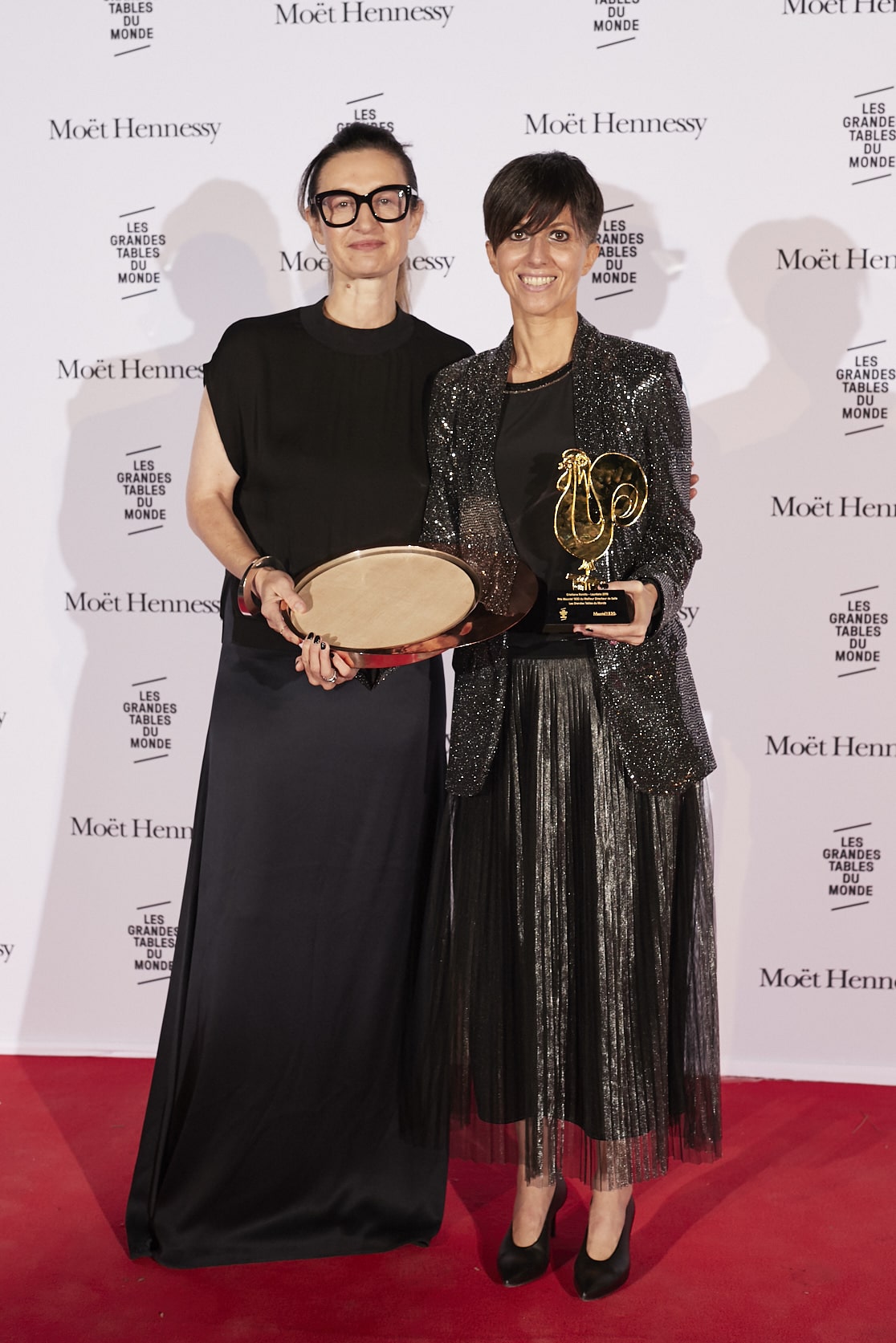 Valérie Le Guern Gilbert and Cristiana Romito ©Kevin Leinster
Since the beginning, Cristiana Romito has been a major component in the destiny of one of the most beautiful fine dining spot in Italy, restaurant Reale which is located in Abruzzo inside an former monastery of the 16th century called Casadonna.
A chef, as talented as he may be, cannot dialogue with his guests without his counterpart in the dining room.  Cristiana is one of the most beautiful examples of that. She's a true interpreter of her brother's creations, Chef Niko Romito. She has developed her own personal idea of hospitality:  an ensemble of gestures that unfold in an informal elegance and constant attention. She conveys, in harmony and high standards, the chef's pioneering vision. Both dining room manager and executive manager of the Reale restaurant, Cristiana sees everything, supervises everything and gives the chef's philosophy a physical and human reality of great strength.
"Sharing, transmission and excellence are the foundations of these theatrical professions, values that Mauviel 1830 strives to share on a daily basis with my teams. We have chosen to honour Cristiana Romito from Ristorante Reale in Italy, this woman of character who transmits, every day with passion and conviction, the philosophy of the chef in the kitchen directly to the customer in the dining room. It is a strong link, essential for the experience to be complete."
Valérie Le Guern Gilbert, President of Mauviel 1830