Rachel Coe
« I feel so fortunate to be working with such a great team. »
Rachel Coe, a young Californian brought up in a family of wine lovers, has always had a clear path ahead of her. A destiny almost: to become a chef! She even studied for it, but the world of wine eventually caught up with her, and she took up the sommelier position at one of the most prestigious restaurants in San Francisco, Chef Dominique Crenn's establishment. A position she held only for two months before the COVID pandemic stopped the entire industry in its stride… Since then she's been involved in numerous social initiatives led by Chef Crenn, a leader driven by the desire to preserve her staff and bring comfort to those who need it. More than anything else, Rachel loves being in contact with people, both those she serves and those she trains. These qualities make her much more than a wine specialist: she is an all-around hospitality expert.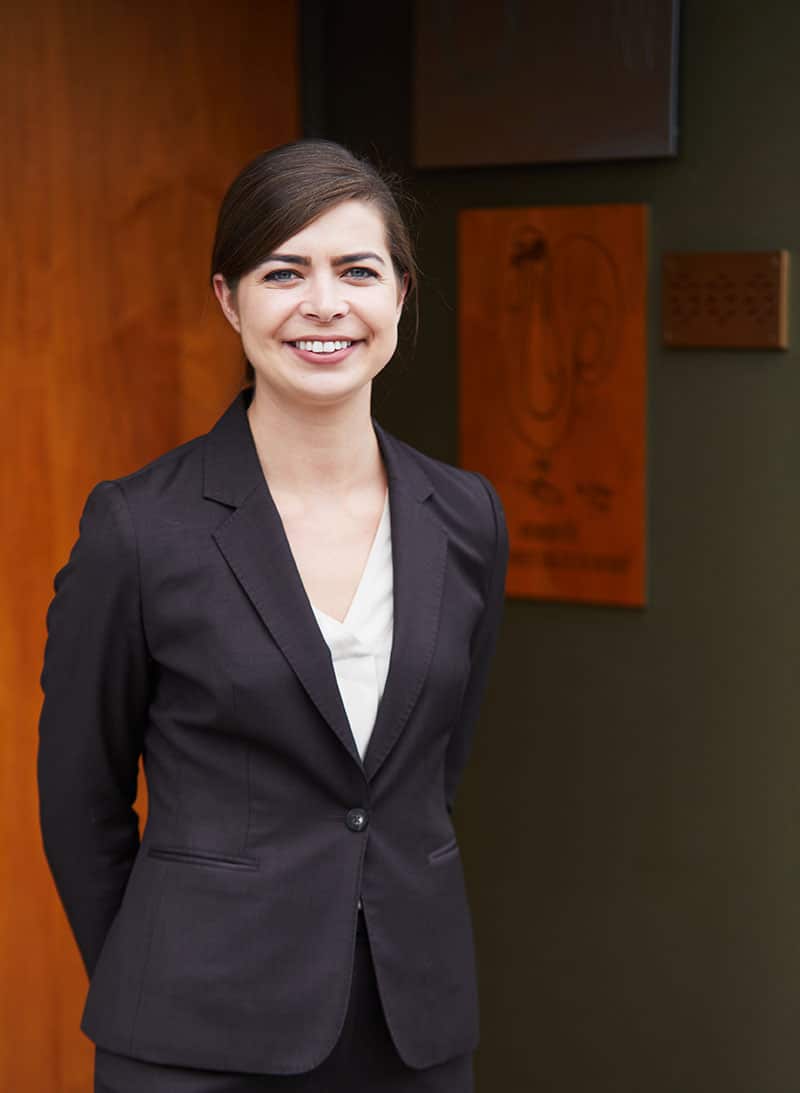 How did your love of wine come about?
I grew up in California, in the San Francisco Bay, in a family of wine enthusiasts. Especially my father, who is a surgeon, always encouraged us to taste, talk and learn more about wine. Drinking alcohol with your children at the dinner table may be commonplace in France and Europe, but it is quite unusual in American culture. It was all about points and scores. He would print out index cards and ask us questions. After a few years, I started speaking like a true wine critic: "It's cherry, tobacco and clove". But my real passion back then was cooking. I grew up in the 2000s watching TV channels like the Food Network, with all those glamorous celebrity chefs. Ever since middle school, I wanted to become a chef. I would spend hours preparing dishes for my friends and they would gobble them up in a flash! When the time came to decide on my studies, my plan was to join a culinary school. My parents were supportive, but encouraged me to go to university first. To get out of my comfort zone, to forge my own identity, I decided to leave California, even though there are a million wonderful schools there. So I went to the University of Missouri, which was both a culture and a weather shock!
I majored in hotel and restaurant management intent on becoming a chef, maybe even opening my own restaurant. It was really cool to put on a chef's jacket, to be cooking all the time and receive a diploma for it! Then I became a teaching assistant, like the ones you see on tasting panels on TV. After that I moved to Florence for two months. That stay truly expanded my love of wine. I began to understand the connection between wine and food, the links between history, geology and geography, everything that makes wine what it is. In my last year of university, I worked in a European wine bar, operating both in the kitchen and behind the bar. There I realised how much I wanted to work in the front room, and that although I was passionate about cooking, my priority was to connect with people, with guests. That's when I decided to become a sommelier. So after I graduated, I took a course in sommellerie.
June 2014: Graduated from the University of Missouri with a major in hotel management and a minor in business

December 2014: Passed the Certified Master Sommelier exam with the highest score and received the Walter Clore Scholarship

February 2015: Began as sommelier at Rosewood Sand Hill in Menlo Park, California

June 2018: Opening team member at Rosewood Baha Mar in Nassau, Bahamas

February 2019: Opening team member at Rosewood Miramar Beach in Montecito, California

March 2019: Opening team member at Rosewood Hong Kong

October 2019: Awarded the title of Advanced Sommelier by the Court of Master Sommeliers of America

January 2020: Started as head Sommelier, Atelier Crenn and Bar Crenn

March 2021: Promoted to Director of Wine, Atelier Crenn and Bar Crenn

October 2021: National finalist in the Young Sommeliers Competition – Chaîne des Rôtisseurs
Did you know back then that you wanted to work in a gourmet restaurant?
When I was young, I was already fascinated by the world of Michelin stars and high-end gastronomy. I knew I didn't want to work in a family restaurant but rather in an iconic establishment where I would have to give my very best. Years later, I can say that working in a gourmet restaurant is certainly not as glamorous as I thought it would be, but I just knew it was my calling. And getting there was not easy. I didn't have much experience in the dining room when I took my sommelier exam. I started working in Silicon Valley, at Rosewood Sand Hill, a resort with a Michelin-starred restaurant. Initially in the lounge, which was more casual, and then in the restaurant itself. It's hard to get a handle on the whole service thing when you're fresh out of school! There were many tough moments, plenty of tears. I was such a young sommelier… Sometimes I would go to a table and they would look at me and say: "Are you old enough to even drink wine? Can you call your manager?". It took me a while to earn the guests' respect and trust. I ended up working for this group for five years. I was lucky enough to open multiple venues for them around the world, in Santa Barbara, Nassau in the Bahamas and even Hong Kong. I really thought I would stay in the hotel and resort business, focusing on launching new venues, teaching and training staff.
What path led you to Atelier Crenn?
In October 2019, I took and passed my advanced sommelier exam. Immediately afterwards, a strange thought came over me: what now? Should I switch trade? Change paths? In preparation for the exam, I had staged at several three-star restaurants to gain experience. And my friends were pushing me in that direction. But I kept thinking I wanted to stay where I was. So it all started with a working interview at Dominique Crenn's establishment: there I felt like I had a purpose, not just standing in a corner or pouring water. Then I interviewed for the job, and in December 2019, I got the opportunity to work at Atelier Crenn. A big change for me! And then March 17th, 2020 came around… The COVID pandemic and global lockdown! What a weird start… Looking back, I'm glad I made the change at that time. I witnessed the trust and responsibility that Dominique Crenn places in her team.
What was your first impression of the restaurant?
I thought: wow, is that it? Just eight tables? So small and yet world famous! The first two days, I didn't know where to stand, what to do, or who to talk to. But very quickly, I realised that my colleagues were friendly and patient, always taking the time to teach me the subtleties of service. I came from a restaurant where there were, say, five courses, maybe eight, on a tasting menu, and here there were sixteen! But what struck me most was the timing, because everything needs to happen within a very precise time frame. You're always running against the clock to ensure guests have the most wonderful and memorable experience. I also noticed the silence and precision in the kitchen, a stunning choreography with the chef orchestrating right in the middle of it all. A quick glance, and then everything falls into place and the dishes are ready to be served! Today, just by looking at the floor, I have an overview of the restaurant and I instantly get a feel for what is going on. Needless to say that wasn't the case when I got started…
When guests sit down for this kind of dining experience, they let the chef decide every aspect of their meal. But with wine, they may have their own preferences. Some people have clear-cut opinions about wine, others don't. How do you adapt to that?
You're right. When it comes to food, they rely completely on the staff. They hardly need to see the menu, which, by the way, is a poem written by the chef. There is an element of mystery there. But for wine, it's a whole different story… Some guests come for the experience and opt for a food-and-wine pairing, which also saves them the trouble of selecting bottles, whilst others want something that "pops", a Bordeaux or a Cabernet… You need to be flexible and let them enjoy what they want. I think you should always drink what you like, no matter if it's a perfect match or not. If it makes your evening memorable, I'd say why not? But it's also my job to guide them towards a bottle that will help them get the most out of their experience, and of course something that highlights the food, which is meatless here. It's up to me to draw them into the story we want to tell. So I usually suggest starting with a lighter wine before moving on to a more powerful vintage. 
How do you highlight the chef's creativity through your suggestions?
By making unexpected food-and-wine pairings, even surprising myself. By suggesting wines to our guests that reflect Dominique Crenn's philosophy, wines produced by committed winemakers who try to limit their impact on the planet by relying on organic and biodynamic farming… And by really focusing on their story. It's wonderful when guests trust you and you can prompt them to try a wine from Mexico for instance. Maybe they've just travelled there and all they drank was tequila! Well, now they know this wonderful wine too. I like to push them out of their comfort zone, but without going too far of course. Because they always need to see the value in what you are offering.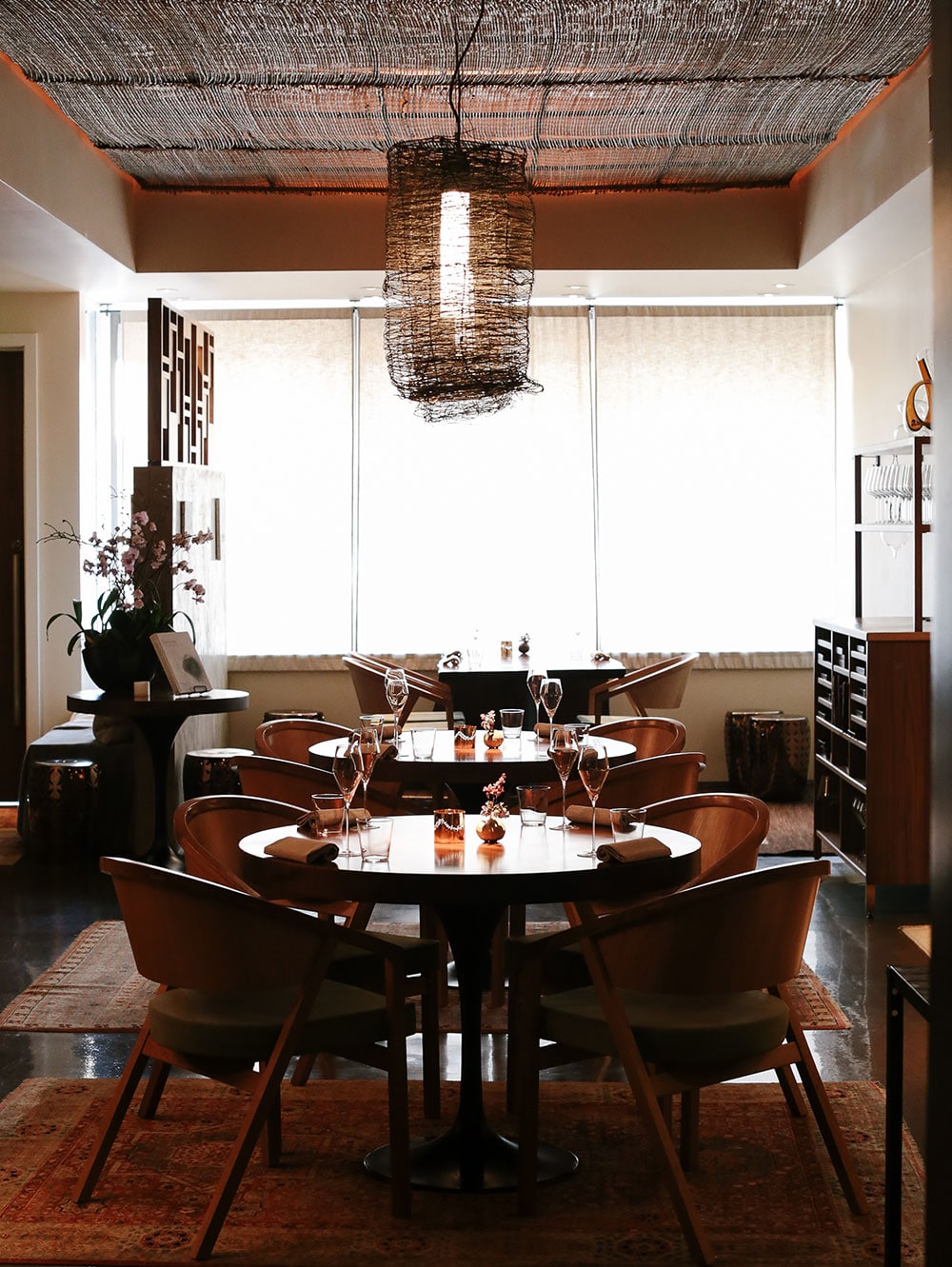 Are you also working on alcohol-free pairings?
Yes, and they've been very popular, especially in the last year. It was something we used to do before the pandemic, but it was a bit low key. It was kind of a secret thing… But now it's much more popular, and not just for those who don't drink alcohol. For instance, a couple might go for one pairing with alcohol and one without. It's fun for them to compare and share. We're fortunate enough to have a farm to get our produce from as well as talented chefs with a wide range of experience, who either worked as bartender in a past life or know a specific ingredient they've worked with. When I started creating non-alcoholic drinks that would work with food, my first lead was to model them on wine. One of those I'm most proud of is a cypress-smoked tea, beetroot juice and cherry drink that Chef Crenn called "Essence of Earth". In fact, it looks like red wine and has earthy, quite funky flavours. But it took a lot of trial and error. I remember taking my recipe to the head of R&D, who after smelling it said: "It smells like my grandmother's attic!" It might be confusing for some, but it's now a staple on our menu. Our gardeners have a lot of fun infusing various herbs, flowers and sun-dried fruits. They sip on their creations throughout the day. And I learned a lot from them. We create a new tea every week. With berries, chamomile, lemon verbena… Flavours that you wouldn't expect to work together. By using farm produce to enhance a dish, the drink ends up being part of that dish. It's really a challenge, because how can I enhance a dish that is already perfect, that the chef has spent months perfecting? Sometimes you have almost too much freedom to get lost in!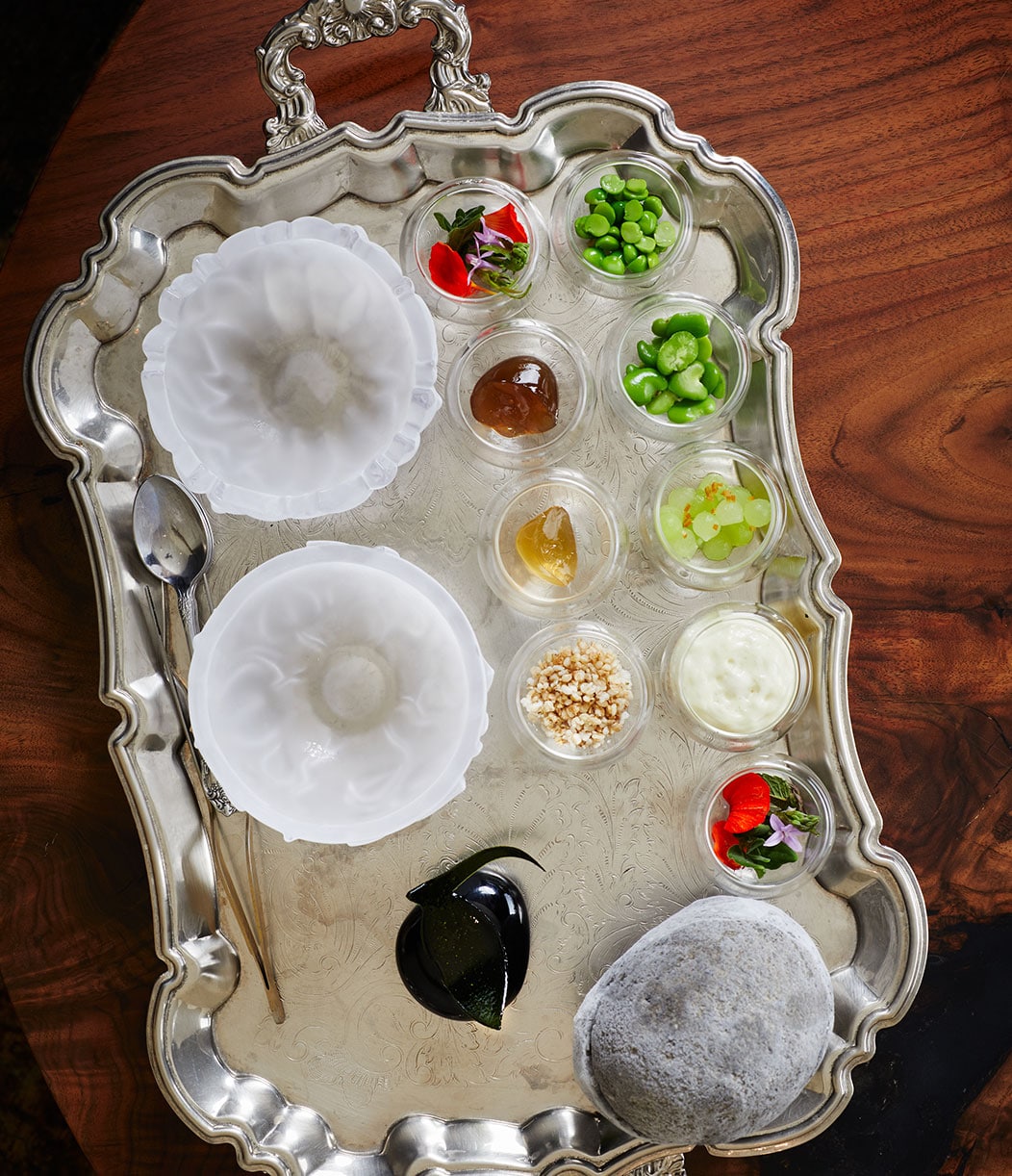 Can you tell us more about your wine list?
Our wine list contains 700-800 bottles. Not that many compared to the one I used to work with, which had about 2,400 references and you would often find yourself digging through a page full of Zinfandels! So I have learned to appreciate the value of a narrower menu. It contains mostly Californian and French wines, but we also have quite a few from other regions. Many of our guests trust us and choose the pairing without even looking at the menu. But I always encourage them to have a peek, because it's my favourite book! I think there's something poetic about browsing a physical list, going through it… It also reflects the philosophy of the restaurant. Of course we have the classics, the great Bordeaux, the big Champagne names, but it's also fun to explore other regions, with wines that are maybe at a lower price point and suitable for more budget-conscious guests. I want them to pick a wine that will give them a real memory, and not just the cheapest on the list!
What do you think will be your next step?
It's something I've been thinking about a lot recently. I've been here for two years and I'm far from finished with this establishment. I've already learned so much! I think I need a few more years to really build up my team and feel like I'm making my mark on the wine list and the restaurant itself. In the longer term, I'd like to work as a consultant, help open restaurants, handle training, travel… but not yet! I feel so fortunate to be working with such a great team.