Stefania Moroni
« Working with your family can prove difficult, but it is also a great team building exercise! »
Aimo e Nadia is much more than a restaurant. It is a story that transcends trends and templates.
But first of all, it is the tale of a close family circle – and gradually, of an extended family – that perpetuates a certain idea of Italian cuisine. In 1962, Nadia and Aimo Moroni opened their restaurant in a small street in Milan, out of typical touristic areas. With both of them in the kitchen, it was a simple trattoria that celebrated the products and specialities of their region, Tuscany. Over the years, the trattoria gained in popularity, and both the cuisine and dining room gained in sophistication. Stefania Moroni was a child back then, and she witnessed these developments: her parents' passion and their tireless work to expand the establishment. In the 90s, following her studies, she joined the family business and took the time to find her true place in it. Stefania chooses her words carefully when talking about Aimo e Nadia, just like she does when mentioning the other venues she imagines with her partners, Chefs Alessandro Negrini and Fabio Pisani. Together, they give life to a gastronomy open to art and culture.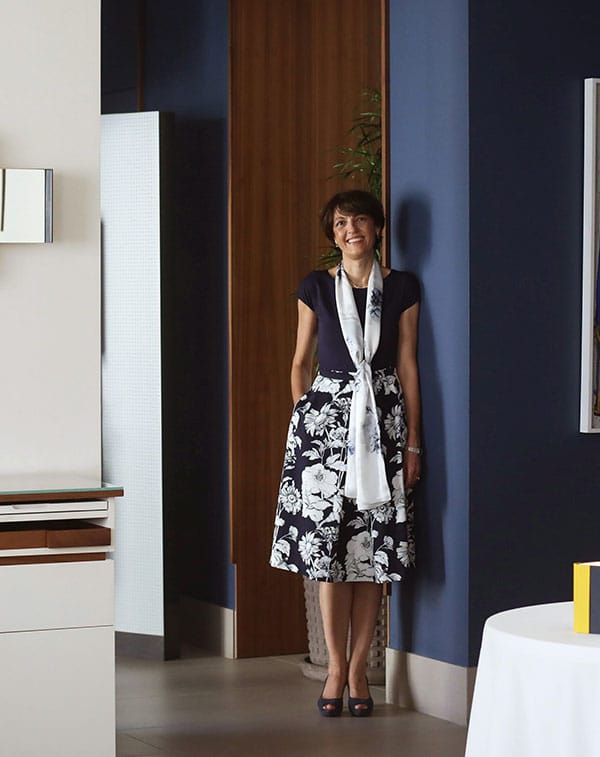 Was working with your parents an obvious choice?
Well, let's say it was the opportunity of a lifetime! I did try to find my own way. I initially studied dietetics, nutrition, food-related topics of course because it is part of my DNA. I was always eager to learn new things, and I certainly studied more than I needed to! Then I figured I had to try my hand at the family business, if only to discover that it wasn't for me. So I took the opportunity and got serious about it. I went to the market with my father every morning and we travelled all over Italy to meet producers. At first, I only worked in the dining room, not even taking orders but simply greeting guests as they arrived. At that time, the restaurant already had a Michelin star, but to be honest, I knew very little about this world at the time. I learned everything by paying attention to the smallest details, by observing what was not necessarily visible to everyone. Alongside my parents, I learned to think and make decisions as a team. Working with your family can prove difficult but it is also a great team building exercise! You can't just pack up, slam the door and leave, you need to work the problems and innovate. This would serve as a valuable training for my later collaborations with my partners, Alessandro and Fabio.
Stefania Moroni's background :
1970: Stefania, who lived with her grandmother in Tuscany, joins her parents in Milan
1987: She starts working at Aimo and Nadia
1994: She brings art into the restaurant, in collaboration with artist Paolo Ferrari
2005: Alessandro Negrini and Fabio Pisani join the project
2012: Aimo and Nadia retire and handover the business to Stefania, Alessandro and Fabio
2018: Renovation of the restaurant Il Luogo di Aimo e Nadia, opening of Voce Aimo e Nadia and BistRo Aimo e Nadia
At the end of the 90s, the restaurant changed its name to Il Luogo ("the place") di Aimo e Nadia. A simple word, a slight distance that prepares the future. Stefania dedicated her efforts to bringing this place to life and propelling it into the future. In 2005, two chefs, Alessandro Negrini and Fabio Pisani (former employees of the restaurant) joined her in a smooth transition, taking over the family business. A close-knit trio of partners in which Stefania plays a key role as the founders' daughter, and as a woman of course, but in which no action is taken without consulting the others.
At what point did you start feeling you were in charge of the restaurant?
 It wasn't a specific moment, but more of a process. I spent about ten years immersing myself in the restaurant, trying to understand what we wanted to achieve. I thought about how it could evolve, open up to the world and to other perspectives. All with small steps, doing things the right way. We travelled to the United States, to Japan… We had some projects over there and promoted the Aimo e Nadia name, more as a brand than as a family.
Then in the late 90s, I decided to do a few things my own way, not in the kitchen of course, which was my parents' guarded playground, but rather in the dining room, with ties to culture. I decided to turn the restaurant into an art installation.
At the time, it was quite avant-garde! Back then, you went to the restaurant for the food, not the experience. Here, guests were part of the installation, they walked through it, they sat in it but many people found it strange, I must say.
But that was my idea, my responsibility, a way of asserting myself, of saying to the world: Look, here I am! When Fabio and Alessandro joined me to run the restaurant, my parents were still operating the kitchen, and we wanted to imagine our future together. This restaurant and its cuisine have always been the fruit of collaboration between several people, never the product of a single mind or vision.
What had to be changed, and what was kept?
Good products, great ingredients, but also the relationship with producers: this is what had to be retained at all costs. This is something very important to us. Our cuisine is based on this know-how, which translates into the final result, the dish. We don't want to rely solely on the very last step, the chef's creation work.
We've kept this idea of a legacy cuisine, but with a contemporary touch. We want to show that modernity is not necessarily disconnected from the past. I'm not talking about tradition, which is a word I don't like, but rather about history. The history of our gastronomy. The point isn't to stick to our culinary heritage in a literal way, but rather to explore the limits of the very foundations of our cuisine, combining its core flavours with something new so we can rediscover these age-old flavours that are so interesting.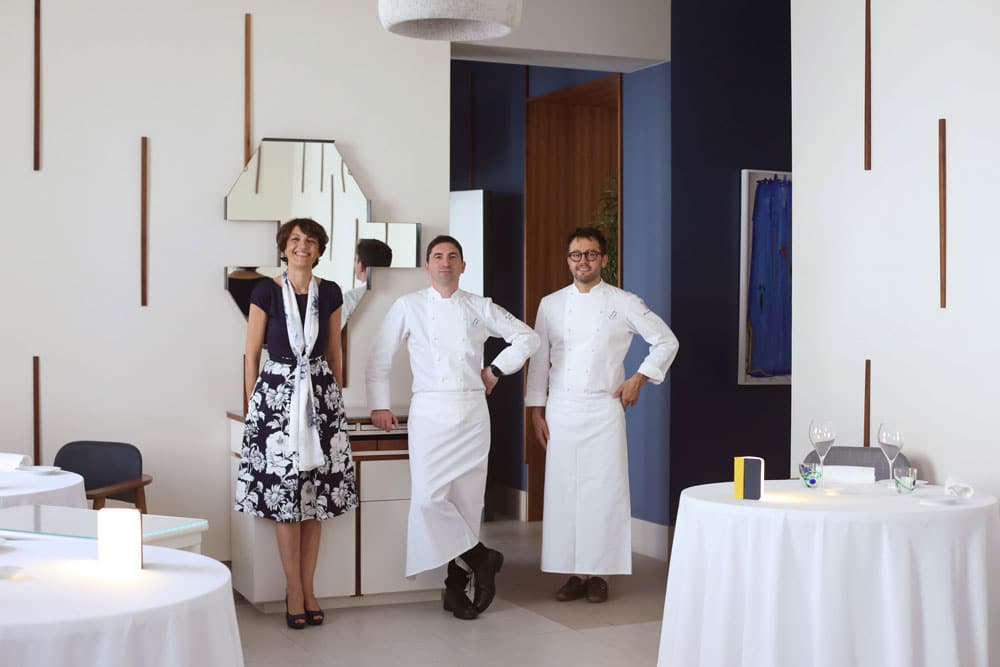 Nothing in Aimo e Nadia's history happened in a hurry, in a frantic search for international recognition, during an era when celebrity chefs are all the rage. The establishment steadily moves forward, unperturbed, opening a few new locations at its own pace. At the helm, not one but two chefs, not one leading figure but three, who all equally represent this flagship of Italian cuisine. 2018 was a landmark year, a leap in its development. The restaurant was renovated, and an adjoining space with an open kitchen was created: a Theatrum dei Sapori (Theatre of Flavours) designed for the ultimate immersive experience. The same year saw the opening of a second location, BistRo Aimo e Nadia, created in collaboration with gallery owner Rossana Orlandi and fashion brand Etro. This project embodies the Milanese art of living, combining cuisine, fashion and art. Finally, the Intesa Sanpaolo Bank has entrusted its catering service at the Galleria d'Italia in Milan to Aimo e Nadia. In this historic location, just a stone's throw from La Scala, Voce Aimo e Nadia gives a voice to all parties at the helm. It features a bookshop, a gourmet restaurant, a cafeteria and an ice cream parlour.
How do you want to expand Aimo e Nadia?
We can't just rely on the past or focus on the present, we must think long-term. So yes, maybe it takes us longer, but we don't take actions if we know we can't keep up by putting our faith in it. We opened restaurants in situations where not only our name was important, but also where the cultural and artistic context mattered. These are deliberate choices, and we did turn down projects that didn't have that dimension. It's good to do business, but it needs to incorporate this idea of culture. At least for now. We are taking things one step at a time over a period of ten to fifteen years, not just one or two. In 2022, we will celebrate our 60th anniversary. This allows us to see things from a wider perspective, and on another scale! When you have such strong roots, when you know where you come from, you can go anywhere.