Annie Feolde
« People always think women are naturally more gifted for cooking than men, that our place is in the kitchen, and therefore we don't deserve as much praise »
She has shown the way for a whole generation of female chefs, without ever raising her voice. Discreet despite her flamboyant hair, always keeping a low media profile in spite of her reputation for excellence, Annie Feolde is queen in Italy, but remains unknown in her country of origin, France.
Today, we can finally measure the full impact of her career.
In 1992, she was the first woman ever to receive three Michelin stars outside of France. Between 1933 and 1951, we had the three mothers of French gastronomy from Lyon (Eugénie Brazier, Marie Bourgeois and Marguerite Bise), and then… no one.
Let's look back at an amazing journey, from Nice to Florence, from a family hotel to high-end gastronomy.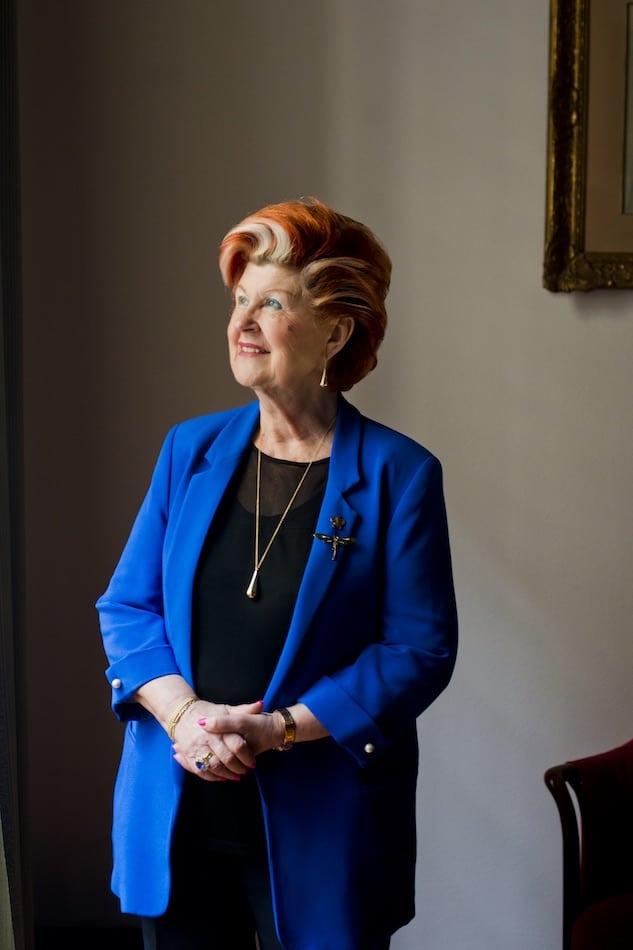 Annie was born right after World War II in a family working in the hotel industry on the French Riviera. Of Polish and Swiss descent, her parents also worked in the hospitality sector: "I grew up with my two grandmothers, Sophie and Lydie, one was living in Le Chambon-sur-Lignon in Auvergne, and the other in Nice", she recalls with great delight.
Raised in a Protestant family, she was taught discretion, restraint and hard work, following the example of her grandmothers and mother, who worked night shifts at the Hotel Negresco's reception and took care of her children Jacques and Annie during the day. Annie Féolde grew up with a brother three years older, which had a strong impact on her character: "I had rollerblades, like him. A bicycle, like him. A toy train too, of course. There were no differences made between him and me: we did everything together, I had to keep up. »
« In any case, I only liked boy things! »
Smart and curious, young Annie had a taste for travel and freedom… but initially swore to escape the hotel and restaurant business, which had kept her parents away from her due to very demanding schedules. This is indeed one of the reasons why she has favoured her career over her family life, not wishing to impose this time-consuming lifestyle on a child, having suffered herself from her parents' frequent absences.
1972 :  Opening of the Enoteca Nazionale under the supervision of Giorgio Pinchiorri.
1979 :  Giorgio and Annie acquire the business, changing the name to Enoteca Pinchiorri.
1982 : 1st Michelin star.
1983 : 2nd Michelin star.
1992 : 3rd Michelin star, 1st woman holding three stars in Italy, and 4th in the world.
1994 : Premio Internazionale Caterina de Medici.
2006 : Knight of the National Order of Merit (in France).
2017 : Legion of Honour.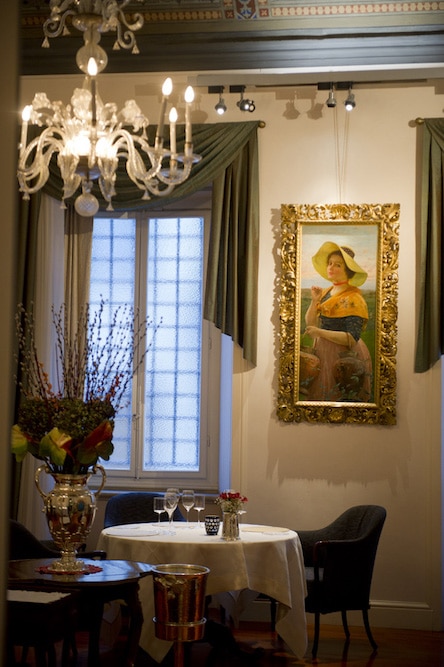 A French in Florence

Paris, London… After working at the post office for a while, Annie felt the urge to start a new life and learn foreign languages. When she moved to Florence, she met Giorgio Pinchiorri, and after a year working with him in a wine bar, she started preparing "a few little bites to eat while sipping a drink", as she elegantly puts it. On the menu in 1974: "Dishes that I liked and that I was good at. One of the most popular items was the quiche lorraine – really good!" she recalls, laughing.
« Because I spoke both English and French, I used to come out of the kitchen to explain the menus and serve those who initially came to us for the bottles! »
Edoardo Raspelli, a renowned journalist, steered her towards authentic Tuscan cuisine by inviting her to take part in his TV show in Milan. For the occasion, she dove deep into Anna Gosetti della Salda's bible, Le ricette regionali italiane, and quickly understood "what she could prepare based on this simple and light cuisine, full of wonderful ingredients. Compared to French cuisine, the fundamental difference is the lack of sauce, because there's simply no room for cream and butter here. In Tuscany, everything revolves around olive oil! A kind of oil I didn't particularly like when I first got here, because I was so used to the bitter and powerful taste of French oils from the 50s and 60s, but I discovered all its nuances in Tuscany. I even planted olive trees on my balcony, which goes to show!", she explains.
Although French and Tuscan cuisine both rely on fresh and quality produces, their construction is radically different: where the French seek fusion, quintessential flavours, Tuscans put an emphasis on juxtaposition, the purity of flavours, which must remain separate. "The greatest praise is when people tell me they can clearly identify the dish's various flavours. The legibility of Tuscan gastronomy is something I got from studying it for so long. Because I was self-taught, I had no other choice: I had to work very hard, simple as that…" And yet she derived great pride and pleasure from her lonely late-night learning sessions: "Working a lot wasn't an issue for me. I had to learn. It wasn't hard, in fact I loved it. When you do nothing, you go nowhere; that meant I had to get moving." Simple as that. »
« I was very surprised. I wasn't working for recognition, only to make good food, the best possible food. All those efforts, I didn't do them to be recognised, only because that's what I had to do for my customers. »
An unexpected third Michelin star
To her surprise, she received her first Michelin star in 1982, followed by a second star the following year. Every summer, she visited vineyards with Giorgio in search of great vintage wines. An occasion for them to share their experience with the Troisgros brothers, Roger Vergé and Paul Bocuse. She took a picture with the latter, which is still on display in her restaurant's kitchen, right next to a menu he created in her honour in 1993. "Even though I knew about his relationship to women and his private life, I can only appreciate Paul Bocuse's impact on our profession, because at a time when chefs weren't in the spotlight, he understood the importance of being visible, of getting out of his kitchen and greeting clients." In 1992, she travelled to Tokyo in Japan, in the Ginza neighbourhood to be exact "a place just as beautiful as the Champs-Elysées!" to create the menu for the Enoteca restaurant that was about to open there. That's when the third Michelin star, eagerly awaited by Giorgio Pinchiorri, finally came. What followed (fire at the restaurant, losing and regaining the third star) is another story. In Italy, women hold a more prevalent role in the catering industry than in France, as she points out: "In France, the French Revolution sparked the creation of restaurants, when cooks lost their traditional noble clientele. In Italy, it started a century later, with women in the kitchen and men handling the table service. This shaped the outlook on gastronomy."
After Annie Feolde, Nadia Santini (Dal Pescatore Santini in 1996) and Luisa Valazza (Al Sorriso in 1998) both received 3 Michelin stars. Italy currently has the most starred female chefs in the world with 41!
An unintended pioneer and icon
One can fully appreciate Annie Féolde's iconic status walking around the streets of Florence with her. Simply walking across Piazza Santa Maria Novella led to multiple photos, selfies and hand-kissing: a central figure in Florence, she yet remains less covered in the media than her male counterparts, despite her status as a pioneer… an Italian Mother Brazier if you will.
"Me and my starred female peers are less talked about because a few male chefs are rather jealous of our success. People always think women are naturally more gifted for cooking than men, that our place is in the kitchen, and therefore we don't deserve as much praise."
« This status quo of domination remains. It makes it all the more difficult to have authority over our brigades: by working in tandem with Giorgio, this issue might have been milder in my case, but it is a reality. »
She admits to thinking with great admiration about these female chefs who came before her "because they didn't have access to technical and mechanical innovations that have helped reduce the reliance on physical strength", and about those who managed to combine family and professional lives, "a particularly arduous challenge in our industry."
Self-taught and idiosyncratic, Annie Feolde unintentionally shattered conventions with her hard work and mettle.