The panel of judges assembled by Serge Schaal, all renowned names from the world of gastronomy, chose to celebrate the exceptional career of Louis Villeneuve of the Hôtel de ville de Crissier. This maître d'hôtel was awarded the Mauviel 1830 Prize for World's Best Dining Room Manager.
This was the first year for the Valrhona Prize for the World's Best Restaurant Pastry Chef, which was unanimously awarded by the judges set up by Jean-François Piège, including the pastry chef Pierre Hermé, to Cédric Grolet (Le Meurice, Paris).
In addition, the Board of Members of Les Grandes Tables du Monde named Chef Jean-Pierre Vigato as the winner of the French Restaurateur of the Year Prize for Apicius, his leading Paris restaurant, and Will Guidara, at the helm of the iconic Eleven Madison Park in New York, as Best Foreign Restaurateur Award. In an exceptional move this year, the Board of Directors also decided to award an Honorary Prize to Maguy Le Coze for the entirety of her astounding career.
PRIX D'HONNEUR
MAGUY LE COZE LE BERNARDIN,
ÉTATS-UNIS
                    Maguy Le Coze has had a breathtaking career. In an industry dominated, until recently, by chefs and men, Ms. Le Coze has blazed her own courageous trail as a woman. Born in Brittany, Maguy debuted in the business at the Le Bernardin location (already!) on Quai de la Tournelle, just a stone's throw from La Tour d'Argent. Her brother, Gilbert, ran the kitchens, treating guests to simple, but precisely prepared, seafood specialties. Their success led them to set up shop in the 17th arrondissement on Rue Troyon, where they earned two Michelin stars. Momentum grew and adventure called, so they seized an opportunity to open in New York. For a time, Le Bernardin existed on both sides of the Atlantic. The success on American soil was overwhelming as they introduced their clientele to a new kind of seafood cuisine. Gilbert was radical and Maguy developed ingenuous ways to convince customers to try raw tuna or oysters. Upon Gilbert's sudden death, Maguy reinvented this legendary duo with Eric Ripert, a chef who trained under revered names like Joël Robuchon. The new pairing was effective indeed, and the two still run the thriving Le Bernardin, where awards and loyal customers are simply too numerous to count. Given this truly extraordinary professional path, the Board of Directors unanimously decided to award Ms. Le Coze an
honorary prize for her entire career.
PRIX DU RESTAURATEUR FRANÇAIS DE L'ANNÉE
JEAN-PIERRE VIGATO
APICIUS, FRANCE
                   Jean-Pierre Vigato has made his Apicius (France) restaurant one of Paris' most-respected establishments. Through two successive locations since 1984, Jean-Pierre has developed a strong, singular world of lively hospitality and superb cuisine. Dividing his time between the dining room and the kitchens, this lover of offal and game treats his faithful followers to meaty meals; they, in turn, ensure that space at his tables is in great demand come hunting season and would sell their souls for his famed whole tête de veau (calf's head). For the Board of Directors of Les Grandes Tables du Monde, he has long been the perfect embodiment of the French chef, in the noblest sense of the term. He was therefore the incontrovertible choice to receive this prize for French Restaurateur of the Year for.
PRIX DU RESTAURATEUR ÉTRANGER DE L'ANNÉE
WILL GUIDARA ELEVEN MADISON PARK,
ÉTATS-UNIS
                  At age 38, Will Guidara, along with his associate Daniel Humm, runs one of New York's most emblematic gourmet establishments: Eleven Madison Park (USA). The restaurant has been crowned with the highest honors, having developed a matchless reputation for the art of service and hospitality. Gradually, over the years, Will developed a new, comprehension vision of service based on customer feedback. And, to better surprise and delight these guests, he has also added a new, more spectacular dimension to food preparation and services in the dining room. For the Board of Directors, awarding Will Guidara the prize for Best Foreign Restaurateur means
honoring one of the best role models in the profession.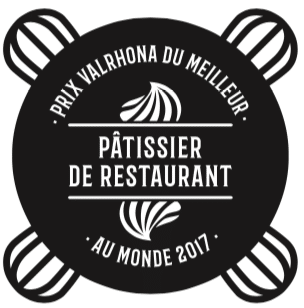 CÉDRIC GROLET
LE MEURICE, FRANCE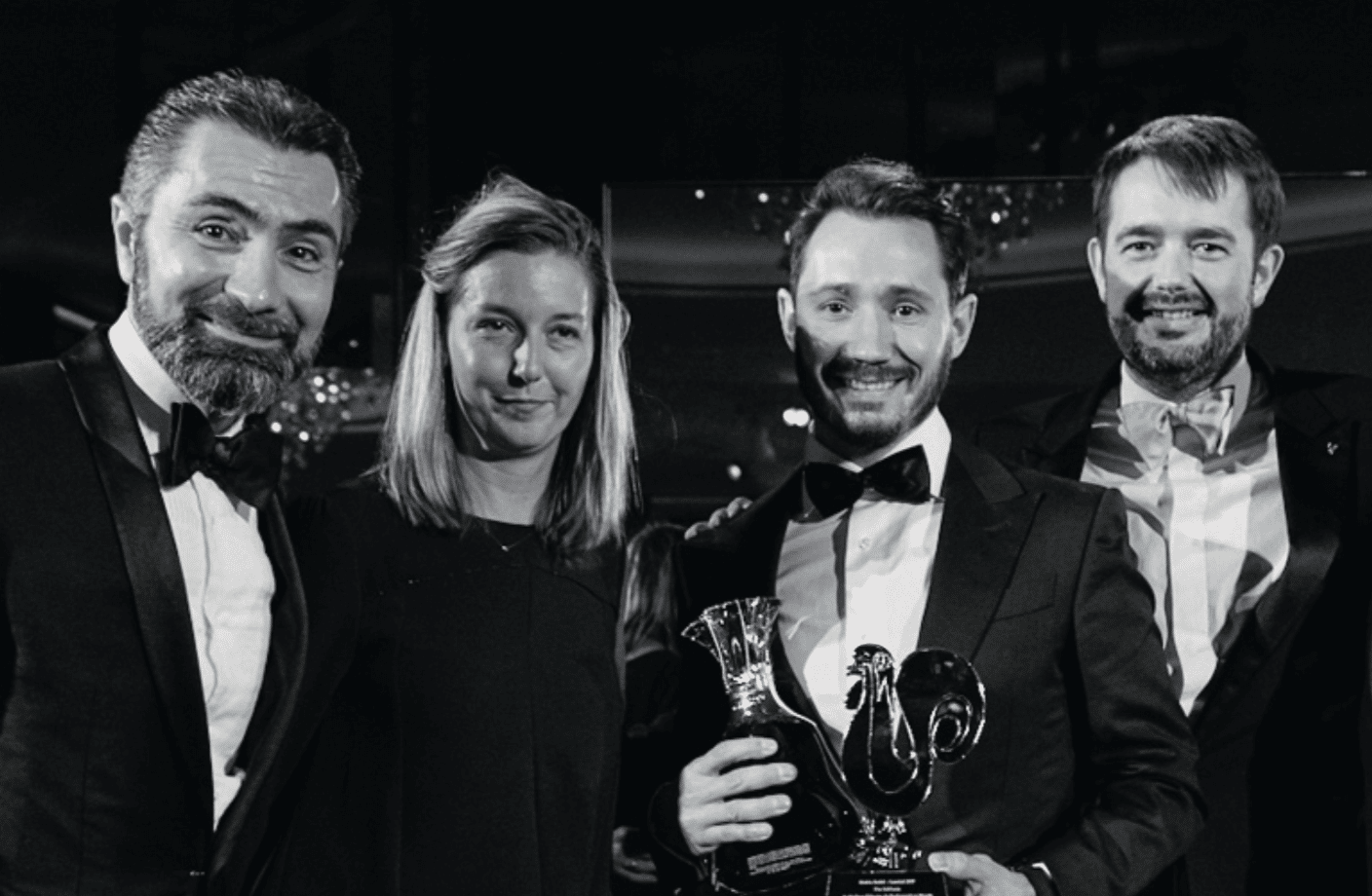 Cédric Grolet was unanimously voted the winner by a prestigious panel of judges, enlisted by chef Jean-François Piège, for his essential contributions to restaurant pastry craft. The young pastry chef honed his skills by designing and making desserts at the Alain Ducasse restaurant at Le Meurice (Paris), as well as the pastries served for tea time at Paris' Le Dali. His reputation swiftly grew and he earned undeniable renown, particularly on the social networks, where each shared photo of his most recent achievements mesmerized his community of followers. But beyond his trending fame, the judges wished to hail the stylistic and technical audacity of this pastry virtuoso. By stepping away, to some degree, from the great classics, Mr. Grolet has emphasized new shapes, such as his emblematic sculptured fruit, now one of his signatures. The visually striking culinary creations of Cédric Grolet are as much masterpieces of technique as of taste. Today, Mr. Grolet is a pioneer of dynamic and audacious French pastry craft and is the first to receive this new prize, created through a partnership with Valrhona.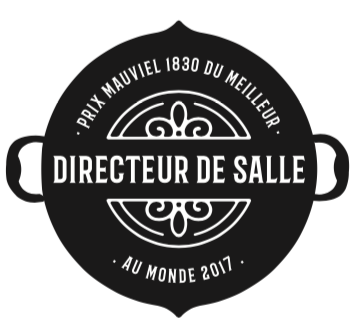 LOUIS VILLENEUVE
HÔTEL DE VILLE DE CRISSIER, SUISSE
                   By recognizing Louis Villeneuve, the judges for the Mauviel 1830 Prize celebrated the exceptional career of a maître d'hôtel who, for nearly 40 years, has dedicated his professional life to a single establishment: Le Restaurant de l'Hôtel de Ville de Crissier in Switzerland. This loyalty to one institution dovetails with an entire generation of leading chefs: first Frédy Girardet, venerable chef and the restaurant's founder, then Philippe Rochat, the house's brilliant and steadfast buyer, then Benoit Viollier who took up the reins from his predecessor with such grace, only to leave us cruelly and far too soon. Today, Franck Giovannini is at the helm, and Louis was there to oversee the transfer of power with the current dining room staff. Louis serves as the memory of the establishment, but is, above all, an outstanding maître d'hôtel, as at ease with one-on-one communication with customers as he is with the poultry-cutting that fills their plates. He is a comprehensive artist, one at the acme of his art in an iconic restaurant: No more need be said to justify the presentation of this award, now in its second year, in association with Mauviel 1830, which honors the many dining-service trades and for which Louis Villeneuve follows last year's recipient, François Pipala of the Paul Bocuse restaurant.