Sarah Parth
« He is the chef, he is also the boss (at least at work, in private it's another story!) and I don't have any problem with that. »
In the world of hospitality, most careers are neither spectacular nor media-friendly, and don't feature grandiose journeys or spectacular events. The restaurant and hotel industry is marked by men and women who, every single day, open the doors of their establishment and make sure their guests have the best possible experience at anytime.
Everything in Sarah Parth's childhood in Austria destined her to be what she has become today. Her mother owns a guesthouse in St Anton am Arlberg, a high-end resort renowned as the birthplace of alpine skiing. She used to help her prepare breakfast and clean the rooms before leaving for school. It was only natural that she turned to hospitality in secondary school and thereafter she studied tourism in Bludenz, in the Austrian province of Vorarlberg. As soon as she graduated, she applied for her first job at the historic Yscla Hotel in the neighbouring valley. Named Sarah Falch then, she was just a 19-year-old with no other ambition than to be a receptionist in a beautiful hotel. She didn't yet imagine she would meet her husband, Chef Benjamin Parth, start a family there (their daughter Clara was born in 2019), and that this establishment would become her home, her life.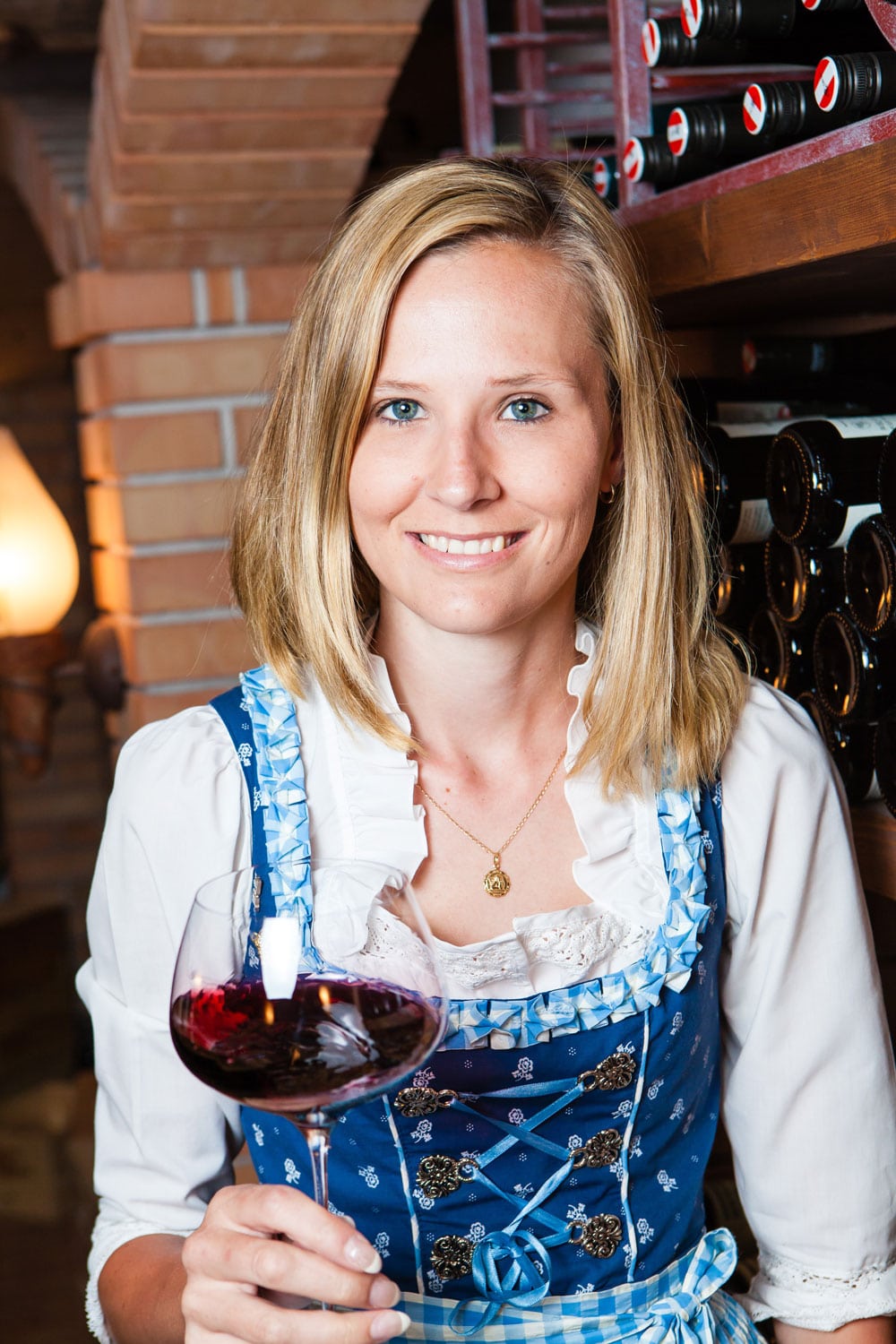 Could you describe your environment?
We are in Ischgl, in the heart of Tyrol. The landscape is stunning and it is a well-known destination for skiing in winter and hiking in summer. Benjamin's great-grandmother built a guesthouse here in 1927 – the first in the village -, and it has remained in the family ever since. It features a typical Engadin style, as we are very close to the Swiss border and many visitors come from this region. This influence is also found in the name "Yscla", which is the old name of Ischgl. The hotel offers 32 rooms and suites, and three restaurants supervised by Benjamin, including our gourmet restaurant Stüva.
What was your first impression when you arrived at Yscla?
First of all, I noticed that some employees had been working here for an incredibly long time, and that Benjamin was really young, he was only 20 years old, so I could see this establishment's story would live on for a long time. He had travelled around Europe for several internships and had returned to the hotel a year earlier to take over as chef. We started working together, we got closer and closer, and then… it happened! It was through my relationship with him that I developed an interest for gastronomy, because I must say that as a child, I was very picky and didn't eat anything green or red!
1989 : Born in Pettneu am Arlberg
2008 :Graduated from the Tourism Schools in Bludenz (Tourismusschulen Bludenz) Receptionist at Yscla Hotel
2012 : Obtained the Austrian Sommelier Certificate from the WIFI Innsbruck training
2018 :Obtained the Silver Diploma of the ASI (Association de la sommellerie internationale)
2019 : Birth of her daughter Clara, got married with Benjamin Parth
How did you evolve within the establishment?
I actually had to learn everything! When I left school, my goal was to work as a receptionist. That was really what I wanted to do when I came here. But soon I realised that restricting myself to that could be a bit boring. So in addition to the reception, I started working in the evening service, just bringing dishes to guests. In 2012, a member of the service team, who had taught me a lot, decided not to return from maternity leave. I saw this as an opportunity. Then I started training as a sommelier, and obtained an Austrian diploma, which I later supplemented with an international certificate. Another important step was the renovation of the restaurant in 2014. Benjamin and I worked very closely with architects and planners, because they usually don't have a clear understanding of what working in a restaurant implies, they are mainly concerned with the comfort of guests, the look and feel of the venue, but there are certain things we specifically needed for the service, so we had to take that into consideration as well. It became much easier for me to work there afterwards.
It is common in hospitality sector all over the world to have an inherited business that grows and modernises over generations, with a couple running the business, the man in the kitchen (and in the media), his wife at the reception (and in many other positions), parents who have passed on the baton, but not quite either… A life where private and public affairs are often intertwined, but that is very productive and spent with the whole family.
Tell me about your typical day.
Usually, I wake up very early.  Quite often, I get up before 6am, because our daughter Clara tends to do so too. Then Benjamin gets up in turn, either he goes to the gym to do some workout or straight down to the restaurant (we live in the hotel). Then I go downstairs myself to check that everything is okay for the guests' breakfast and I swap places with Benjamin's mother who likes to work mornings in the hotel. I oversee what's going on at the reception desk. Whenever possible, we try to have lunch as a family, it doesn't always work out but we try to stick to it.
After a walk with Clara, I go down to the office, check on orders, make sure we have everything we need for the next day in the bar and restaurants (there are three in the hotel). Finally, around 7pm, the evening service begins. I serve our guests at the Stüva and, if necessary, I stop by the other restaurants as well. Always with the baby phone in my pocket! My professional and family lives are closely intertwined, I sometimes have my daughter with me at the reception, so it is true that when guests come here, they also enter the life of a family.
Do you feel like you are in Benjamin's shadow?
No. He's the chef, all the attention is on him, on his cooking and that's normal. It can get complicated if both want to be in the limelight. He is the chef, he is also the boss (at least at work, in private it's another story!) and I don't have any problem with that. 
What do you think you can bring to this place?
I think, I made my mark in the service department and as a sommelier. Another step was taken in 2019, the year Clara was born, but also the year of our wedding and of a major renovation that we carried out in most of the hotel. This was our project with Benjamin, with his parents taking a backseat. These were the two important steps that truly allowed me to find my place here. I also contributed to the wine section of Benjamin's cookbook, which was published at the end of 2020, and we still have many other projects in the pipeline. Our goal is to make this hotel one of the best in Austria, and attract people from all over the world.