Three stars
for Le Clos des Sens et the restaurant Le Mirazur
Meeting with Laurent Petit and Mauro Colagreco, the new three-star chefs.
LE CLOS DES SENS
Martine et Laurent Petit,
ANNECY, FRANCE
Does this third star marks the fulfilment of a long quest?
– It marks the fulfilment of a journey and an evolution, the result of an adventure launched in July 1992, although initially Michelin stars weren't a goal of ours. We were interested in building a nice business. This third star is the accomplishment of my life and my career.
What do you mean when you say you want to give a responsible meaning to your third star?
– This third star is the reflection of farmers' common sense and civility, and goes well beyond gastronomy. I'm very proud to have seduced the inspectors with my cuisine and its environment. My goal is to remain simple, both in sourcing my ingredients and interpreting my recipes. This third star is exempt from any demonstration or gastronomic codes; it is democratic.
Could you tell us more about your locavorous philosophy and your permaculture garden?
– It took a lot of work to create its structure but I'm lucky to have my talented gardener Lionel Perron by my side. The goal with this permaculture garden was to get back to basics: learning how to grow, pick, peel, and passing on that knowledge. Indeed, we are about thirty collaborators for an average age of 25. The garden plays a genuine educational function. In a way, I'm a "courier". Wisdom and common sense are my hallmarks.
A signature dish?
– Green cabbage millefeuille, smoked fera, autumn fera eggs. Very complex work upstream for a very simple dish down the line. You have an inverted puff pastry covered with tarama cooked in lemon juice, a millefeuille of blanched and burnt cabbage leaves, and smoked fera. The pie is served lukewarm with a broth of smoked fera whisked with butter.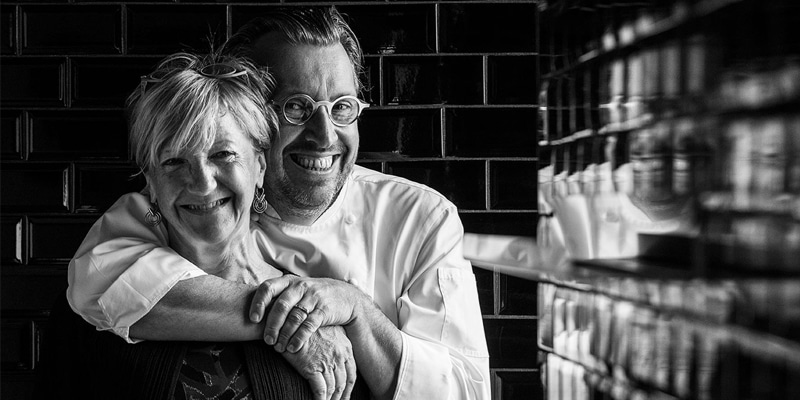 RESTAURANT LE MIRAZUR
Mauro Colagreco,
MENTON, FRANCE
You are the first foreign chef to receive this prestigious distinction, how do you feel?
– It's a great honour, and a great responsibility too. I am very proud and grateful to the Michelin Guide for this award. It is proof that gastronomy has no border.
Does this third star marks the fulfilment of a long quest?
– More than a quest, it is a long, rich and exciting journey, and it's far from over!
You will reopen the Mirazur in early March, what's planned to enrich your customers' experience?
– Our guests will discover further the Mirazur and its soul, step by step, in a gastronomic journey through local flavours. We open our doors, our home, a place for sharing, beauty, and love for Nature.
A signature dish?
– Crapaudine beetroot, cooked in a salt crust, and served with a caviar sauce. An oxymoron, a mix of so-called poor and rich produces. Once again, we play on an ephemeral border line.