Virginie Protat
« I need to feel confident, to work in a serene atmosphere. What convinced me to accept this incredible offer was the certainty that I would learn a lot »
Times are changing, even in the world of gastronomy: women can stand proud and pursue their ambitions wholeheartedly. Chef Virginie Protat is part of this new generation of women who have made their mark in the kitchen with a smile, without ever raising their voice and ever needing to compensate for their gender in the process.
Virginie Protat has always followed her intuition. And it has clearly paid off: at just 31, she is the chef at Tantris DNA in Munich, where she was awarded her first Michelin star only six months after the opening.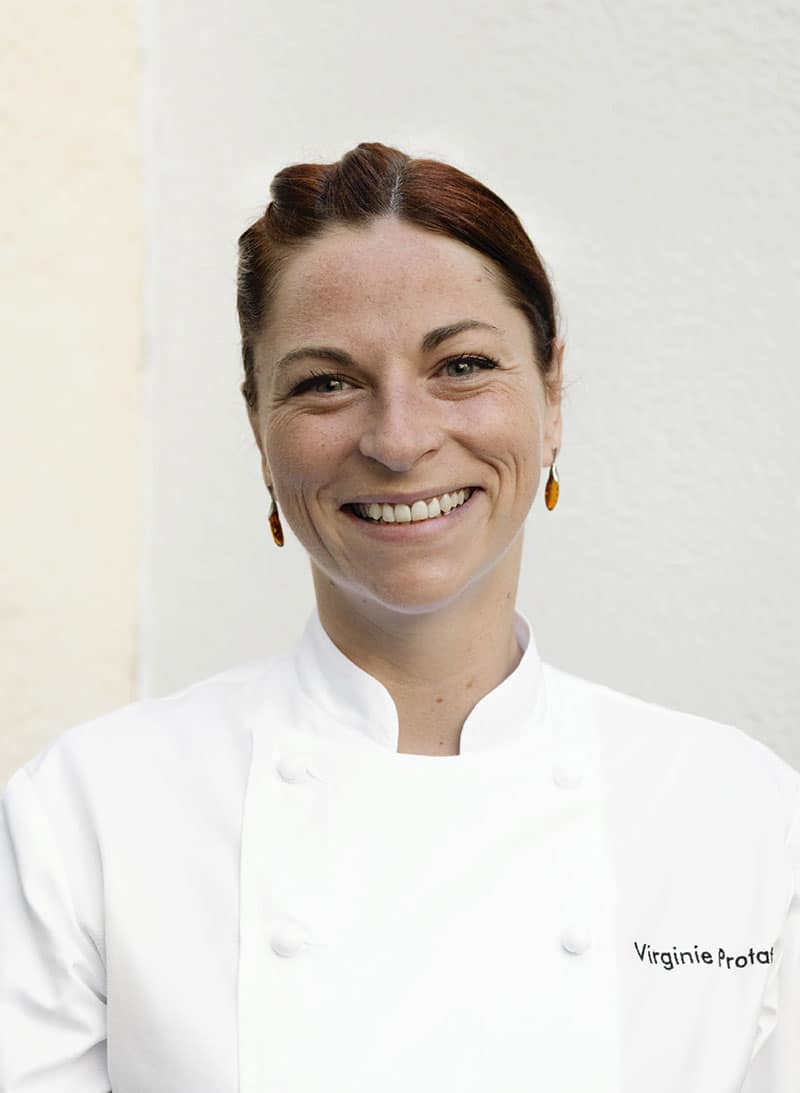 Passionate at heart
The story begins when Virginie was still a child. Hyperactive, she couldn't bear to sit still and agreed to help out on Wednesdays in her uncle's restaurant in Lyon. "I was awestruck. I was 12 years old at the time, and what was supposed to be a simple occupation became my passion. I discovered a trade that brings happiness to people, what a wonderful thing!"
The determined young lady managed to convince her parents – one a medical secretary, the other an ophthalmologist – to support her and trust her in her desire to go straight into a hospitality industry baccalauréat.
And the fairy tale could have ended early because Virginie Protat was confronted with a most violent reality right from her first training course: certain toxic and abusive management practices are still widespread in French kitchens, especially when you are a young strong-willed woman. This experience raised doubt in her mind and prompted her to question herself, but she refused to give up so quickly. She promised herself that she would never again go through something like that… And throughout her journey, she has kept to that promise. Much to her relief, what came next confirmed her love for the industry. Chef Guy Lassausaie hired her in his family-friendly, starred gourmet restaurant and generously passed on his know-how and passion. "His kindness and professionalism taught me to be more observant of what was going on in the kitchen. He would simply frown when he disapproved of something, which was very effective. Nobody wants to disappoint someone they respect and admire. I loved this way of doing things. I was working alongside him as an inexperienced trainee. He felt it was essential that his entire brigade knew how to do everything. It was so exciting!"
Virginie Protat's career in a few key dates
2007-2009 : Hospitality industry baccalauréat
Lycée hôtelier Savoie Léman / Thonon-les-Bains – France
2009-2011 : Bachelor's degree in gastronomy and restaurant management
Institut Paul Bocuse / Ecully – France
2012 : Restaurant « Greuze » / Chef Yohann Chapuis / Tournus
2012-2013 : Hôtel royal Monceau » – « Il Carpaccio »
Chef Roberto Rispoli / Paris – France
2014 : Verde Restaurant
Darlinghurst – Australia
2015 – 2016 : Guy Lassausaie / France, Chasselay
Chef de partie
2017 : Auckland / Nouvelle–Zélande
Chef de partie
2017-2018 : L'Angelick / La Muraz – France,
Chef de partie -> (stand-in) chef
2018 – 2019 : Catering / Geneva – Switzerland
Sous-chef -> unit manager
2020 : Belle – Plagne / France
2021 : Tantris Maison Culinaire – « Restaurant Tantris DNA »
Chef
Discoveries and experiences
After completing her training at Institut Paul Bocuse, Virginie travelled the world but because her experience with Chef Guy Lassausaie was so meaningful, she re-joined his team for several years. Endlessly curious, she knows how to seize every opportunity to keep learning and feeding her passion for gastronomy.
In restaurant Greuze in Tournus, she worked with Chef Yohann Chapuis, and discovered the importance of using regional and seasonal produce. In restaurant Il Carpaccio of Le Royal Monceau Hotel in Paris, she dove into Italian cuisine and understood that she would need to master the English language to fulfil her ambitions. "I am very close to my family and deeply rooted in the Lyon region where I grew up, so I had to make sure I wouldn't give in to the temptation of returning home too soon. That's why I had to go very far away, and I had this long-standing dream of visiting Australia." At the age of 22, Virginie Protat spent a year in Sydney working in an Italian gourmet restaurant, then returned to France before leaving for another year abroad, this time in New Zealand. When she returned, she eagerly accepted a position as sous-chef for a large Swiss caterer. "Every experience and encounter is enriching, and there's a lot of that in this trade." From sous-chef, she quickly became manager. This position took her away from the kitchen for a while: overseeing the savoury menu, the brasserie as well as take-away sales. She learned about the other side of the business, with the planning, orders and above all the human resources aspect, managing 14 people. "I was only 26 years old but this job gave me a comprehensive vision of the company and the industry as a whole. It was fascinating but also exhausting because I was working 24/7."
COVID put a brutal stop to this frantic rhythm: "I realised I had never actually stopped, between school, training courses or working extra in the kitchen or in service, in my beloved mountains in Megève or at the Sofitel in Lyon. For me, discovering a new team, different ways of working, that felt like a holiday".
Ever optimistic and resourceful, Virginie Protat gladly turned to her other passion: photography. She spent the lockdown in La Plagne, in the Alps, hiking, immersing herself in nature, unwinding. Until a friend called to entrust her with the kitchen of her new bouchon in Lyon. She was delighted to be back in the kitchen, preparing generous traditional French cuisine dishes. Affable and enthusiastic, Virginie has an uncanny ability to bond with people, which led her to build a rather large network: "I connect easily with people and I am loyal, I like to maintain connections", such as with her friend from Institut Paul Bocuse for instance, Benjamin Chmura, who called her for advice on an ambitious project: the "new" Tantris.
The Tantris adventure
The legendary German restaurant, founded in 1971 by Fritz and Sigrid-Ursula Eichbauer, was closed for major renovations and a complete overhaul. Generous and enthusiastic by nature, Virginie Protat strongly encouraged her friend to take on this new adventure, so much so that he soon called her back to offer her to take charge of the menu of the new Tantris restaurant, Tantris DNA, with 30 seats and a resolutely French cuisine. An overwhelming challenge.
Once again, she trusted her intuition and followed her heart: "I was terrified, but that fear was a powerful motivation. Like many women, I tend to doubt myself too much. But I knew that I would be well surrounded: with Benjamin of course, but also Maxime Rebmann, the pastry chef at Tantris, who has been a friend for a long time. I need to feel confident, to work in a serene atmosphere. What convinced me to accept this incredible offer was the certainty that I would learn a lot".
The warm welcome she received from the entire Eichbauer family, especially from Sabine and Felix, but also from Executive Chef Matthias Hahn and of course Benjamin and Maxime, immediately reassured her. Virginie Protat feels she has found the family atmosphere she needed to flourish. She had never been to Munich (and didn't speak a word of German), so she was delighted to discover a historic city surrounded by lakes and mountains, where life is good.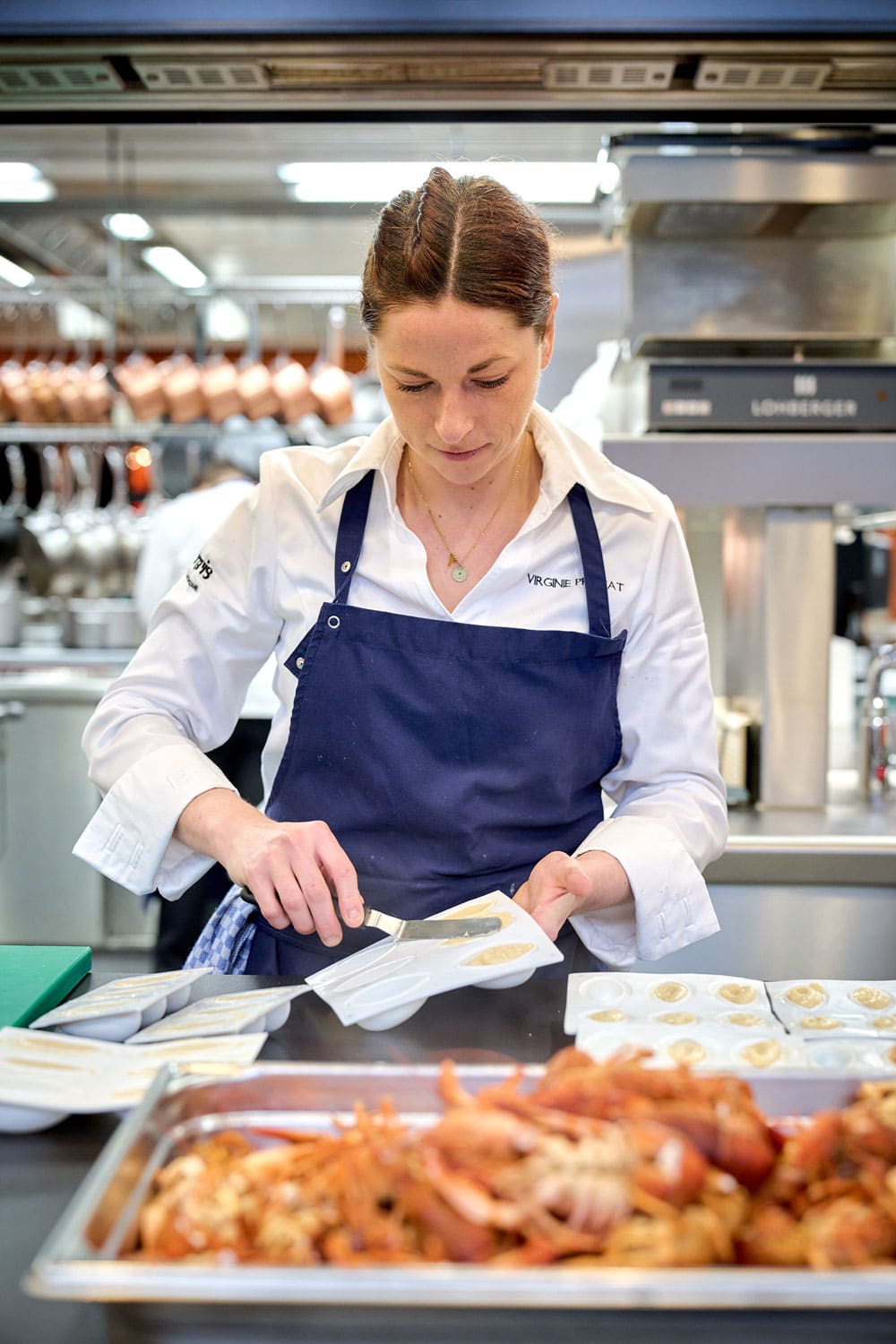 French gastronomy in full display
For two years now, Virginie Protat has been expressing her vision of French gastronomy with outstanding sensitivity, without disavowing the world-famous menus of Chefs Eckart Witzigmann, Heinz Winkler and more recently Hans Haas. Three chefs whose extraordinary heritage she proudly carries forward.
"I was involved in setting up the overall project, followed the renovations progress, and collaborated with an amazing team – which has become a real family – to organise the reopening. What an adventure it was! I am proud to tell the story of this iconic institution, to share it, and I'm very attached to the idea of adding to that story in the future."
Virginie Protat is passionate about French gastronomy, an inexhaustible source of inspiration, as each region offers different wines, cheeses, meats, fish and vegetables. "That richness, its social and cultural aspect, that's what makes French cuisine such a reference worldwide."
The chef plays around with the classics, reinventing them, adapting them to our modern lifestyles, which has undoubtedly become the key to her success. Less salt, less protein, special attention to the origin of the produce, sustainable fishing, etc.: so many levers to adapt French classics to our times and add a touch of poetry.
"Every day is different. We build our menu with Benjamin according to the produce available, making sure we use them in full. I really like the way we move forward, in perfect harmony. He helps me let go. I am a cerebral perfectionist, but he encourages me to cook with my heart and to adapt to the guests' expectations. I also refer a lot to the historical dishes of the house, and often think about how we can use our iconic trolley."
What's next?
For Virginie Protat, a gastronomic restaurant must keep reinventing itself to attract new generations to its tables and cuisine. "It is true that the trade is tough and demanding, but it gives so much in return! We are satisfying a physiological need, that's powerful, but we must also remain connected with younger generations, and always be keen to train them and share our know-how."
The priority is to dust off an often archaic management style, and to promote respect, communication and listening. "We shouldn't be afraid to say things frankly. The negative, but also the positive. Exchange and encourage. Good team cohesion allows us to face any challenge, and for that we must understand and accept the qualities and faults of every person."
Although she feels completely legitimate managing six men in her brigade – mainly because the new generation is less sexist –, she admits there is still a long way to go to prompt women to dare take over in kitchens: "We have not received any resume from women. Men still don't take on enough of the family load. Mentalities are slowly changing, but if nurseries adapted their opening times for instance, it would be a big help already. Putting forward a man's ego, strength and so-called speed no longer makes sense today. Women are still far too often belittled, or obliged to work in the dining room or pastry making. However I am hopeful we can do it! We must believe in ourselves and in our dreams. I often reread the speech that Michel Guérard gave in 2011 at the Institut Paul Bocuse graduation ceremony, in praise of the dream. His words were so beautiful, comforting and inspiring. So let's dream together about a fairer and more tolerant gastronomy!".